Haunted Hotel
After crashing his car on the side of the road, a bewildered traveler finds himself checking in to the Haunted Hotel! In Haunted Hotel, you must explore frightful floors full of spooky rooms to find Hidden Objects in creepy crevices. Immerse yourself in a thrilling adventure full of mysterious mini-games and addictive Hidden Object game play!
In-room bonuses.
Addictive mini-games!
Unpredictable ending!
Game System Requirements:
OS:

Windows 2000/XP/Vista/7/8

CPU:

600 Mhz

RAM:

128 MB

DirectX:

7.0

Hard Drive:

54 MB
Game Manager System Requirements:
Browser:

Internet Explorer 7 or later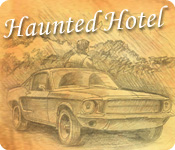 NEW299
The Big Fish Guarantee:
Quality tested and virus free.
No ads, no adware, no spyware.

Reviews at a Glance

Haunted Hotel
0
out of
5 (
0
Reviews
Review
)
Customer Reviews
Mediocre and boring
Someone got really lazy on the design of this game. All you do is go room to room and find objects. There is no challenge and no movement. You are in a fixed location (the elevator) and there is no interaction with any other characters or objects. I'm not even sure what the exact storyline was, as the only way to know that was to read the novel of a journal they provide and I just skipped over that. I want to play a game, not read a book. The "mini-games" are pretty lame and repetitive. I'm glad this was just a demo and not a game I actually purchased...I would have wanted my money back. I would suggest passing on this one and find something with more creativity behind it. I suppose this would be okay for a beginner or a child, but I did not enjoy it.
January 2, 2013
Not a challenge
This game just repeats the same old games over and over, was glad when it was over.
November 18, 2011
LIKE READING A BOOK
This game consisted of reading 2 or 3 pages of dialog, then playing HOS. At various times, there would be puzzles to play to advance the "elevator"; these puzzles were repetitive and very easy. The HOS increased in number and the number of items within each scene also increased as the game progressed. Yet often you would be finding the same item. The scenes were about average in difficulty; most items were easy to find with one or two a little harder. The HOS supposedly represented rooms in the hotel which the narrative explained. This was a very disjointed game which required way too much reading of a story that had absolutely nothing to do with the subsequent HOS and puzzles. It was also fairly short. I thought it was a lead-in to the other Haunted Hotel games, but now I don't think so.
August 20, 2014
Not worth it
Nothing in this game has truly aged well: the graphics, the GUI, even the overall experience. These are things I usually forgive if the storyline is any good... but that didn't happen here. It seemed to me that the authors worked hard at putting *every single* element known to induce chills in the storyline, resulting in a convoluted hodge-podge of scary stuff, and barely any resolution. Gameplay-wise, the game follows the pattern used by many games, including the original "Ravenhearst". In each chapter, a few locations are "open", and you need to find most of the objects in each location, in a given period of time, to move on. The big difference is that instead of being shown a map, you're shown a corridor, with open doors leading to the different rooms.
July 30, 2012
Awful! Do not waste your time or money.
This is the worst game I have ever played, and I've been gaming for years. This had NO fun value whatsoever. Lots of corners were cut here. It was a very poorly thought out and cheaply done product. First, the whole game takes place inside of an elevator of a hotel---you are inside of it looking out through the doors into the hallway, with rooms on either side of the hallway. That's it. You never move from that spot. To seemingly "move" around the hotel, the doors to the elevator simply close before your eyes, and when they open again, it appears you are on another floor. Then you just click on one of the doors to the rooms, and are shown a HOS---lots of them, in succession, which are not sharp or bright. They look grainy, a bit monochrome, and some parts of the screen have a misty cloud-cover over areas that further obscures object clarity. The entire story begins and unfolds from a journal which you have to read yourself---page after page of text. It is type written out AS YOU READ it, it is not already printed; therefore, if you have to go back a page to reread something again, you cannot simply turn back to the previous page without the entire page being re-typed, from top to bottom, all over again, line by line, very slowly, while you wait for the page to fill with text. On top of this, there are many spelling and grammatical errors, lack of punctuation, with occasional double words or words that don't fit the context. At one point, his interest was "peaked" instead of "piqued." Then you must read and reread this poor attempt at writing skills, to figure out the whole story. Ugh! Tedious and annoying. You never interact with any character, not even the cat. You must read about everything in your journal with its few, bland pencil drawings---no color whatsoever The repititious background noise is like the sound of a lit furnace in a basement. There are constant "coughing" noises which was dumb. I thought whoever it was in the background could use a lozenge. Be careful of the HOSs--you only ever get 5 hints, and they are all TIMED. The hints flash by very quickly and do not linger over the object, so you could easily waste your hint by never finding whatever was there! Because of the mist, some hints I never even saw where they landed! Some of the objects are under others, so you could use up all your hints and never find the object you are looking for because it is under something else. Also, the cursor must be exactly on the object, so if it is a tiny piece of string, or a line drawn on a paper, you have to get the tip of the finger of the cursor exactly touching that string or line. You cannot just place your cursor over the object and click. I must have clicked on a pencil-thin "lightening bolt" (shaped like a zig-zagged line with an arrow on one end (?), drawn on a scrap of paper) 4 times before getting just the tip of the cursor (which is shaped like a hand with fingers, not an arrow pointer) exactly on the very thin line of the "lightening bolt" before I could pick it up. Does anyone know what a "trilby" is? Well, I didn't, but it's a man's bowler hat worn in England. Also, a "pin" was actually a clothespin, yet I was looking for a straight pin, a safety pin, or a decorative brooch of some kind.The intermittent arcade-style puzzles throughout are so easy as to make one yawn from boredom. There is no skipping, although there is no need. Oh---again watch out with the HOSs, if you click too many times you are penalized: the game kicks you out completely, says you "lose" and you have to start the game all over again from the very beginning! Not from the point you left off! When that happened to me, I just shut the game down and will never play it again. It was pure agony to get through it as far as I did anyway, and then be kicked to the curb? Not for me! A complete waste all around.
March 29, 2012
Waste of money
I can't believe this is a Big Fish Game. It's terrible. Graphics are cheaply done and blurry. The intro is script and far far too long. Maybe a voice over would have helped, maybe not. The mini games are dumb. More and more script keeps popping up. You haven't even found all the hidden items - and it says you're complete. Really awful game.
July 15, 2012
Absolutely horrible! Close to the worst game ever!
This game is horrible. You go round and round, the graphics aren't very good,the story line is the same ole same ole. The game is ridiculous.
July 8, 2012
The Apple logo is a trademark of Apple Computer, Inc.