Escape the Museum
Help Susan work her way through the rubble of the National Museum of History after an earthquake rocks the city and separates her from her daughter. Escape the Museum is a unique game pulling on the familiar Hidden Object mechanic while building on the casual-friendly Adventure game play. Can you help Susan get back to Caitlin, her daughter, and escape the museum together?
Solve fun puzzles.
Play unique mini-games.
Cool unlockable content.
Game System Requirements:
OS:

Windows 2000/XP/Vista/7/8

CPU:

800 Mhz

RAM:

128 MB

DirectX:

7.0

Hard Drive:

101 MB
Game Manager System Requirements:
Browser:

Internet Explorer 7 or later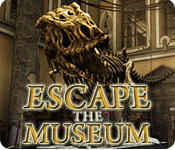 NEW299
The Big Fish Guarantee:
Quality tested and virus free.
No ads, no adware, no spyware.

Reviews at a Glance

Escape the Museum
0
out of
5 (
0
Reviews
Review
)
Customer Reviews
Almost a great game
This is the first game I didn't finish that I would recommend. First, the things I didn't like: There was no functional hint system except for the HOS. The last three levels of the puzzles (logical mechanical brain teasers) were too difficult and irritating to me with lights going off and needing to be turned on that I didn't finish and waited for the family to be rejoined at the end of Escape the Museum 2. The hidden objects were small and sometimes unrecognizable. But the cursor pulsates on the right objects so you can check this before you click. Now for the things I loved: I really liked the plot of the family working together to be reunited and the museum director/boss wanting the artifacts to be saved. I liked the comic book art in between scenes and loved the characters. They seemed fully human to me. Also I loved the museum itself and the beautiful artifacts from all times and places. As a person who loves history and science and has no interest in fantasy or the occult, this game was a great find for me. There were so many scenes and they took long enough (each level also had an additional HOS attached) that I feel it's well worth the full price even without finishing the game.
April 27, 2012
One of My Favorite Hidden Object Games!
Riveting, Informative, game A+
February 8, 2012
STILL GOOD HOG FUN AFTER ALL THESE (4) YEARS
With the Gogii sale, I bought both Escape the Museum ("ETM") games, which were about the only Gogii games I didn't have for some reason. This one is a little harder than ETM 2. Although this game is older, I try to keep the date of production in mind. Just because it's been around, doesn't mean it's not good. For HOG, I'm mostly interested in the adventure and the HOS. Here, you have a sense of urgency - it's not that important to me that there be all types of animation and special effects. The HOS are nice and the mini-games somewhat challenging. Decent graphics and I liked the story. But I wonder which game was first - an earthquake happens in the ETM2, while here it appears the earthquake has already happened. Well, doesn't matter to me one way or the other. I'll just think of it as 2 big earthquakes.
October 22, 2013
Adventure light
I've played this multiple times and enjoyed it, but it does require a fair amount of backtracking. There is an earthquake and mother and daughter are separated. The mother must solve puzzles and find special items in the different exhibits to get to her daughter and get out. You kind of resent the person in charge of the museum who is out in safety and keeps sending you to find things. Most real museums take care of the people first, but the variety of exhibits are interesting and a map lets you know where you still need to work.
September 1, 2012
average game
Can be hard. The HOS can be challenging because it is hard to see and find all the items. Lots to do and find.
May 8, 2013
Puzzles are fun, but...
I enjoyed the puzzle screens in this game--escaping each room and so forth--but the HO screens were very repetitive, which got irritating after a while, and the cut scenes are far too long and dull. The cut-scene graphics are terrible, too (why does the mom look like her hair is wet the whole time??). My kids like this game but they have a higher tolerance for redundancy than I do! It's fine to play once if you don't mind its issues, but definitely not one to return to.
February 20, 2012
Very disappointing
This was one of the worst games I ever played. It wasn't completely dull; some of the minigame puzzles were enjoyably challenging. The player assumes the role of Susan, an employee at a natural history museum. Susan brings her young daughter Caitlin to work with her one day and, as luck would have it, that same day their town is struck by an earthquake. Mother and daughter are separated by dozens of rooms full of debris, and Susan needs to work her way through the entire museum to reach her child while periodically receiving intel about what's happening outside. Her husband David, meanwhile, escapes police custody partway through the game and starts making his way toward the museum to rescue his wife and daughter. Unfortunately, the premise sounds a lot more interesting than it actually is. The cutscenes between puzzles are bland at best, saccharine at worst. The puzzles themselves are more interesting, but in some cases they get very repetitious. The puzzles themselves have very good, realistic graphics. They definitely give the feeling of being inside a ruined museum. Extra points go to the fact that periodically, the screen shakes to give the impression of the earthquake's aftershocks. The cutscenes between the puzzles are again a disappointment, however; there's no animation at all, simply a flat drawing with changing word balloons of dialogue, and the coloration of the images is downright cartoony. For me, the biggest offender was the script. Susan talks to herself continuously as she makes her way through the museum - not difficult to understand, I probably would too, but some of the things she says are downright goofy. Even goofier are her moments of contact with others, such as when her boss tells her that David is on his way to the museum. "You know, your husband, David!" he says, as though she couldn't possibly have a clue who David is. The difficulty level is rather variable. Some of the puzzles are at least interesting; Susan must acquire a number of items from the room in which she finds herself and use them together in order to engineer her escape into the next room. The mouse pointer changes to a question mark or a magnifying glass to indicate where an item is found or action must be taken, but the player must use his or her own wits to actually solve the puzzle. Other puzzles are more of the standard hidden object variety. These, for me, ranged from frustrating to impossible. The placement of some of the items is eyestrain-inducing; finding a blue seahorse on an equally blue globe gave me a nasty headache. The good news is that you have an unlimited number of hints on this type of puzzle, although using a hint or clicking on the wrong item will lower your reliability rating, which is how the game keeps score. A third, less frequent type of puzzle involves replacing torn pieces of a painting back into the picture where they belong. These range in difficulty depending on the detailing of the painting in question, but can get downright annoying when it comes to the smaller fragments. On the whole, this is probably a good game for elementary or middle school students, but adults will find it anywhere from boring to an outright chore.
March 18, 2012
Two and a half years later ... I changed my mind !
I bought this game in 2009 ... and, in that time, loved it. Today I played again! WOW, what a difference! Games have greatly improved in every way: storyline, graphics, sound, challenge, motivation ... everything! Graphics are like comic, good voice over and the story is not bad: mother and daughter and trapping people in a museum after an earthquake. The father, more concerned with the precious relics, and less with her daughter who is lost, asks his wife, while searching their daughter through the rooms, collect the rarest objects. Anyway, a only HOS game, with good story but not exciting. Outdated.
February 14, 2012
Awful HOG
I would have rated this game 1 star for overall rating but I dislike the word "hate" and therefore will never do that. 2 stars is the worst it will get so in my life that's pretty terrible. Storyline: You (Susan - hey! That's my name too~) have brought your little daughter into the museum where you apparently work to be your "assistant" for the day. Then, the building starts to rumble, dust is falling from the ceiling and you put your precious, little, daughter in the Security Office and leave her....by herself.....a little girl......in an earthquake....with the parting words that she can watch you on the monitors. What if the monitors go out, mom? Who does that? Anyway, you go back out to the dinosaur room and are apparently hit on the head by falling ceiling concrete/tiles. You awaken and cannot reach anyone by walkie-talkie. Finally, someone named "Marcus" reaches you and convinces you it's more important to get to the surviving artifacts than it is to get to your daughter. And you let him convince you to do just that. Already I'm unhappy with where this game is going. Graphics: Dreary. Everything seems to be monochromatic. Characters and scenes seem to be hand painted. Sound: Sorry, I tune music out. Although there was conversation over the phone between Susan and Marcu which was very clear and easy to hear. Not what I would have expected after an earthquake of that caliber - it took down most of the museum. I've been in earthquakes when I lived in CA. I've even had the misfortune to be the epicenter of one. Phones are sketchy at best. Gameplay: I am going to skip over modes of difficulty, etc. and get right to the meat of the gamplay. Either you were in a room that had a blocked access and you had to find items to get yourself out, or you received a list by phone from Marcus of artifacts/items you needed to locate in a specific room. There was a map that showed where you were located in the museum and your movement flowed pretty well from room to room. HOGs: Awful. There were so many items over such a large area and they were so small I don't know how you would have found them. And if you used a hint you got a points penalty. So, here's a hint button we've given you - just don't use it. And in the rooms where you're only finding items to get your out of the blocked access, there are no hints whatsoever. This game had so many problems with it I only played for roughly 30 minutes. This Glam-ma was highly disappointed and expected so much more but that's not to say that this won't be exactly the challenge you like. So, take the free hour and give it a whirl. Happy Gaming.
May 16, 2014
Dark piles of clutter
This is only from the Demo. I just can't find anything. Very small and not good visual. Many HO's . Just not my thing.
October 14, 2012