Dream Chronicles 2: The Eternal Maze
Faye returns in this riveting sequel to face Lilith, the evil Fairy Queen. Help Faye navigate intricate puzzles and magical landscapes while piecing together clues. Can you discover the origin of the fairies and find each distinct dream jewel? Seek advice from foliage and feel your way out of the Eternal Maze, while traveling back and forth between the realms of humans and immortals. Help Faye find the true nature of things in Dream Chronicles ™ 2: The Eternal Maze.
Gorgeous, interactive mystery.
Detailed backgrounds.
Challenging puzzles.
Rediscover the magic in Dream Chronicles ™
Game System Requirements:
OS:

10.4, 10.5 (recommended)

CPU:

1.83GHz

RAM:

512 MB
Game Manager System Requirements:
Browser:

Safari 4.0 or later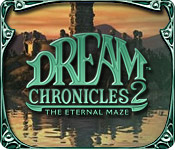 NEW299
The Big Fish Guarantee:
Quality tested and virus free.
No ads, no adware, no spyware.

Reviews at a Glance

Dream Chronicles 2: The Eternal Maze
0
out of
5 (
0
Reviews
Review
)
Customer Reviews
Dream Chronicles 2: The Eternal Maze
28
28
NOT for Beginners!
at this point, i think i am somewhere between a beginner and intermediate. (i also think that some people who mark themselves as intermediates are either experts or somewhere in-between.) when i played the 60 min trial, i thought i had found just the right game for my level. i even thought i might have to upgrade myself to intermediate level. WRONG! if you are one that gets lost and does not know where to go next or needs to know where to back up to, to get back on track or needs a help button, this is not the game for you yet. many reviews (yes, i read them after...dumb girl) said the game was too short. after a day and a half of it, i disagree with them! short to me would be half a day or an evening. the graphics are beautiful but some of the hidden objects are too, way too tiny. during the game were there is text you need to read, expect to squint as that is also small. i did not like the music or that area would have gotten 5 stars. when you are on a roll, this is great fun! when you are stuck and need to start over or spend so much time trying to figure out what you are required to do, it can be extremely frustrating! 'level of challenge' ...i want to give it 1 start of none, to indicate that it is TOO hard. maybe here we need a 6th star to indicate it is way overt my skill level. i wish games came with a CBIA code that would indicate the level of challenge the game is geared to....children, beginners, intermediates, experts. i do not hate or dislike this game and i think it is better than ok but... would i recommend this game...yes and no. yes, because if it had a walk through or the experience lever, it would really fun and challenging... no, if inexperienced/beginner level lesson learned: until i am further alone in my learning curve, NO MORE GAMES WITHOUT WALKTHROUGH!!!
February 26, 2012
Disappointing
Wasn't anywhere near a keen on this one as the first. the atmosphere was all wrong. It felt as hough it was set in a different time and place to the first one. There was no faery-land feel to it at all it was more Aztecy. Also way too many annoying puzzles.
January 8, 2014
good game...but unfair for those with certain disabilities
um...wheres the skip? i CANNOT pass the stupid chess game BECAUSE i cannot SKIP IT! i have problems with things like that where im having to QUICKLY memorize a pattern then be able to remember where i need to click. im SURE i am NOT the only one. why are we unable to skip something that is hard for us to do? instead we get stuck and lose interest in the game because we are unable to FINISH!!! this is the THIRD time in 4 years i tried doing this game and all previous times...i lost interest and removed it because i got frustrated that i cant pass that area at all...there arent even hints? also all the other games ive played have the skip option for puzzles. i love challenges but not when they make me feel stupid or play against my disabilites. not fair to those with similar issues.
November 28, 2013
Fumbling around in the dark
I bought the first game in this series on my iPhone...the graphic artwork is just SO beautiful. But everything was so very small on the iPhone, it was really difficult to interact with, and some items were impossible to find. I therefore bought the game for the Mac, thinking a larger screen might improve game play...and while I was at it, I bought the rest of the series. Sigh. About the hidden objects one is supposed to find: The game developers hide things in completely dark areas. The only ways to find the items are: 1) to keep waving the mouse back and forth over the black (shadowed) areas of the screen, SLOWLY; 2) click LIKE MAD over the entire screen; or 3) use a walkthrough with good graphics. The game designers also hide things by making them non-perspective (e.g. an item that appears to be about the diameter of one's palm when placed in the correct space is hidden in an area that only the head of a pin would fit into). Hiding things this way makes game play the equivalent of crawling around on hands and knees, feeling for things in the dark. (In other words, NOT FUN.) About the puzzles: Most are reasonable -- found items can logically be placed where they are supposed to go (provided you can actually find the item, and see the space the item is supposed to go -- again, lots of trial-and-error clicking). The "Simon Says"-like puzzles, where one is supposed to repeat a sequence after the game, STINK. They are done on scenes where there is very little to differentiate between the correct place and the next one over (e.g. a chess board), with no color variation to help define the pattern (e.g. was that a black square or a white one that lit up? They both light up blue). The initial sequence is done very very quickly, and there is no way to have the game repeat a sequence. Both of these puzzles took me AGES. Again, NOT FUN. About the mazes: In the first labyrinth, when one is given a map and shown where one is on it, this is straightforward and perfectly tolerable. In the second labyrinth, where one is supposed to switch back and forth from the journal map to the scene, it's ridiculous. Utterly, howlingly awful. And not even pretty to look at (all the scenes look nearly identical, so you can't tell where the heck you are). NOT FUN. I used a walkthrough, which made it merely tedious. About the scenes: Again, gorgeous, gorgeous artwork. But so many scenes (especially inside buildings) are so DARK it's impossible to see what one is doing (if this were the real world, I'd be looking for a flashlight). Dear developers: please don't do this. Or at the very least, allow one to crank the screen lighting up from within the game controls (I've already cranked it up all the way on my computer). About the storyline: A charming fairy tale, if a little frustrating that one gets stymied by the enemy at every single scene. Gets a bit repetitive. Would be nice if Faye could affect Lilith with in-game actions somehow (e.g. receive a message that Lilith had been blocked in some action, or hear Lilith screaming in frustration in the background). Missing item: WHY isn't there an "awheckwithit" button that FINDS the missing item(s), or skips the stupid obnoxious puzzle? Of all the games I've played, this game needs it possibly the most. Instead I had to play the game in non-full-screen mode, side by side with a walkthrough, since I can't switch to other applications (i.e. Safari) when the game is in full-screen mode. And here I bought the game for Mac so I could see it full-screen! At least the scenery was pretty...
June 16, 2013
kwitfel
I have totally enjoyed the dream chronicals except this one, the eternal maize. There is no reference to overcome the maize of tunnels. This has proved over the last two years to be one that I would have rather not bought.
November 15, 2012
Hidden Object/Puzzle/Adventure Game
* Limited amount of help and no hints * Progress does not get saved unless you play until a certain point, this happens every time you play * I bought this game over a year ago and have never finished it * I would recommend this game to expert players who love hard challenges and do not like hints or any help for that matter
December 1, 2011
Frustrating Game
This game is very frustrating. It's hard to find the missing pieces of things and there are no hints. I like a challenge, but this is ridiculous. I was clicking all over the scene and occasionally happened to pick up an item that I didn't even see was there. I gave up after spending half an hour on one scene because I just couldn't find the pieces of the "machine". This game would be fantastic if it had a hint function or a blog walk-through. As it is, it is a complete waste of time.
February 11, 2012
dream chronicle game
OMG this game was horrible. I could not finish it and I even looked up a walkthrough!!! If you miss one little thing and they are little you are stuck. No Hints to help you out. You do get little blinking lights after a while but they are not always helpfull. you also get to find dream pieces but if you miss a dream jewel somewhere you do not get that one!! This game was very frustrating to me and I believe that in order to enjoy this game you have to like hard games that you have to do a lot of clicking. I was very dissapointed in this game I guess I should have played the trial longer because it seems that once I got passed the area that i did on the trial run it got impossible for me to go on and I had to look up a walkthrough and even then I had a hard time. so :(
February 10, 2012
The Apple logo is a trademark of Apple Computer, Inc.
The Windows logo is a trademark of Microsoft, Inc.