Cooking Quest
Exclusive
You`ve been awarded a coveted entry for the Chef`s Challenge contest in Foodville`s Restaurant Row. Grease the cast-iron skillets as you gather ingredients to smoke the competition away. Manage your budget as you create multi-course gourmet meals in Foodville`s most elite restaurants. Can you stand the heat? Start at Chop City Steakhouse on Restaurant Row and find out in Cooking Quest.
Zesty Hidden Object game.
Replay restaurant levels.
Become a master chef.
Game System Requirements:
OS:

Windows 2000/XP/Vista/7/8

CPU:

600 Mhz

RAM:

128 MB

DirectX:

9.0

Hard Drive:

82 MB
Game Manager System Requirements:
Browser:

Internet Explorer 7 or later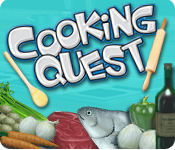 NEW299
The Big Fish Guarantee:
Quality tested and virus free.
No ads, no adware, no spyware.

Reviews at a Glance

Cooking Quest
0
out of
5 (
0
Reviews
Review
)
Customer Reviews
Fun but small graphics cause eye strain.
Fun but the hidden objects are so small it strained my eyes. I liked being able to earn extra money by finding hidden objects quickly. That's the only way you'll be able to buy the best ingredients. Makes it more challenging along with having to buy hints (which you may need). Once you have all the needed ingredients, it would be better if you could click or roll over them to remind you what they are since you can't always tell because of the not so great graphics. I enjoyed the hour demo but did not buy.
October 21, 2012
Love the concept but too short
I really like the idea of combining a Hidden Object game with a cooking game, and all the different descriptions/possibilities depending on what your budget was. But I played about 80% of the game within the hour time limit, bought it, then was disappointed at how few levels were left. The other things I didn't like were how tiny so many of the objects were-- it was a literal pixel hunt. That, and while I liked the idea of finding special objects that gave descriptions, they should've been highlighted on the object list because I'd be trying to get a speed bonus then suddenly it would stop clicking. Also, I had to switch from full-screen to windowed just to click on objects at the very bottom of the screen. Overall, I felt this game would've been worth the money had there been more levels and these design flaws addressed because I really like the concept and want to see another cooking game like this.
December 28, 2011
Making a meal
The game itself was fun because I like the hidden object games a lot. What I don't like is being timed. There isn't an option for a relaxed game. You have a set time for finding all the objects. Also, it wasn't a very long game either. Not enough game for the money. So, if you like being timed then this is for you.
April 2, 2012
Cooking Quest
This is an unusual kind of Hidden Object Game and I will admit that I am not that thrilled with the gourmet cooking scene, after several years of cooking for a large family, I would much rather dine at a restaurant,(gourmet or not) and let someone else do the cooking and definitely the cleaning up. So if you enjoy cooking, this would be an excellent game for you. Foodville (a lot of thought went into the name of this town) is holding their annual Restaurant Row Chef's Challenge. You must gather the ingredients, in the form of hidden object scenes, manage your budget, in the form of deciding how much you are willing to pay for each ingredients from free to imported products, and you must create a multi-course gourmet meal in each of Foodville's best restaurants. You start in one of the restaurants offered such as the steak house or the Italian restaurant. Inside the establishment you choose which area to search for that item until you have the ingredients for all 4 courses. First is wine, and there will be a HOS to search for 15 different listed items. The objects are random and most have nothing to do with cooking, flashlights, traffic lights, footballs etc. which doesn't make sense to me. The items are also out of proportion, the traffic light is the size of mouse and the actual mouse is the size of a traffic light, some items are so tiny that you cannot recognize the item and there is a timer penalty if you random click. At the end of each scene you get a choice of several items in that category (wine for example) with the cheapest being free and the last item the most expensive import which you purchase with the money you have earned from the HOS. After all 4 items of that meal have been purchased you will play a mini game of preparing that meal to be judged. You have to prepare the meal by combining some items in the inventory bar by dragging a corkscrew to the wine bottle, dragging the knife to the lettuce and adding chocolate to the cake mix. Then you drag the completed items to either the glass, or the plates, drag the steak and cake to the oven and grill, and watch for the heat meter to reach the green level and drag the cooked items to the proper plates. Then the meal is judged and a dialog box will tell you how many stars you earned and what the judge's opinion was for this meal. Then of course you visit the next restaurant and repeat this process, bon appetit!
May 16, 2014
Fun
This game was definitely enjoyable. It was really hard during the first level but on the later ones you knew the scenes better and had already seen where some objects were hidden. Visually it's not that great, the hidden object scenes are a bit blurry wich makes it harder to find some objects. Some of the scenes had quite annoying noises to them as well, it would be nicer with some kind of soft music or something instead of "kitchen noises". (As a person who doesn't speak english as my first language I also found some of the words to find hard to know what it was..) It's a nice game but I wouldn't spend my money on it
June 8, 2012
Cooking Quest
Thank goodness I only paid $2.99. I did enjoy the game though.
July 1, 2012
screen off
This is a hidden object game, but objects are below the pointer area. interesting concept and finally a hidden object game that you don't runinto a random scary clown! lol
May 29, 2013
really disappointed
Used around 30 min. of my trial. I was really hoping this game would be fun and different. However, once you loose that $200 in the first restaurant you cannot get any money back for hints. The only way to is to keep and keep playing each restaurant till you know all the hidden products. Plus it is timed which I dont care for. Items near the bottom are impossible t pick up.. This company should come in and get rid of the hassels such as losing the money and you dont get it back. The instructions really dont explain well. I hope the company reads these reviews and come out with a really fun game with not so many hindrences (sp). Not even worth paying 2.99 for.
June 8, 2012
It was Okay
This game is basically a HOG that's timed. Finding the objects was challenging because they were well hidden. Others were difficult because they were ridiculously small. The game had a nice twist in that you had a budget and had to buy ingredients to make your meal. The better you did on the search, the more money you had to spend. If you like playing timed HOG's I recommend this game. Personally, I play HOG's because they're brainless and relaxing, so I chose not to get this one. The graphics are okay, I've seen worse; the time limit was doable.
June 8, 2012
Blurry
The picture was blurry which made it very hard to find things and gave me a huge headache. I couldn't even get all my ingredients for the first level within an hour! Very frustrating. Love the idea but the graphics need to be improved.
November 28, 2011
The Apple logo is a trademark of Apple Computer, Inc.