Nancy Drew: The Haunted Carousel
Step into the shoes of Nancy Drew and investigate a series of mishaps at the Jersey Shore in Captain`s Cove Amusement Park. First, the lead horse was stolen from the carousel. Then the roller coaster suddenly lost power, resulting in a serious accident. Put on your detective hat and interview park employees to solve a series of challenging puzzles. Avoid deadly traps to discover the real truth in Nancy Drew: The Haunted Carousel.
Meet intriguing characters.
Immersive puzzles & riddles.
Play mini-games!
Game System Requirements:
OS:

Windows 2000/XP/Vista/7

CPU:

600 Mhz

RAM:

128 MB

DirectX:

6.0

Hard Drive:

376 MB
Game Manager System Requirements:
Browser:

Internet Explorer 7 or later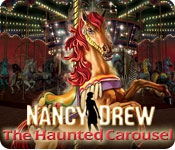 NEW299
The Big Fish Guarantee:
Quality tested and virus free.
No ads, no adware, no spyware.

Reviews at a Glance

Nancy Drew: The Haunted Carousel
0
out of
5 (
0
Reviews
Review
)
Customer Reviews
Nancy Drew: The Haunted Carousel
13
13
Great Game!
I am just beginning to get into the Nancy Drew games. My first purchase was Nancy Drew's Shadow At The Water's Edge which was one of the best games of this sort I've ever played. This game, The Haunted Carousel, was not quite as complex, but very enjoyable to play. The only thing I did not like is that you were not able to skip the puzzles, you had to do all of them in order to move on. One of the arcade games I hated was the Barnacle game because I am not very good at the shoot-the-targets kind of games using my arrow buttons. Could have pulled my hair out on that one! Overall, this is a wonderful game to play. I just wish they offered more Trial Games with the Nancy Drew series.
January 18, 2012
Review from a Nancy Drew Pro
I have played all Nancy Drew games that were ever made and I own all of them, and I can say, after having got the newest one, The Deadly Device, that although the new ones are good too (new interface, and they are a LOT more realistic), the old ones are by far the most fun. My favorite ever is the Haunted Carousel, because it was one of the first ones I'd ever played and the storyline was pretty good, too. I think that if you're a newbie to ND games, you might want to start off with an older one, just because they're much more simple and don't require as much experience. So I totally recommend this game. That said, though, if you have a difficult time with remembering different tasks in a game that you are required to complete to finish it, I'd recommend you start from ND #13-20. These are the easiest to follow through with. I hope this was helpful with your sleuthing!!!
December 29, 2012
Love Nancy Drew games!
I have had played all Nancy Drew series games, this is one of my favorites.
December 22, 2011
A Nice Little Nancy Romp!
This little game was a real romp, and kept you wondering just WHODUNNIT! There were the usual Drew games which were fun and sometimes a bit tricky to play. And, of course, there were the secret rooms and passageways that are the hallmark of all of the Nancy Drew games. All in all, this was a very satisfying and exciting game, and another triumph for HER INTERACTIVE and BIG FISH GAMES!
September 6, 2012
vhghj
i love the game ! it is a good !
July 15, 2012
Good for Beginners to the Nancy Drew Series
This is one of the simpler and older of the Nancy Drew series of games. It's good for a beginner or for someone who wants a less scary game. On the negative side, the puzzles are not as challenging and the game is not as long as some others I've played. On the plus side, the story is good, with some funny characters to meet and interview.
May 7, 2012
It's challenging if you want it to be.
This review is based on a complete playthrough of the game. I played through the whole game as Senior Detective. I enjoyed the storyline, the characters were fun, some a bit quirky. I'm going through all the ND games from the start, so I can't compare this to the newest ones, which can be a good thing - I can review it on its own merits: The "gadget" for this game is a cell phone. You also have a laptop in your hotel room. No clock this time, so no switching from day to night (something I missed after having it in the previous games). Use your phone - call people, a lot of the story depends on that. You've got your 'death traps' and 'chase scene' and all the other Nancy Drew staples. THE GOOD: The cell phone worked well - it let them bring in a lot of characters without you having to meet them face to face. You've still got Bess and George and the Hardy Boys to call and talk about the case, even if you don't want hints. The Laptop - it has a folder that is your 'journal' and another that is your 'task list'. Separating them was a great idea. I don't think the task list should be there at all on Senior Detective, but you can safely ignore it. You can ignore the journal as well, though I did check through it a couple of times when my own notes missed something. You also get a few emails during the game, but other than a vague hint that you really don't need, they didn't really add anything to the game. That's where the 'challenging as you want it to be' comes in. If you use the journal and task list, I'm sure the game would be pretty easy. Figuring out what you have to do is a big part of a Nancy Drew game. But if you need them, they're there to help you along before you go to the phone asking for hints. So you can set the challenge for yourself: Can you solve the case on just your own notes and wits? Or do you need a bit of help from the journal? Or do you need to go through the task list to find things you haven't tried to do? THE BAD: No clock. Time moved at the speed of plot. When you needed to search somewhere, the person who would be there normally was gone. When you found what you needed, they came back. Made the game MUCH easier than it needed to be by doing that. Having a 'to do' list on Senior Detective - at least it's in its own folder on your laptop, so you can just ignore it. Game length - this is one of the shorter ones. Depending on the challenge level you set for yourself you could have this one solved in a few hours. Very little actual moving around. Especially coming after Ghost Dogs, where you had a whole forest to move around in, the 'click to transport' interface was kind of 'meh'. At least there were more than three or four locations this time. THE UGLY: It's one of the older games, so it has that big interface. If you've got a decent sized monitor, you should have no trouble seeing what you need to though - the game was designed to be played through that smaller window. BOTTOM LINE: I'm giving it four stars because it had a good main storyline, a nice side story, and was challenging enough to make me scratch my head a few times. If there were half stars, I might give it three and a half for it's short length - but it's definitely better than a 'just ok' three star game (IMHO).
January 23, 2014
Wonderful Game for a beginner
This is a perfect game to start playing the Nancy Drew series....The game is quite quick (which can be an advantage if you don't have several hours to sit and play and will forget where you left off). The ending happens all of a sudden and you are't expecting it -- so I never got to check Nancy's computer ToDo List to ensure that everything had been done. However, I assumed that the checklist was completed because the game ended. The hardest part of the game was the Barnacle Blaster. Just keep playing it and do it sooner rather than later so you can get it out of the way. I am usure what the point was to seeing the carousel horses' names when we didn't need to know them -- and why did we need to see the hole where the lead horse had been -- it just seemed like a waste since there was no clue there. The flag game was the best -- I played it several times. Again, this is a good game for beginners --- loved it.
July 5, 2013
Great for those new to Nancy Drew
This is my 3rd Nancy Drew game I finished . This game was much easier then the others I played. I still had to go to the forum for help a couple times but I was ok with that. This had a funny side to the game (as long as you read your inbox) Do read the inbox, what looks like odd unusual emails is actually hints. This is a good game for anyone beginning Nancy Drew games, not as complex. There are parts that stumped me. Instead of trying for days, I just went to the forum. I think I'm the only one that made Nancy gain 5 pounds. Everytime I was stuck I ran and grabbed a burger at the hotel. Thank goodness the game ended, I would of never wanted to see my bill for room service. (haha). On a different note, This games has a rather sad plot. Trying to recall childhood memories you blocked out due to the pain of them. The game is not sad at all. But I suggest reading up about the game, before buying. Well happy eating and playing
July 5, 2013
IT WAS DEPRESSING!!!!
For an older game I didn't expect a lot of challenge and there wasn't.. I'm trying to play my way through all ND games and just started playing them a couple months ago and was hooked! Some games are hard, some hard and fun and so on! The Story with Joy and (Miles The Memory Machine) I'm sorry but it just completely depressed me! They really ruined the game with that story Nancy helps Joy to figure out and remember. It may not bother other people but I play to escape reality so the last thing I want in a game is to have bad memories pulled up and have my mood dragged down! Besides that there really weren't any redeeming qualities to the rest of the game either. Ugh!
May 5, 2013