Gems Quest
In 1923, a young woman traveled deep into a remote jungle looking for flowers. A mysterious hieroglyph led her to an ancient temple filled with rare gems. Discover the jungle spirit by collecting gold and gems to awake powerful totems. You'll receive a special gift as you traipse through 60 lush levels in this brilliant match-3 dazzler. Play Gems Quest, the perfect mix of puzzle, arcade, and adventure.
60 shimmering levels
Cool power-ups
Conquer the quest!
Game System Requirements:
OS:

Windows XP/Vista/7/8

CPU:

800 Mhz

RAM:

256 MB

DirectX:

8.0

Hard Drive:

23 MB
Game Manager System Requirements:
Browser:

Internet Explorer 7 or later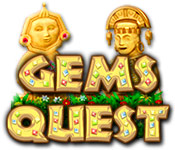 NEW299
The Big Fish Guarantee:
Quality tested and virus free.
No ads, no adware, no spyware.

Reviews at a Glance

Gems Quest
0
out of
5 (
0
Reviews
Review
)
Customer Reviews
Give it a go
Different from other match3 games as each unit has arrows & you choose which way a unit goes to make a match. Great sound effects but music I normally switch off. You earn gems as you get better. I played using timed mode but there is a relaxed mode. This game is suited for the young ones, Played 25mins demo - had fun then gets boring. give it a go! Had fun but demo only for me.
June 28, 2012
WHERE'S THE UNTIMED MODE?
I've just started the free trial, one of the 2 reviewer's before me mentioned a timed and ann un-timed mode. I love playing games like this, but NOT timed! Can't find a button to turn off the timer. Where is it? Options menu just list the usual music, volume, full screen. That's it. I'm also playing Gems Legend, BOTH seem exactly the same game!! Will give review of that one when I'm ready to.
April 6, 2013
Surprisingly good!
after reading the comments, I had bypassed this a number of times. Needing to kill some time, I tried it with low expectations. What I found (based on the demo): 1. Music, pretty good, I didn't even turn it down or mute it, for once. Sound effects are excellent 2. Graphics? nothing to write home about, but very readable for size of tokens to match. 3. Help seems too limited. I discovered features on my own that I hadn't seen mentioned anywhere. Being able to reverse the direction of the arrows on the tokens was a big one. Maybe I missed something within the demo. 4. It actually was more challenging than the usual match 3 swap or chain because each token is governed by a directional arrow. You can only move them in the "branded" direction (except being able to reverse them at the board limits). 5. I did the timed selection which appears to be the default. I wasn't given the choice though it might be in the options or something. The timer was generous, VERY generous. I neared the limit once. The powerups were key to not exceeding the limit and they appeared often. All in all its a neat game. I'd consider buying this one! My current favorites are Zenerchi and Dragonstone. Dragonstone is more of an arcade game.
July 13, 2013
How Does A Flower Quest Turn Into a Gem Quest?
Storyline: In 1923, a young woman goes deep into a wild jungle in search of rare flowers. She happens upon a hieroglyph and somehow she is matching gems and building golden totems. What happened to the flowers? Good question. Graphics: Pretty good. Nothing amazing. The colors were bright. Sound: The background music sounded very stone age and the sound effects could be annoying when you finally matched 3 or more. Bombs exploding sounded alright though. Game Play: This is not your usual match 3 game. Yes, you do have to match 3 or more crystals, but the crystals are marked with the following arrows: up, down, left and right, and they can only move in the direction given on that particular crystal. If a crystal is moved to the end of the row, however, it will do an about face and can then be moved in the opposite direction. Your goal is to remove all the gold tiles under the directional gems before time runs out. That's right, this is a timed game. No relaxed mode here. I recommend you use the bonuses that pop up on the game board immediately. They will help you in untold ways. Once you get the hang of the game play, it will become easier to move your crystals around the board. Although I found this game somewhat enjoyable, the storyline was weak (frankly, it didn't make sense at all) and there was no relaxed mode so I won't be rushing to purchase it. However, I do encourage everyone to try the free demo. It's only an hour and you may enjoy it far more than I did. Happy Gaming to All!
June 21, 2014
No Good
Has the same beginning as Gems Legend, not sure which came first, but seems like one of them should have a different beginning. The game is "Sasha" has to fing a curable flower for the uncureable. You have gems with arrows in them and you have to make a match of 3 or more, this has a twist, as you have to move them in the direction of the arrows, such as up or down or sideways such as right or left. You must clear the gold tiles underneath by making matches with the gems, which in turns fill up your gold jar. At the end of the level the gold will partial cover an idol, and you have several levels to complete for the gold, which then you can cover the idol completely. You will also get power-ups to use such as a hammer(which will break one tile) or a sun which breaks several tiles. You also get jewels, that will change the directions of the gems arrows, and matching them will fill up your jewel jars which after your idol is covered in gold, will then add jewels to your idol. I wouldn`t pay full price for this game, maybe if it was offered as a DD, maybe then.
April 5, 2013