Nancy Drew: The White Wolf of Icicle Creek
Mournful howls and thunderous explosions roll across the frozen Canadian mountains surrounding the Icicle Creek Lodge. Former guests say that the resort is jinxed, but the staff blames a mysterious wolf. Is the wild animal connected to a lurking saboteur, or is the wolf warning the residents of bigger danger? It`s up to you, as Nancy Drew, to uncover the secrets before someone leaves you out in the cold. Follow a trail to hidden secrets in Nancy Drew, the White Wolf of Icicle Creek.
Play as a maid and detective
Cook savory meals
Take aim in snowball fights
Game System Requirements:
OS:

Windows 2000/XP/Vista/7/8

CPU:

1.0 GHz

RAM:

128 MB

DirectX:

9.0

Hard Drive:

903 MB
Game Manager System Requirements:
Browser:

Internet Explorer 7 or later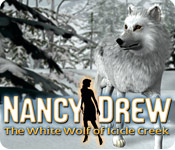 NEW299
The Big Fish Guarantee:
Quality tested and virus free.
No ads, no adware, no spyware.

Reviews at a Glance

Nancy Drew: The White Wolf of Icicle Creek
0
out of
5 (
0
Reviews
Review
)
Customer Reviews
Nancy Drew: The White Wolf of Icicle Creek
19
19
Best ND game (so far!)
It?s the best nancy drew game I have played (apart from the dossier series). You go undercover as a cook and maid at a small ski lodge to uncover the sabotage and strange things that have been happening. There is a clock in this game but unlike the haunted mansion where I missed out on vital thing, it didn?t happen here. I play on junior level. It was straightforward what to do and when and who to speak to and as everyone was in the lodge it?s easy to speak to everyone and you don?t have to spend ages backtracking to find out if anyone has anything new to say! You don?t have a cell phone but you use the hotel phone, so no Bess and Hardy boys to call. It?s cold up in Canada so you can only stay out in the cold weather for a certain amount of time but it?s plenty if you only do one thing at a time outside. Usually in ND games you learn something about a subject, here it was about wolves, especially one and that part was good. The puzzles were a mixture of arcade, thinking, and TM style. Arcade ? 1d, style avoid obstacles while on snowmobile*, and a variation of whack a mole (snowball fight) Re snowmobile, it would have been good if it could have been first person view on the snowmobile, scenery like it was outside. TM style? food. I waited at the kitchen for the right time and always managed to get all meals done before end of service and I am not good at TM games. So don?t know what happens if you don?t complete or run over time. I missed 2 meals by being outside but nothing happened (don?t know if it affected my end score). I loved this part but some of the food looked yuck like the salad, I guess you are not a good cook! There was also a tight timed pipe puzzle game but discovered by a tip you can play this untimed (click rapidly on door till Nancy says something, but you don?t go into second chance so have time to do puzzle). Maid duty, I didn?t make many beds during game, (just required one click) but you take away the towels, that?s about it! But as you are snooping around the rooms anyway it all works out. I loved the fox and geese game but it is quite hard so if you don?t like it don?t play it till the end. There is an involved cipher but you can look for a walkthrough to skip that. There are some smaller puzzles scattered throughout. I love this game as it?s contained re talking and ND games always has a fair amount of talking in them. And the variety of puzzles was a lot better than trail of the twister, and it was mostly straightforward with what you had to do next. Here is a list of ND games I have played in order of my personal enjoyment/rating. And so you know what I am comparing them to. 1) White wolf of icicle creek 2) Trail of the twister (although shorter and less variety than others) 3) Legend of the crystal skull 4) Ghost dogs of moon lake 5) Danger deception island 6) Message in a haunted mansion (must retry it with walkthrough as missed vital thing early on and just frustrated me so not that far through it) I am an experienced LF adventure player but as ND games are so different still think I am a beginner maybe moving up next game to intermediate! I always play hard in other games but still with ND am playing on junior level so if you are a beginner I?d advise that. It?s quite a good game to start with as everything is contained. I hope you enjoy it, I know I did! *Tip ? snowmobile at end. I thought there was a bug as I was at that for 20 mins a time (real time) and couldn?t get it to finish. I followed a tip here on the game forum which worked -on keeping the cursor on the snowmobile you are chasing so it keeps you up with it, not crashing in to anything and you in the same screen which you need to be for about 5 mins of game time and it ended quite quickly.
January 29, 2012
Impeccable in every respect
The developers of the Nancy Drew Series have a repute of consistency in design, quality and writing, which transpires once again in this investigation in Canada. Icicle Creek Lodge has been the target of a series of explosions aimed at its destruction. Furthermore a white wolf has been sighted nearby several times. Can there be a connection ? Up to our young sleuth to unravel that mystery. In order to do that she has to operate undercover. She thus needs to perform two jobs simultaneously; one as a maid [that's her cover], the oher as an investigator. And that poses a few problems because she has to follow a tight schedule as a maid, cleaning rooms, preparing meals and so on and still find time to gather clues. This aspect of the game may put off some players who care little about menial tasks, are not keen on time management and prefer to concentrate on the investigation. I must admit that playing as a maid interferes somewhat with the undercover tasks, is distracting and makes it more difficult to keep track of discoveries. Yet, this is perfectly realistic. Winters in Canada can be very harsh and being outdoors for a long while can lead to hypothermia and even death. There is a temperature gauge in the Lodge which tells whether it is safe to go out or not. When it is not, Nancy has no option but stay inside and wait for a better opportunity. This can actually be frustrating, since Nancy can never stay out for very long each time. Like all her other adventures, this White Wolf is full of puzzles and minigames of various kinds. None are easy and none can be skipped. But they are all uncommon, challenging and gripping even if at times one wished they had been made easier. Naturally, Nancy interacts with the characters at the Lodge. And, as always with Nancy, the storyline is top-notch and compelling. The game is highly polished [again as always], with amazing graphics and well written dialogs. This 16th installment, which is by no means an easy one, requires a lot of patience and perseverance to complete and may sometimes get on your nerves: one, because of the menial tasks that have to be done repetitively at certain times, two because you cannot go outside at will, only if the gauge indicates that doing so is okay or mildly dangerous, three because in this case all you can do is set your alarm clock to make the time pass, and four because once you have started a puzzle you have to finish it in order to progress. This White Wolf is one of the most challenging investigations in the series. Completing it provides a deep feeling of satisfaction, that of having overcome all the difficulties.
January 16, 2012
Suprisingly fantastic
I didn't really like the Nancy Drew books when I was young but played one of the Drew mysteries games on a reviewers recommendation, it was good but not fantastic, but the same reviewer said this was the best Drew mystery ever so I tried it! Thanks so much for the good advice, this is a great game. It takes ages to complete because there are so many things to do. You have to keep an eye on the ingame time because you have tasks to complete, as well as your detective work. There is a thermometer to keep an eye on when outside to make sure you don't freeze and lots of challenging puzzles. I liked the fact that I was really stumped a few times but had lots of data to look at and calls I could make to help me on. I had to resort to a strategy guide twice to help me, but the plot was not so abstract or far fetched (as it can be in other games) to lose the logic of what you are doing. I always thought - 'ah why didn't I think of that,' rather than 'no one would every do that!' Give it a go - if you want to try something different!
April 4, 2012
WHAT A RIDE!!
This is a really great Nancy Drew game! I believe this game was the most challenging of all that I have played thus far. I thought the dancing and avoidance of the robots were hard in Phantom of Venice, herding the sheep in Castle Malloy, playing against the monkeys in Seven Seas, finding all the ghosts in Blackmoore Manor, but this one was even more challenging. I thoroughly enjoyed playing the snowball game, and the fox & geese game. It really is fun to play detective, and try to figure out who is the culprit. Nancy has to find out who is trying to scare off the guests at the lodge. I very much recommend this game!
April 21, 2012
Exciting and fun loving adventure game
This was the first Nancy Drew game I had ever played. I was drawn to pick it because of my personal love for Canada and cute and furry things. The plot was great, scenery was breathtaking and was compelled to play more and more until it was finished. There seemed to be a good variety of different challenges and puzzles and the character interaction was good. Obviously a lot of thought and research goes into the ND games and I'm now a hopeless fan. I love playing these games with my 8 year old when we're travelling as it keeps us both entertained for hours and definately worth playing. I noticed that some of the ND games are advertised as hidden object games which get on my nerves and would like to mention that although these games are based on looking for clues its not normally just the case of searching for a load of items hidden on a screen there is far more work involved which keeps you guessing to the end. `
March 24, 2012
A Drab Start to an Exciting Game
I almost witheld my fifth star for this game because of its rather glum-looking opening, what with kitchen and house- keeping duties thrown into the mix. However, once into this interesting and intricate plot, I became enthralled with the question: "WHODUNNIT?" The puzzles, especially the fox and geese and the chase at the end are among some of the very best Drew devices,. AND, the culprits'd identity is a complete surprise. It's a twist-off from all of the information Nancy has gathered. This is really an exciting game, as Nancy "uses" the White Wolf to help her solve the mystery which has its hidden tunnels and underground hideouts, replete with rather complicated puzzles to figure out. This was a fun and challenging "Nancy."
July 12, 2012
wonderful Game
Terrific game -- there were two hard parts, but for the most part, if you like snow and find yourself playing in summertime, it's a lot of fun. I enjoyed the wolf and the geese/wolf game but had a hard time with the ending. There was no bar on my screen that implied how to get the villian to wreck the snowmobile. So I had to consult a walkthrough to see how to finish. But overall, I enjoyed this wholeheartedly
July 4, 2013
Again one of my favorites!!
This game is just plain fun. There's lots of stuff to do and explore and although the chores are repetitive (some people may not like that) I found myself looking forward to doing them. Next to horses wolves would have to be my next favorite animal and the one in this game is great. I want to say so much more but I'm afraid I'll give away too much information about this game.
January 20, 2015
Fun Game
I agree with the reviews. This game was fun.. I would of liked to see more direction tho. I had to confront the guide sometimes to see what to do next..
September 8, 2013
A Romp in the Snow with Nancy Drew
This is one of the "older" Nancy Drew games, and it's well worth a play despite its age. I've played most of these games, and I think this is one of my favorites. It has a great story, lots of action, some fun moments, few annoyances and a thrilling ending. The only downsides of this game are the quality of the video, which is understandable given the game's age. You also have to do some repetitive tasks which can be annoying, so I got down a system to get through them as quickly as possible. A lot of people dislike this game because of the "fox and geese" challenge. It was not too difficult once I got the hang of it. I also liked this game because there was not a lot of talking. Some of the newer games have way too much dialogue. There's a fair amount of snooping and several places to explore. The wolf of the title is a cutie!
March 25, 2013