Sherlock Holmes: The Mystery of the Persian Carpet
Hunker down at your flat at 221b Baker St. in London. The year is 1896, and Scotland Yard has called Sherlock Holmes with an urgent request for help. Along with Watson, you must investigate a peculiar crime - a young painter has been murdered and found rolled up in a remarkable Persian carpet. Explore scenes in order to find clues and reveal suspects. Use Police reports with interrogations and statements of witnesses in Sherlock Holmes: Mystery of the Persian Carpet.
Puzzle & Adventure game
Analyze clues and evidence
Crime scene items
Game System Requirements:
OS:

Windows XP/Vista/7/8

CPU:

1.2 GHz

RAM:

512 MB

DirectX:

9.0

Hard Drive:

100 MB
Game Manager System Requirements:
Browser:

Internet Explorer 7 or later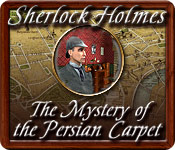 NEW299
The Big Fish Guarantee:
Quality tested and virus free.
No ads, no adware, no spyware.

Reviews at a Glance

Sherlock Holmes: The Mystery of the Persian Carpet
0
out of
5 (
0
Reviews
Review
)
Customer Reviews
Sherlock Holmes: The Mystery of the Persian Carpet
14
14
I Quite Liked It! In fact, I LOVED it!!
I totally disagree with the previous reviews. I probably would have given it an overall rating of 4 stars had not the average rating been so low - and it definitely deserves to be higher than 2.5. A few puzzles are quite easy, but most are challenging without being ridiculously difficult - the HO's are very challenging tho - so fair warning.... One tip: most of the evidence you're seeking is very similar -- strands of hair, ashes, footprints, etc. I truly enjoyed doing part where you match up the suspect with the evidence.... Also, I would suggest you begin in easy mode until you get the hang of the game.... Enjoy!
March 19, 2012
Tricky but I liked it.
This is a very different game. At first I became frustrated as I couldn't figure out how the game worked. Perhaps clearer explanations? Half way through I got stuck at the Deduction Board and I had no hints left. Restarted and was very careful not to use hints unless absolutely necessary. Also used Walkthrough to help. I liked this game because it was different and a little more difficult. The ending was a little confusing. No bonus play but you get to repeat the puzzles. It got me hooked so I would recommend it.
March 28, 2012
Mixed revews-but I liked it!
As some reviewers say, this game is definately on more of a challenging side. If you are used to common hidden object games that guide you everywhere you go, then you will struggle with this game. I liked -hidden objects that make sense (you do not have to collect butterflies or answer for 2+2 to get a wrench in the end) -places hidden objects are hidden/laid make sense (footprints you have to find are on the floor!) -Challenge of the puzzles is excellent. These might be little annoying -Indeed, hidden objects are tiny. But use common sense if you cannot find them. -No voiceover, but this is good because the file size does not become big I am getting tired of a lot of hidden object games because they are all so similar now and the story line is almost identical. This game is maybe not as good as authentic adventure games, it might be good for those who want something different.
November 26, 2012
Diffirent but i like it
I almost gave up on this game after i saw the 2.5 star, then i saw couple good reviews and decided to give it a try. I am glad i did. It is a quite different game as normal hidden/adventure game, and quite different as other games in holmes serial. You have to think a lot when you play. What i like: 1. Puzzles. The are challenge and interesting, Most of them are variant of some common puzzles (hanoi tower, nonogram, etc). I like all except Coded Lock Puzzle, which is quite difficult to analyze the possibility strategy; 2. Great story line; 3. Hidden Object scenes are not junk piles. you are actually searching for clues. What i do not like: 1. It is older style game, so you can only read the dialog. And i think it change too fast, so sometimes i can not follow. 2. I do not think the hidden objects are too tiny(could be because i have big monitor), but they are too blended in the environment, especially the foot prints. Although i will not recommend this game if you just want something relaxing and do not require lots of thinking.
November 30, 2012
Overall good game but some tiny objects bring the game's rating down
Mmmm this is a bit different, game. For those of you thinking this is a hound of the baskervilles type game it's not. It's even different to a lot of the other style Sherlock Holmes games. And to those thinking it's an old style hidden object game - with traditional hidden object scenes it's not that either. I like that there is a timed/untimed option, that there is 3 different difficulties of play. There is an option that you can manually put in for your resolution. I changed mine to a lower resolution and it did make the black bars at the side smaller which was good. I don't even look at this like an old pure adventure game. But put this in a more interactive mystery book type game. As you do have to read and follow the story. I lOVE that the hidden object scenes are not junk pile but part of the story. I will forgive a game most anything if there are no junk pile scenes. And it's a find shape of items not word list, but when you click on shape it will tell you what it is. Some are very hard to find, but with patience most I did find. Playing on a laptop pulled close did help! I don't think the puzzles are particular hard but some like the painting are just tedious. Some are more of the traditional adventure game variety, you have to think for some of them! I also like that they are unlocked when you play them, so you can go into the menu and replay them. For those that like stories, or something different with some nice puzzles then this is a check out game. I really enjoyed it. tech wise no problem from me I have nvidia card, windows 7 64 bit. pros - Interactive hidden object scenes (got to uncover things to get to some items) - unlocked puzzles - no junk pile H O scenes -great story, got to think -more difficult puzzles cons - - Some of those objects are really tiny, I did get most with adjusting lighting and patience, and hints -needed more skip options for puzzles -deduct board, got a bit tedious
November 19, 2011
Too hard for me but an experienced gamer might enjoy
This is not a simple hidden object game from Frogwares; the graphics, artwork & music mirror all the other Sherlock Holmes games from this developer. As ever the game is beautifully drawn & there are many types of puzzles to solve & it is extremely challenging to play. There is no voiceover but quite a lot of dialogue which is clickable but still quite slow. There are 3 modes, Casual, Detective & Adventure; I used Casual in the demo as I do not have the expertise to play in the harder modes. Once you get past the initial scenes in the game you will find 3 icons at the top left of the screen, a picture of Holmes which returns you to Baker Street to analyse, deduce, etc, a map to move to areas as they open up & a hat which is Scotland Yard where you look at witness testimonies, crime reports, etc. You only get 3 hints per level & you cannot earn more so you may need to resort to a walkthrough more often than you would like. You will have to find objects in a scene & identify them from a silhouette although if you hover your cursor over the object you will be given its name, e.g blood stain. Many of the items were extremely small & an inbuilt magnifying glass would have been really useful but unfortunately you have to strain your eyes instead. As there are so few hints it is made more difficult. There are also puzzles through the game but there is a limited number that can be skipped, seven in casual mode & only three in the other modes of play. Some of the items that you find are also puzzles; you select an item & drag it over the puzzle icon (looks like a jigsaw piece). The puzzle icon will turn a golden colour when all the puzzles in a location have been solved. This was altogether too confusing for me but perhaps more advanced gamers may find it easy to play.
November 28, 2011
Tedious
A slow and tedious game with language errors (ex: "torned paper") and difficult-to-find objects.
March 19, 2012
Disappointing
I really didn't like this one at all. Dark, small objects and some places very difficult.
January 6, 2012
A Poor Game In A Great Series
I usually love Sherlock Holmes games, but I couldn't hate this more if I tried; Here are my thoughts on the game: Good Parts: Suspects and Witnesses A Great storyline Classic Murder investigation OK Parts: No voices. This made the storyline hard to follow Bad Parts: Incredibly hard puzzles- they're so challenging only a genius could beat them You had to complete the investigation, use hints and play puzzles when the game wanted you to The suspect minigame- nothing like the other Sherlock Games Very small hidden objects Overall, this game is nothing like the other Sherlock games and I wouldn't recommend it if you paid me.
May 25, 2012
Glad I tried it before I bought it.
I needed one more to fill up my card for the month and this was 3 bucks. Glad I didn't waste the money. You have to be a verifiable genius to ever get anywhere in this. The puzzles are all impossible for anyone with an IQ under 200. Mine is supposedly 135 and obviously that isn't enough for this. I finally got to a place where I was out of hints and had no way out. After guessing for what seemed like forever at how that deduction board was supposed to work, I gave up. Like everything else in this game, it was impossible to comprehend as well.
March 23, 2012
The Apple logo is a trademark of Apple Computer, Inc.