James Patterson Women's Murder Club: Death in Scarlet
A morning jog presents a chilling find, and a new wave of fear descends upon San Francisco. Enter the world of James Patterson, America`s #1 storyteller, and study murder scenes as Lindsay Boxer, Claire Washburn, and hotshot crime reporter Cindy Thomas. Find hidden objects inside nine investigations, brain-bending puzzles, strikingly-beautiful artwork, and an all-new spine tingling storyline. Discover the truth and stop a psychotic killer in Women`s Murder Club: Death in Scarlet.
Game System Requirements:
OS:

Windows XP/Vista/7/8

CPU:

1.0 GHz

RAM:

256 MB

DirectX:

9.0

Hard Drive:

89 MB
Game Manager System Requirements:
Browser:

Internet Explorer 7 or later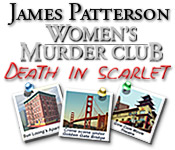 NEW299
The Big Fish Guarantee:
Quality tested and virus free.
No ads, no adware, no spyware.

Reviews at a Glance

James Patterson Women's Murder Club: Death in Scarlet
0
out of
5 (
0
Reviews
Review
)
Customer Reviews
James Patterson Women's Murder Club: Death in Scarlet
20
20
Love this game!
I am a HUGE fan of mystery novels' and this is one of my favorites. Excellent storyline and graphics, combined with intrigue, extraordinary puzzles to follow. I will rate all of James Patterson's novel's with an A+.
February 11, 2012
Excellent Series
I really like this game! The characters are familiar and fun to follow throughout the story. It ends rather abruptly but what can you do?
February 21, 2012
Great game for WMC fans!
I decided to play this game because I am a big fan of the Women's Murder Club novels. However, while I don't think that the storyline was written by James Patterson himself, the characters do carry some of the same characteristics that he created. I did enjoy the story and found myself trying to figure out the killer throughout the game. I did figure it out during the final investigation, though. As far as game play is concerned, it was a fun game but full of frustrating hidden object scenes. Many of the items to be found were very tiny, and I did have to use the hint button many times. I did enjoy playing as each of the three main characters. The story told between each investigation was portrayed in comic book style. The length of the game was a decent length, but I did get through it within a day's time. This is truly a casual game. There is nothing intense jumping out at you, no constant back and forth between scenes, and you're not looking for objects strewn about the scenes. All inventory items are found during each HOS. Many of the mini games are pretty easy to solve, except in the medical examiner's office. Each time you visit the forensics lab, you have to put the chemicals in order and that requires a bit of logic. It's not too difficult, but it's not extremely easy either. What continues to make this a true casual game is that there are no click penalties or timed scenes. You can stay in the same location for as long as it takes you so you're not in any hurry to finish. Personally, I love adventure games and absolutely abhor straight HOGs. However, this game was a nice change of pace because there were enough HOS and mini games to make this game enjoyable. All in all, I would recommend this game to those who enjoy a great mystery, James Patterson Fans, and fans of the Women's Murder Club novels. I would also recommend this game to those who like to take their time with a decent game.
March 30, 2013
GREAT STORYLINE. AGGRAVATING HOS. LOTS OF HOS.
I have already played James patterson's Women's Murder Club Little Black Lies and Twice in a Blue Moon. I bought them all at the same time without testing demos. Of the three, this is my favorite storyline. Although, the other two carried good storylines as well. Storyline is my favorite part of this series. I also much prefer that the stories are set in modern times with contemporary characters and not the constant morbidity of ghosts in a stone castle or an insane asylum. What kind of entertainment is that. Its so negative. That's my main complaint about lots of developers. Do they only know about haunted castles? Get out of the dark ages. Back to this review. Very irritatated and annoyed by tiny HO items. My eyes are alright and I had to put on my reading glasses and hold my laptop and put my face right up next to the screen. Come on. That's a ridiculous pain. That's not enjoyable. The scene's were fine, just enlarge them for reasonable viewing to play the game. Had the same issue with Twice in a Blue Moon. I would like to try the fourth one, but question whether I want to aggravate myself with the artwork. I'm going more now for Adventure games with less HOS. One last personal dislike was the limited hints and no walkthrough. I play in casual mode for fun and I don't want any restrictions as far as time or number of hints if I want them. Its heavy on the HOS if thats what you like. Good story.
August 8, 2012
Decent but not great
The storyline started off interesting but didn't manage to thrill me, really, and I found the ending to be disappointing and unsatisfying. Some of the HO puzzles were difficult because what you were looking for was tiny. Had to use the hint-button way too much and sometimes I couldn't even see the object after the hint button had pointed it out! There are better Women's Murder Club games out there than this one.
January 17, 2013
It used to be good... 4 years ago
This seems to be the first game in the series, so my main point of critique is not valid. With the series, you know what you get: Three (later four) women, a Detective, a Forensic and a Journalist, solve murders in the San Francisco area; you play all three of them in turn. The Good: + very decent game duration + engaging, not run-of-the-mill storyline + math and logic puzzles + cartoons The Neutral: o items are put back in HO scenes, which you will solve over and over again The Bad: - it seems that they recycled a LOT of stuff for later games, it feels like I saw most main rooms again - the same minigames (sort chemicals, microfiche) over and over and over and over again - minuscule items, sometimes in dark rooms Bottom Line: It might have been good in 2008, but 4 years later you can say that it hasn't aged well.
November 1, 2012
Need a magnifying glass...
and not just to play detective. The hidden objects are nearly microscopic, and because of the contemporary art style, don't necessarily look the way you would expect, making the HO's extra hard to find. The forensic lab activities ask you to find petri dishes and medicine droppers. I know what these look like, but it was just by luck that I found them because of the art style and their tiny size. I didn't even complete the second investigation, when I realized that my nose was nearly to the laptop screen, and I was going to end up with a migraine. The mystery is why anyone would have designed a game like this. And the solution is to delete it!
June 5, 2012
HOS abundance
First, I don't like hos games. If there are a few it's okay but this is ridiculous. Very difficult hos at that. Not a believable story, I.E. Real people wouldn't be so disorganized. You have to READ the storyline instead of listen to it. Little Black Lies was MUCH better.
June 17, 2013
One out of Four aint bad?
Having thoroughly enjoyed (and replayed 3 times) James Patterson's Women's Murder Club: Little Black Lies, I was ecstatic to come across the other three including this one, Death in Scarlet. Unfortunately for me the other three did not come anywhere close to Little Black Lies and I didn't even last 10 mins into each of the demo's.
January 26, 2012
tedious
Game starts of well with interesting puzzles but soon becomes nothing but HO's with microscopic items that are impossible to see or are hidden in shadows or just unrecognizable. what few other puzzles there are are just the same ones over and over. Game gets very tedious and redundant half way through and I just didn't care about the story anymore. I just wanted it to end. I liked the other Women's murder club games much better.
January 12, 2014
The Apple logo is a trademark of Apple Computer, Inc.