Laura Jones and the Gates of Good and Evil
Enter the gates of Good and Evil with Laura Jones, the daughter of a famous adventure duo. On her way to the Portal, Laura must find six sacred keys in order to open the Gates. Will she prove she`s worthy of the Keys by passing challenges crafted by the Guardian Spirits of the Gates? Meet amusing characters and hunt for hidden objects in Laura Jones and the Gates of Good and Evil.
Hidden Object Adventure
Extraordinary mini-games
Hilarious characters!
Game System Requirements:
OS:

Windows XP/Vista/7/8

CPU:

800 Mhz

RAM:

256 MB

DirectX:

8.1

Hard Drive:

56 MB
Game Manager System Requirements:
Browser:

Internet Explorer 7 or later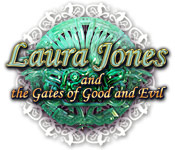 NEW299
The Big Fish Guarantee:
Quality tested and virus free.
No ads, no adware, no spyware.

Reviews at a Glance

Laura Jones and the Gates of Good and Evil
0
out of
5 (
0
Reviews
Review
)
Customer Reviews
Laura Jones and the Gates of Good and Evil
9
9
Not a bad game ... just kind of ...
I bought this game years ago. I vaguely remember playing it. It has some cute qualities. The characters go well with the story line. The story itself is pretty good. That is what kept me playing. However, the graphic quality was a bit frustrating. There was an element of hidden objects but some were so hidden, I had to use many of my "hint" buttons just to find stuff. At the end, you are supposed to place a series of heads on their correct pedestal by following the instructions on a stone tablet. The expressions were supposed to reflect an emotion. But the stone tablet was hard to read and the faces and their expressions were difficult to distinguish. The shocked looking face was supposed to go on the pedestal with three dots according to the instructions, However, when I placed it on that one it goes back to inventory and tells me "it doesn't go there". That was the only face / pedestal that did that. I probably won't play this game again and I am not going to finish it. The face / pedestal is the last part / chapter. So I think I have seen the best parts.
June 28, 2013
Relaxed HOG with enough story to keep it interesting
It is not so much an adventure with HOS but several HOS connected by a storyline. Still, all the objects you need to find are connected to the storyline (the person who has information wants a cup of coffee, and you have to find the coffee beans, and then the coffeepot, grind the beans, add water, and boil it). It is not a question of digging through assorted garbage, but for fidning exactly what you need. That makes it a lot more interesting. The minigames are OK. They are not overly hard. Just a good way to spend a rainy, lazy afternoon.
May 30, 2014
Good for a rainy day
Varied and interactive game - HOS (sometimes several of the same object, sometimes different objects), puzzles, tangram, find differences, etc.. Start with 3 Hints, but in all the scenes have question marks to be collected for extra hints. Many dialogues, but you can skip. Music sounds good, but for being repetitive, tires. Game is not difficult, and always has sparkles where you have to interact. Tutorial and comments appear all the time. A good entertainment without requiring reasoning. Ok to pass the time.
June 6, 2012
average and easy but booring
Not bad but not great. Something to do. The HOS are ok and the puzzles are good. Old type game.
May 8, 2013
Good free hour of fun - not sure I'd buy it
I've played a lot of adventure games and this one was pretty standard. The problem was that it was standard, nothing special. Nothing bad, just nothing great. Great for a FREE hour, but I don't think I'll buy it unless it happens to be a deal of the day and it's been a while since I've played it. Plus, since there's no walkthrough, I have no idea how much time is left in the game. It seems to me that I've played at least half of it since there are supposed to be 6 artifacts (per the description# and I've finished 3 by the end of the trial. Also on the sidebar between intervals it tells you how many sections you've done, and I'd finished 10 or 11, and it appeared those filled up half of the space available for the section slots #hard to really tell#. I don't buy games that I can complete in another hour or two because it seems like a waste of money to me. On the good side, the characters were interesting and the hints, though limited, were easy to find more of #look for the question marks hidden in the scenes). I recommend this game for the free trial fun of it.
March 11, 2012
Purely traditional
Rather basic in concept, Laura's adventure is pretty simple and standard with a fair storyline. The visuals are good and brightly colored, the HO Scenes manageable though at times a bit boring like having to find 30 balls or 15 toys. Some are cluttered other much more tidy. Hints are limited. The linearity doesn't allow you to travel freely; each new scene is available, and shown on a map, after completeing the previous one The hunt and use of.important items is easy and very traditional. The minigames are okay: tangrams, pipeline style, find the differences, etc... One of them is funny: you have to feed a cat affected with bulimia. All minigames are replayable after they have been unlocked and some of them can be skipped. Interaction with the different characters is done via scripted dialogs. No voice-over. A game that won't blow your socks off but can be considered as a relaxing filler for rainy days and beginners.
January 30, 2012
Good choice for a free game
This is a pleasant game, suitable for those who don't like dark themes or violence. It is easy to play, with a good ending, and there are mini games to play whenever you want after the end of the game, which are suitable for kids. Good choice for a free game, but maybe not worth full price.
June 5, 2013
An Okay Game
I bought this years ago and played it again last year but my memory is a bit rusty. If you are an expert and you want a challenge then this might not be for you. For me, this was an enjoyable game and was a great way to pass the time. It's certainly not as long as some of the other HOGs I've played.
August 23, 2014
Where has the potential for a good game gone?
You are Laura Jones, a graduate and assistant to a world famous archeologist who has made an incredible find (been there, done that). You keep having "dreams" when you are actually going through portals every time you touch an artifact he found. Graphics are poor. Sound is tedious. Characters are wishy-washy and comical - at best. You go from site to site playing HOG, or what I call "hide and seek" because the items you need to find are impossible tiny and oftentimes transparent. I wouldn't recommend this game if it were for free. Not for me - not going to ask you to waste a precious hour of your time to ruin your eyesight.
June 28, 2014