Haunted Hotel
After crashing his car on the side of the road, a bewildered traveler finds himself checking in to the Haunted Hotel! In Haunted Hotel, you must explore frightful floors full of spooky rooms to find Hidden Objects in creepy crevices. Immerse yourself in a thrilling adventure full of mysterious mini-games and addictive Hidden Object game play!
In-room bonuses.
Addictive mini-games!
Unpredictable ending!
Game System Requirements:
OS:

10.4

CPU:

800 Mhz

RAM:

256 MB

Hard Drive:

54 MB
Game Manager System Requirements:
Browser:

Safari 4.0 or later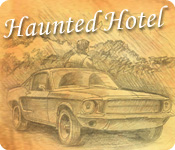 NEW299
The Big Fish Guarantee:
Quality tested and virus free.
No ads, no adware, no spyware.

Reviews at a Glance

Haunted Hotel
0
out of
5 (
0
Reviews
Review
)
Customer Reviews
Good hidden object game
Enjoyed playing this game. There's better ones out there but this does offer enough challange to keep you going.
April 13, 2013
Good in a weird way
I've had this game plus the two that follow for about 6 months and didn't quite understand it but decided this weekend to at least try it and see what's up with it. Not to challenging which is sometimes a plus, visual/sound quality was wonderful and the storyline was a little weird and sometime down right confusing but really enjoyed it. Very enjoyable for first time and vets of HOG's.
April 20, 2014
Play the free version first to see how you like it
I got this game free and I liked it, but it was pretty easy. The "puzzles" were simple and the HO scenes were typical where you find random objects that don't help you solve the mystery. the plot/story was told in journal fashion like the Mystery Case File games. Just pay the free trial first to see if you want to continue. It is fun and the themed rooms are beautiful, but it is pretty predictable.
January 6, 2012
old type of HOG
Not the new real fun games to play. Pretty much HOS which are not bad. No real adventure here. Try it out and see. Just good practice for a new bee.
May 9, 2013
not that interesting
I wasn't impressed and wished I hadn't purchased it. The first hour was interesting but then it just continues with the same boring stuff over and over. Lost interest very fast.
March 10, 2012
Just Like Reading A Book
BASED ON DEMO I imagine this game must have been quite something in its day (Jan 2009). The production values are great. The graphics are adequate even by today?s standards. The gameplay is a classic example of the way HO games used to be played. Dated, yes, but appealing all the same. The one thing that will really put a lot of people off, but which I find endearing, (partly because no developer would be brave enough to do it these days) is the extensive prologue and subsequent instalments of the story. The story is told by a diary, each line appearing at about reading pace. There is of course no voiceover, and after the intro cut scene (excellent comic graphics), all the action is narrated threw this method. During each chapter thereafter there is also several pages of story that take longer to read sometimes than the chapter takes to play. But it is a fine story. A traveller is involved in a car accident and ventures down the road to a hotel in search of assistance. When he gets there the place is deserted. The more he looks around, the more he discovers mysterious and ominous surroundings, strange phenomena and terrifying screams. This is the stuff of the diary. The game itself is pure HO, so you must read this to get any sense of progress. GAMEPLAY Each level has a number of mini-games you must complete in order to move on. These include puzzles like untangle ropes and a variety of arcade-like mini-games. Within the demo, these are not too difficult, but I anticipate a time when they will be. Which makes the fact that there is no skip for some of them, and that everything is timed, daunting. The increasing number of ?rooms? (HO scenes) in each level require you to find an ever increasing numbers of items from a list, as well as some bonus items that get you power ups such as more time. You get five hints per level. My one major criticism is that the background for the listed items is too ?busy?, making it difficult to read the words. This game is certainly not for everyone. Many would actively loathe it. But if you?re feeling nostalgic for the way it used to be, when HOGs were as challenging and high stress as any other casual game, then this could well be your thing. It is also fun to see how this series started and how it evolved to what we love now.
October 13, 2013
Good for beginners
This game is very verbose and the hidden objects puzzles are really easy. The extra puzzles are really silly and one doesn't even make sense. Don't waste your time if you are short on it.
February 22, 2014
Not very entertaining.
I played this game for about 30 minutes ad couldn't stand playing it any longer. The HO puzzles themselves were either way too easy or almost impossible to find. There was not in between. The mini games were an added bonus. I did like the idea of playing mini games to build to something. The sound was pretty decent, I liked the audio of the game. The visual, well not so much, I'd have to give it a C. The part that I didn't like the game the most... the story. After every "floor" it gave you a story. We're not talking a paragraph...it was 3 pages...each level. A lot of reading. It kinda made the game drag on. I want to play a game not read a book. Very disappointed.
January 9, 2012
Be Afraid! Be Very Afraid!
As far as I can tell, this game is a series of timed minigames. The instructions for the games are bewildering at best and remember, they are timed. I'm a beginner with old glasses. I do not want to be rushed through anything. But I was willing to try. If I had been able to understand the instructions I might have had a fighting chance. But they made no sense to me. I lasted about five minutes and quit. I'm going to leave this game in my inventory until I'm an expert player with new glasses. If you don't want to be timed, please do not buy this game! As for the storyline, I have absolutely no idea what happens after I supposedly crash my car and go into a hotel with a strange room that I enter after hearing a scream. It's snowing inside that room. And that is all I know. Not fun. Not spooky. Just very, very scary timed games. I would have given it one star but I hope I become better at these games and maybe I will like it more then.
May 18, 2012
headache inducing sounds - ouch!!
This game was interesting to start - it is unique in its approach to HO but the sound effects were nasty. I know it is supposed to be eerie and all, but yikes - it became so much like a whine I turned the sound off. When i turned it on again thinking maybe it was just me, it was annoying within minutes. The reading required - well, I love gaming when gaming and there was far too much text for me. I actually didn't read it and it didn't make any difference to the game play. On the upside the graphics were good, the HO was very easy and so were the mini games. Sorry peeps, this is not the HO game for me.
January 16, 2012
The Apple logo is a trademark of Apple Computer, Inc.
The Windows logo is a trademark of Microsoft, Inc.