Rock Tour
Exclusive
What does it really take to become a player in the industry? Step into Rock Tour and learn the cut-throat business of the music business. Work with a local band that has major potential to top the charts. Promote them and outfit them in the latest gear. Along the way you`ll run into greedy club owners, moody band members, random injuries, and falling record sales. Have you got the stamina to become a Rock Tour tycoon? Find out in this jammin` Time Management game.
Take charge of a local band
Outfit them in latest gear
Become a Rock Tour tycoon!
Game System Requirements:
OS:

Windows XP/Vista/7/8

CPU:

1.6 GHz

RAM:

256 MB

DirectX:

7.0

Hard Drive:

135 MB
Game Manager System Requirements:
Browser:

Internet Explorer 7 or later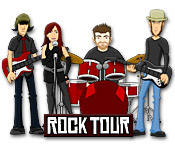 NEW299
The Big Fish Guarantee:
Quality tested and virus free.
No ads, no adware, no spyware.

Reviews at a Glance

Rock Tour
0
out of
5 (
0
Reviews
Review
)
Customer Reviews
Tour the Country in a TM Game
The object of the game is to upgrade your band mates, their instruments, vehicle, promotions, and stage shows by playing concerts around the country and gaining money. There isn't a timer, making it a relaxing game if you want to play a TM game without clicking like crazy. Earning money is an interesting wrinkle in this game; you get to dicker with the promoter for your cut of the proceeds. This can be a bit of a challenge until you get used to what percentage matches your band's talents and reknown. You actually drop your band if you want once you unlock others and push them to their full development. I'm not really sure what the final point of the game is, but it is interesting and can meet the need to play a relaxing TM game. It has replay value!
October 16, 2012
Good EXCEPT for map issue
I feel that I should let people know about the one thing that I think is really irritating about this game. I like it a lot and though as some said, it doesn't change too much as far as gameplay- it stays entertaining and the challenges do get harder in trying to get money and new equipment etc. The NEGATIVE thing that I have to say about this game is that in the map view (if you try out the game, you'll know what I mean# you can't zoom in. It automatically zooms out because your band begins to expand it's tour but then it doesn't let you zoom back in to see the stars to select new shows or to record your album etc. It's really irritating and I wish they would either add that or let you pan around so that instead of zooming out for you, they let you drag the map view around. I really like this game, but that is the only reason that I might not fully recommend it. If I had known I probably wouldn't have purchased it. I noticed it towards the end of the hour trial but figured that I just wasn't doing something right or whatever. It seemed ridiculous that I couldn't see better but then I bought it and am at the second level and still have not found a way to do that. I checked the forums and apparently this has been an issue since the game came out. :# Hopefully they will fix it. I DO recommend the game, but only if it's ok with you. If you don't mind that part then get it. Otherwise, just hope they come out with a new one (though I think it's been out for 3 years now so not likely...) That is why I am saying I do not recommend.
February 9, 2013
Entertaining for all Want-To-Be Rock Stars
A very challenging and intriguing game that kept me interested throughout its entirety. Would recommend this for any person who loves to rock!
November 18, 2011
Great Game needs Update
I love this game but...I can finish it in less than one hour, have planes & more money than I need so PLEASE add harder levels, different songs, and the instruments need to be able to upgrade at least another level. Once you play the "Olympic" with the best instruments and they laugh at you because they're not good enough it's not fair that I can't upgrade the instruments. Adding a few more players to choose from would be nice & being able to change the SINGER is a must, but I stil love it.
August 14, 2013
This game rocks!
We?ve run across these kinds of themes in media before, in movies like That Thing You Do and School of Rock. We?ve also seen it in games like Rock Band and Guitar Hero, but this little casual sim makes you the manager of an up-and-coming rock band from Baltimore. This band has a blue-sy kind of sound, and even features an electric violin. You do actually get to hear their tracks when they play at more elite venues, and if you are a fan of Dave Matthews Band, you will really enjoy these guys, whose name you have to give them. The only problem I had with the game was that once more East Coast corridor venues opened up, the map you had to work with needed to be more precise. It was US map on the back of a diner place mat, and when we are pretty much working with only the New-Balti-Wash area at the onset, we definitely need bigger map for a smaller area to work with. Speaking of working, we do quite a bit, getting gigs, setting up advertising, taking opportunities lay down some tracks to hit the MP3 websites and more. This was a really fun game, and you might find that managing a fictional band is more fun that anyone ever realised. I don?t have the time or energy to do such a thing in real life, but if by chance, my lucky stars went supernova, and such a thing came my way, I?d run a Rock Tour.
October 1, 2013
Flawed and Fun Game
If you plan to get the most out of this game, it will take at a minimum 40 hours or so. Throughout your 40 hours, your gameplay will not change very much. The mechanics of the strategy may bore some players. I enjoy Rock Tour. There are four levels, unlock one for the next. It is highly re-playable for two reasons: humor and music. The strategy: you are tour manager and record producer for a goofy group of wannabe rock stars. The graphics are simple. A touring bus on a map. Schedule shows, pay the bills, maintain the peace within a rock band. There are flaws. There is no zoom in or zoom out on the map. This is annoying when your tourbus is on a 2-D map. parked in Chicago - yet the venues (indicated with stars) are hidden by the bus! One must click on a star to schedule shows. Yet there are many shows, more than enough, various size venues, etc. The game gets slow and repetitive. The time is spent in developing musician's ability and managing to get songs written. The game will not progress very well if one is slow to write songs and record albums, As this is where the real money is. The name of the songs are fun. There is very minor storyline for each level. But its reads as an afterthought of useless skippable dialogue. Despite the zoom-map fail, the montony of gameplay and the throwaway storyline. I'll always like this game. I sure hope it has a sequel. with many improvements!
December 8, 2012
Has the makings of a good game, but duds out quickly
I loved this game for about a day, long enough to purchase it and play it for a while. Then you realize that every scenario plays out exactly the same way. Just like all the other reviewers have said, THE MAP SCREEN MAKES IT VERY HARD TO PLAY. And this is the screen you will be in the majority of the game. You start with a garage band and, as you play more shows and practice a little, you get bigger venues (and make more money). Pretty soon, you get to record some demos. Then, without warning, you don't just play in your town anymore, but you now have to travel all over the place, usually between about five states. The scheduling of the concert dates is very hard to do in the game because the opportunities just pop up from time to time. Allow me to demonstrate what you have to do in order to change a concert date if you get a big break: You've scheduled a concert at a joint with 98 seats. Suddenly another star shows up on the horrible map screen (which you cannot zoom in and out of, and the bus covers most of the concert opportunities). You have to click each star to find out the show date, number of seats, etc. You realize that there is now an opportunity to play a concert for 550 seats. You click on the schedule button. Ooops! You have already scheduled a concert for that date, but it doesn't tell you where. Click out of that window. Click on the Calendar window. Find the date, click that date, cancel that show. Go back into the horrible map screen. Find the white star (they are ALL white) that had the 550 seat concert, and now you can schedule it. Sometimes you will get a yellow-star event, which means it's a big deal to play it. And every now and then you might get a 15,000 music hall. You always get 20% of the earnings. After you play the big-time concert, you go back home to play a gig and ask for 25% and the owner tells you to get lost. You really have not negotiating opportunities. You go through this over, and over, and over again. And you NEVER get any farther than playing the few states surrounding your hometown. You never get to negotiate contracts, you can't go on a 10-day tour across 4 states because you can't schedule the dates. It takes hundreds of mouse clicks to keep the schedules up, and then it's always: Go play one concert in Arizona, go back home. Play one date in Texas, go back home. Anyway, the game just isn't worth me complaining more about it. It's a great concept, but horribly programmed. It has a good hook for a hour that makes you think, "I can live with these issues," but it's a waste of your money in the long run.
April 19, 2013