The Secret of Margrave Manor
Dusty drapes and ancient chandeliers dot the spooky Margrave Manor house. As Edwina Margrave, you must find your grandfather who`s been missing for ten years. Your only clue to his whereabouts is a strange door with an odd puzzle to unlock. In each room, collect hidden objects and view your strange medley in the collection room. Margrave Manor is the only Hidden Object game that changes the positions of the items every time you visit a room, so you`ll always have a fresh challenge. Can you discover your family`s forgotten past?
An eerie Hidden Object game
Spooky searchable rooms
Find the family secret!
Game System Requirements:
OS:

Windows XP/Windows Vista/Windows 7/8

CPU:

600 Mhz

RAM:

128 MB

DirectX:

7.0

Hard Drive:

114 MB
Game Manager System Requirements:
Browser:

Internet Explorer 7 or later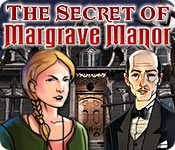 NEW299
The Big Fish Guarantee:
Quality tested and virus free.
No ads, no adware, no spyware.

Reviews at a Glance

The Secret of Margrave Manor
0
out of
5 (
0
Reviews
Review
)
Customer Reviews
The Secret of Margrave Manor
16
16
Classic, Enjoyable, HOG!!
Wasn't going to try based on some reviews, however, glad I did as this is a fun HOG. Objects were good size and just enough of a challenge to find--not too easy, not too difficult. Classic hidden object game that takes you room to room so you are not wandering around. As rooms are cleared, this opens them up for "free play" mode which I particularly like to replay and beat the game. Prefer these classics to many of the newer games in which I have wandered too many hours as consulting a walkthrough goes against my gaming conscience. Am a stubborn gamer--no hints, no skips, no walkthroughs gets frustrating at times and so I really enjoy a good old-fashioned HOG. lol Love you BFG!! Enjoy! -Mama Mia-
September 19, 2012
The Secret of Margrave Manor-can't wait to find out secret
Exciting story line with varied emotions as letters and journal pages are found. Hidden objects interesting and no repeats. Great game.
January 8, 2014
Great story, classic HOG
If you want a break from running around in adventure games, this is a great HOG. Straight HOS broken up by jigsaws. This story is the addictive thing--a real mystery, kept me playing.
October 25, 2012
The Location of the Hidden Objects is different
Every room you reenter is Different but I always love a challenge when it comes to games like this. The First hidden object game was the Las Vegas Heist, and my husband got me hook on these games ever since :-)
September 7, 2013
A Cut Above the Rest
This is outstanding from many viewpoints, so if you haven't seen this one and you like classic HOG, give it a shot. It is unique in that, even though you visit each "room" many times, the objects are in different places, so you have to start the hunt from scratch. Some of the music is really good. One of the tunes pulls me back to the game again and again. There is an overarching story, but it's not intrusive, and does not slow the game. I wish there were more of this quality. I have played dozens of HOGs over the years and this is my all-time favorite. Sequels were not as good.
November 22, 2014
Good game for a rany/snowy day
Not many people liked this game, but I enjoyed it. The story was interesting enough to keep me playing and to continue to the sequel. You start off with some introductory scenes to get the first piece of the puzzle. After that you need to complete six rooms to get the next piece. Each room is timed and is just a junk pile of items. The items will be in different spots each time you visit the room (and different sizes and orientation). The good thing is once you learn what the item looks like (some of the terms are the English version and not American) the item will look the same for the rest of the game. For each room you start up with 2 hints, but you get an additional hint every three minutes. If you run out of time, you get to replay the room with new items. There is no penalty for randomly clicking around. Out of the six rooms, one room will be in the dark so you use a flashlight and the third room is a spot the difference (not too hard once you get used to what to look for). In between the rooms, you'll find torn up paper that you need to put back together to get the story. Not the most exciting game and it will take a long time to get through all the rooms to get all the puzzle pieces. In addition to the game, after you complete each room you get an object to add to your collection. When you're done the game there will still be more items to collect if you want them all, but you can keep playing the same character and continue searching the rooms. You can also unlock rooms and play each room separately (you'll be graded on how well you do). Doesn't take too long to decide if it's worth purchasing. Try the demo and after you complete the first six rooms, you'll know how the rest of the game will be and if it's for you.
November 24, 2011
Fun Classic HOP
This is a classic older HOP game so the graphics aren't the phenomenal glossy stuff that more current games have. That said, the graphics are clear and did not stretch on my newer machine. There isn't much in the way of atmospheric sounds but what is there goes with the story. The music is pleasant enough to not be annoying. There are no voice overs. Game play involves a round of HOS with each being in a different room which you return to throughout the game. There were a few FTD's and "HOS in the dark" sprinkled throughout. Following the HOS you put a torn letter together to find out more about the story. The story is also supplemented by written dialogues your character has with the butler of Margrave Manor. You receive pieces of a door key puzzle from the butler (1 per round of HOS) and when you complete this puzzle you unlock the final room in the house to discover the last secret. The game is quite long and is probably best played in chunks rather than all in one sitting. I played it for about an hour or two a day and it lasted over a week. Because the game design is rather simple it is no problem to pick up where you left off even if you don't play it for several days between sessions. The HOS are of straight list "junkpile" type which I think are fun. They range up to moderately challenging and a few contain one or two items that are difficult to find. The letter puzzles are pretty easy. This is a game for people who love HOS and don't mind easy puzzles. Those who are looking for an inventory collection component will probably not find what they're looking for here.
October 12, 2014
Ideal for New Fishies who want to play Hidden Object Games
This is a basic Hidden Object game, with jigsaws of torn up letters written by relatives to piece together and spot the differences of the rooms thrown in for variety. I bought it for free when my card had filled up. Having played the third Margave Manor, the Severed Heart; I just wanted to buy the two earlier ones, so I would know the complete story. Each room has a junkpile of objects, the last one of the set of rooms has a piece of a special jigsaw which when completed will open a secret door. As I haven' t yet played it through have no idea what's behind it. I just hope it isn't a dead body. Get enough of that with some of the darker hidden object games. I found it relaxing, sometimes I find the puzzles of other games too difficult, and I have to use the Strategy Guide or skip. Then I feel as if I have cheated. No problems here about that. One last thing as I am the "World's Worst Housewife", seeing the mess in all the rooms makes me feel an awful lot better about my own untidiness. Enjoy.
September 27, 2012
This is okay...
I've actually had this for years and am surprised I haven't left a review. What to say... Well, everything about this is okay. Nothing stood out as overly good or bad. Except one thing... It was long. Frankly, the last few chapters were becoming a drag due to repetitiveness. As in the same rooms over and over. I only replayed this one just so I could refresh my memory to leave a review. Do I recommend this game? Yes, because it is a nice way to pass the time when you don't want something overly challenging.
August 23, 2014
Way toooooo long!!!!
I enjoyed this game for the first FEW hours but it is a game that is repetitive and VERY long!!! It took me months to finish because I would get over it and leave it for a while and then come back to it out of sheer stubbornness, because i bought it, I had to finish it! It's got a good story line I thought, nice hidden object scenes and some good puzzles but it should've been wrapped in a smaller therefore more enjoyable package.
April 6, 2013