Nancy Drew: The Creature of Kapu Cave
There`s big trouble brewing on the Big Island, time to enlist the help of the Hardy Boys®. Nancy Drew is in Hawaii to work as a research assistant, or so she thinks. Someone or something has destroyed the environmental experiments in the forest around the Hilihili Research compound. Could it be the mythical Kane `Okala or other unfriendly rivals? Program your GPS to navigate beaches, forests, and volcanoes and reveal hidden Hawaiian secrets in Nancy Drew: The Creature of Kapu Cave.
Explore beaches, volcanoes, forests
GPS tracker included
Track down the Kapu culprit
Game System Requirements:
OS:

Windows XP/Vista/7/8

CPU:

1.0 GHz

RAM:

128 MB

DirectX:

7.0

Hard Drive:

995 MB
Game Manager System Requirements:
Browser:

Internet Explorer 7 or later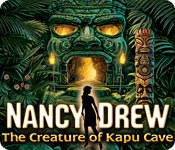 NEW299
The Big Fish Guarantee:
Quality tested and virus free.
No ads, no adware, no spyware.

Reviews at a Glance

Nancy Drew: The Creature of Kapu Cave
0
out of
5 (
0
Reviews
Review
)
Customer Reviews
Nancy Drew: The Creature of Kapu Cave
13
13
This edges out white wolf to be my new favourite ND game
My favourite ND game so far had been white wolf (the next game in the series to this one) but this has the edge (check out my other reviews if you want to know the games I am comparing it to). It is better re adventure and different locations. Like the The White Wolf of Icicle Creek, the whole game feels cohesive, from the feel of the whole game, to the adventure side and this plot has different threads going through it which was good. Some ND games have excellent puzzles but the adventure side is lacking, or something else, here it?s a really nice mix (some more smaller puzzles would have been great!) You are on a working holiday in Hawaii, helping out a scientist who studies insects and plant life (don?t worry you don?t see any insects or spiders etc). You find out that the Hardy boys are there also but are on a different case. The game switches between playing as Nancy and the hardy boys at different times in the game when you phone each other. There is an excellent variety of places to visit. I like how you have to find the co-ordinates to move around from place to place. The interactions ? adventure side was excellent, (maybe some would call them minigames but I would put them in the adventure category) ? snorkelling was fun (I so wanted to be there!), in the greenhouse was well done, all the interactions in the cave at the end was excellent. There always seems to be a theme which you learn about in ND games. Here it is mainly about plants and general information about Hawaii (which I guess is correct) that side was really interesting. There usually is one puzzle in these games that are long and is a bit hair pulling, here it was the separating and correlating etc of the samples. It wasn?t as hard as some of the main puzzle in other games but it was very involved, it was really well done but I just wanted it to finish. In big mike?s building ? Wiki tiki game didn?t like Other game in arcade which isn?t a game as you just pay and click to learn about different things Two games that you do to earn money - I think the fishing was well done, as I guess it?s like that in real life, I just didn?t like tying up bait everytime, and this minigame made me realise I made a good choice in having never gone fishing! I couldn?t get enough different shells to make any other of the choices of necklace except one. And I did keep going back to find shells and later in game when 2nd area opened up to get more choice of shells, I still couldn?t get enough variety to make a different necklace. For the variety of different locations, well done integration of switching between characters - giving added depth to a plot, I give it between a A and an A-. To get an A ? A+ they needed to (IMO)- Have had slightly more smaller puzzles Cut back on the back and forth re that one long puzzle (as there was so many mouse clicks to go back and forth when you were in the jungle) Recorded all the information you need in your journal so you don?t need to write things down (all ND games are like this) I still got music most of the time, even though I had the option turned off
February 17, 2012
Great Fun!
This game has excellent quality, but could use a tiny bit of touch up.I became parnoid sometimes, the mystery is fun especially with the Hardy Boys! I enjoyed it, and it lasted long, in a fun way.
January 9, 2012
A Very Nice "Nancy Hardy!"
This was an out and out fun game, what with Nancy Drew teaming up with Joe Hardy to solve this most interesting mystery. While not on the same lofty level as "Phantom of Venice," "Ransom of the Seven Ships," or "Curse of Blackmoor Manor," nevertheless, the gameplay was on a high level with excellent graphics, puzzles that were all game-related (I hope the developers are reading this!) and not just thrown in as they were in that remarkable fiasco, "Shadow at the Water's Edge," and excellent character interplay. The story was good and very easy to follow, and the so-called "puzzles" were nothing more than "game-related mysteries": "How do I solve this problem so that I can move on deeper into the mystery. And that's the way it should be!
May 16, 2012
What a wonderful game!!
This is my first Nancy Drew game. As a lover of large file games, I had thought that I would give it a try. Loved the fact that there was NO HOG at all!!!! This game is wonderful for those that do enjoy games like Return to Mysterious Island and Syberia type games. I am hooked and happy! Great game....very fun:-)
February 24, 2013
2nd fave ND game!!
I loved this ND game it's really fun! It's my 2nd favorite ND game because I like "Nancy Drew and the Haunted carousel" This game provides: Good quality Good storyline #the only part I didn't think was very real was when I heard about the pineapples# Excellent puzzles #big variety of puzzles# Excellent Fun Factor #lots and lots of mini games such as fishing, the game inside big Mike's hut and collecting shells to make necklaces!# My overall rate is: Fun and Beachy! :) Hope it helped!
November 8, 2013
Good but not Too good.
I loved Nancy Drew Creature of Capu Cave because the plot was good but you didn't feel like it was so good that it was fake. I loved that you got to play as the Hardy Boys because sometimes I would get stuck as Nancy and decide to switch players and then I would think of something to help Nancy. The game was suspenseful enough that sometimes I actually found myself not wanting to play it at night or somewhere that someone could walk up behind me and freak me out. I have only played a few Nancy Drew games and I liked this one a lot because it was hard but not so hard that I had to find a Walkthrough for it. I would totally give it 5 stars.
January 26, 2013
action and fun
This game was great fun. There were challenges and games as well as a good story line.
December 6, 2012
Enjoyed this - very fun
Ive been playing all the ND games in order of development and I have to say I really enjoyed this one. Most tasks were fun and the environment was fun as well. Even some of the characters you meet were fun. Visual/Sound - very good sound, visuals were pretty decent as well. Challenges seemed fairly e-z in this one, but there also didn't seem to be very many of them like some of the prior games. Despite this, the game was still fun. Storyline seemed a bit flimsy and just doesn't measure up to prior ND game standards. To be honest, it really easy to forget what the storyline is about while playing and yet somehow even without much of a story it's still lots of fun. Must be because it's in Hawaii. LOL. I loved learning about Hawaiian history so in that regard I can look past the thin story.
December 8, 2013
Good, but not excellent.
The game had too many repetitive tasks which might be nice for the one or other player, but for a profi adventurer, it was simply lacking the challenge (going fishing, collecting shells). Furthermore the storyline was kinda - unsatisfying. It definitely lacked the usual atmosphere and the title creature wasn't really part of the game, except for one or two occasions, where it was merely hinted at. Nevertheless the puzzles were interesting and the graphics are quite good. Recommendable for novice players who do not mind to spend time collecting stuff instead of getting it through puzzles.
June 8, 2012
A let down
Out of all the ND games I've played this is my least favorite so far. It just seemed to be lacking...substance. The puzzles were bland, the storyline was blah, and game was on the shorter side with a lot of back and forth on the map with not a whole lot going on. My taste may not be the same as others so, here is a list of games I've played in the series starting with favorite to least liked. 1. Warnings at Waverly Academy ( Got me hooked on ND# 2. Phantom of Venice 3. Legend of the Crystal Skull 4. White wolf of Icicle creek & Secret of Shadow Ranch #Tie# 5. Shadow at Water's Edge #the Creepiest one, LOVED the story, but hated all the boring number puzzles# 6. Curse of Blackmoor Manor #the Bullseye game frustrated me, never finished it.) 7. Creature of Kapu Cave
April 25, 2012