Nancy Drew: Ghost Dogs of Moon Lake
As Nancy Drew, track the history of Mike Malone, a notorious gangster who once lived in a lakeside cabin. Trail a mysterious pack of dogs rumored to have risen from the dead to protect their master`s secrets. Decipher cryptic puzzles and dodge danger in this immersive Adventure mystery. You`ll meet a variety of fascinating characters, all with something to hide. Can you unravel the secrets and expose the truth in Nancy Drew: Ghost Dogs of Moon Lake?
3D interactive Adventure
True-to-form storyline
Gorgeous scenes
Game System Requirements:
OS:

Windows XP/Vista/7/8

CPU:

800 Mhz

RAM:

256 MB

DirectX:

7.0

Hard Drive:

534 MB
Game Manager System Requirements:
Browser:

Internet Explorer 7 or later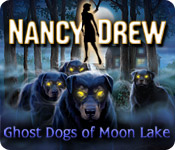 NEW299
The Big Fish Guarantee:
Quality tested and virus free.
No ads, no adware, no spyware.

Reviews at a Glance

Nancy Drew: Ghost Dogs of Moon Lake
0
out of
5 (
0
Reviews
Review
)
Customer Reviews
Nancy Drew: Ghost Dogs of Moon Lake
15
15
Great Game - improvements over prior games!
The palm pilot was a HUGE improvement. No more hand cramps and no more 10 pages of notes! Fun Factor: The start - with the dogs - scared the bejeebers out of me! I actually screamed and jumped and my heart pounded. I admit I was slightly disappointed that the dogs never made another appearance. I kept expecting to get chased down on the evening expedition for bugs, so it was a little bit of a let down when nothing happened. Visual/Sound - definite improvement over Scarlet Hand. The voice-overs were perfectly synced to the character's animations and they had slightly more personality. Still not as good as the characters in Treasure in the Royal Tower but good nonetheless. Level of Challenge: Intuitive and not too hard to figure out what you needed to do next. You had to think some things thru, but it wasn't as if you couldn't figure it out. Most of the puzzles were simple and all were tied into the storyline. Controls were slightly improved, but the hotspot for the cupboard over the sink could have been better. Bloated playtime was kept to a minimum Storyline: I can't say that I really cared about the subject matter and it didn't draw me in as much as some of the previous games did, but it was still an excellent storyline. It flowed very well, and tasks and puzzles all tied in beautifully into the story. The ending was rather anti-climatic though. Other: A few pet peeves: 1. The poem for the clock puzzle suggested swans in the summer. I live in PA and I actually know what time of year the swans are here so that seemed very inaccurate. 2. It really grated on my nerves to hear Emily speaking with a southern accent when she clearly lived in PA her entire life. 3. How did the culprit not only find the hidden tunnel entrance, but where did that person obtain the key? (suppose to be a well guarded secret) 4. How did the culprit find out about the gold? (another very well guarded secret) 6. Why was the bird watcher only available at night???? (I do believe most ornithologists do bird watching in the daytime hours) Apparently the developers didn't put too much thought into those things. Overall, I really enjoyed the game and highly recommend it.
August 26, 2013
Nice take on Hound of the Baskervilles
This review is based on a complete playthrough as a senior detective. First, this is one of the early games so it does use the 'clunky' interface. Personally, I don't mind it that much, but I remember when all games were like that (or worse) back in the day. THE GOOD: I was able to go through the whole game as a senior detective without resorting to forums, walkthroughs. or hints from Bess and George or the Hardy Boys (yes, you can call them in this game). That doesn't mean it was easy, some of the "puzzles" had me stumped for a while - like "sleep on it" while. There is enough information in the game if you take notes and keep your wits about you for you to figure things out. The game took a full day and parts of two others, so it's plenty long. Everything made sense. Ok, you know the dogs aren't really ghosts (sorry if that's a spoiler ;p ) so someone must be using them. You've got exactly three people you can talk to which leaves you with exactly three suspects. The story followed a logical progression, and the puzzles were where you would 'expect' puzzles to be (ie: a code on a safe, not some random minigame to open the next door). Two of them were the same kind of puzzle, but I can forgive them for that. The new 'gadget' for this game is a pda - be sure to check your inventory for it. This records a lot of information for you, as well as gives you some clues (more on that later). Doesn't replace the need for you to take your own notes and pay attention though. You've got your "death trap" and "chase" scenes. Both were well done and took me more than a few tries to figure out. Each of the three 'suspects' was at the top of my list at different times. They did a great job revealing the story bit by bit. THE BAD: The dogs show up the first night - no surprise given the game title. But I must've stayed in that house a month with all the time switching I had to do, and I never saw the ghost dogs again. They could have used that as something to keep you on 'edge' - you hear them coming, you have 30 seconds or a minute (plenty of time once you learn the way - and you WILL learn the way) to get back to the house. Seeing them more than once would've been nice because they were just plain wicked cool too. Going back and forth through the woods got tedious. It's really the only location you can 'explore' though, and you can find a map for it. You'll be walking back and forth in there a lot, so pay attention to the 'landmarks' (already marked on the map). Lack of locations in general. The people all stay in the same spots, and you travel to the single room they are in to talk to them. The house and the woods are the only real 'multi-room' locations - still more than some of the games though. The PDA. It's your 'task list' and a journal rolled into one. I'm putting it in the bad because as senior detective I don't want the game telling me what's important and giving me clues (the PDA frequently suggests your next step - and even 'solves' at least one puzzle for you). For Junior Detective that would be fine. Maybe it gives even more information there. You do need to read it though, because there a few things that you only learn through that blasted thing IIRC. If I play through the game again I'll see if that's true or not. THE UGLY: The map auto-updates (again, shouldn't on Senior), and I'll mention the PDA/Journal here again because that really irked me. It was like they kept wanting to show off this new thing they managed to put in the game. The graphics by today's standards were pretty lackluster, though I'm sure they looked great at the time they were made. Never so bad that I didn't know what I was looking at or couldn't find what I needed. The music kept switching from one theme to another. One was relaxing, one was tense/suspenseful. If they kept one for day and one for night, or one for the house and one for the woods it might've been ok, but the way it was 'jarred' me for a while every time it switched. One reviewer commented that this game doesn't have a "theme" - it does, the "theme" is the ghost dogs - without giving anything away that isn't already in the game title, everything revolves around them. I found it a nice change from ancient cultures and such. On a "Cool" note they managed to work in a cameo from a bit player in a previous game. I recommend it wholeheartedly. Even with the pda it leaves enough for you to figure out to really get the 'little gray cells' working, and the 'quests' were just enough to get me frustrated, but not quite 'ragequit'. Ghost Dogs of Moon Lake just replaced Dire Grove as my 'favorite game'. It's a far cry from all the 'adventure' games with sparklies and here's an object, ooh here's an identically shaped keyhole games, but if you're looking at a Nancy Drew title, you know that already.
December 2, 2013
It was an OK game
Only one of a few nancy drew games I have played (apart from the dossier series). I play loads of other straight adventure games. The good - graphics, feeling you are on an adventure, and the maze (the first time!) not so good - I had to keep going back and forth for conversations with people after I did something and this took a lot of time and most of it, nothing new to say - so infuriating. If you don't like mazes this game isn't for you. I had to keep going back through this out door maze and just kept getting lost. It was very well done but at the end could have thrown the whole game out the window when I had to keep going through it! There is sort of an other maze as well, indoor. I don't like walkthroughs so spent ages wandering around not knowing what to do next, loads of backtracking and the maze brought down the game for me. (usually in adventure games the objectives are clearer and you know what and when to do something) If you like mazes I recommend it. I discovered through this game that I don't! Puzzles were nice when you got to them.
January 5, 2012
I'm aMAZEd that this has a high rating.
There was a maze..you don't just traverse it once, but MANY times! I can tolerate going through a maze once in a game but all throughout the game?? It would have been better that once you made your way to specific spots, you could have just used that maze as a map where you could instantly jump from place to place. I've played several Nancy Drew games..this one was dull compared to the others. And with the maze, it just felt like work. I'm quitting in the middle of the game..and I NEVER quit an Adventure game in the middle.
December 8, 2013
forget it!!
what a piece of garbage!! the worst to navigate story I've ever tried. The worst Nancy Drew I've ever tried. For free this wouldn't be worth it.
March 14, 2013