Nancy Drew: The Phantom of Venice
Beyond the bright piazzas and open markets of the Venice Carnevale lurks a masked thief. Despite months of investigations, the Italian police remain helpless as stolen treasures vanish in the night. The authorities have asked you, as detective Nancy Drew, to join the case and infiltrate a dangerous crime syndicate. Can you catch the phantom thief before he or she destroys the heart of Venezia? Find out in the Adventure of Nancy Drew: The Phantom of Venice.
Realistic Adventure game
Detailed suspect profiles
Breathtaking scenes
Game System Requirements:
OS:

Windows XP/Vista/7/8

CPU:

1.0 GHz

RAM:

128 MB

DirectX:

9.0

Hard Drive:

913 MB
Game Manager System Requirements:
Browser:

Internet Explorer 7 or later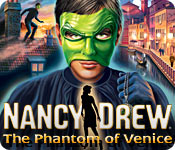 NEW299
The Big Fish Guarantee:
Quality tested and virus free.
No ads, no adware, no spyware.

Reviews at a Glance

Nancy Drew: The Phantom of Venice
0
out of
5 (
0
Reviews
Review
)
Customer Reviews
Nancy Drew: The Phantom of Venice
19
19
One of Nancy's best investigations
If you have never played one of her adventures, or a Large File, you will find yourself engulfed in a world where you need to rely essentially on your wits, logic and skills. This is why this type of game is never easy, can sometimes make you feel frustrated, and as trial versions are usually not available, pre-assesment is impossible. All this should not act as a deterrent: reviews are there to help, you can purchase the Strategy Guide and get tips from BFG forums. But the best still is to just try one of them. The Phantom of Venice would be a very good first step. Now back to Italy. Nancy, a young sleuth [ie: you], has been enlisted by the italian equivalent of the FBI to catch a thief called "the Phantom". The storyline is very solid, outstandingly written, gripping: a compelling narrative. Like in all her other investigations, she meets characters she needs to talk to and interact with to gather data and clues. There is no HO Scene; it's an adventure game, not a HOG. Still, Nancy has to get items and use them appropriately in order to conduct her investigation. Likewise, she is confronted with a good number of puzzles whose solution is essential to progress and get to the end. Very much like any other game is what you may think, right ? Well, not at all. Several features make a Nancy Drew investigation very special: - in "The Phantom", the settings, the plot, the dialogs, the tasks and actions are highly realistic, and some very challenging; - you have to think outside the box, but everything you need do is perfectly logical. At times, you need to learn how to do something before you can actually do it. - all the puzzles are extremely challenging, too, and so perfectly logical that they require common sense and proper thinking to solve them. Yes, most are difficult, some require patience, and all will make you think and think hard. The good news is that none are random and all of them make perfect sense withing the storyline; - the minigames will give your mind some respite; in The Phantom, for instance, you will play Scopa, a very interesting and uncommon italian card game, easy to learn though not that easy to win. - the dialogues are well-worded and not only do they give you lots of data necessary to the investigation, but they also provide interesting information concerning the history of Venice and the italian culture. - there is no linearity; you are free to visit the locations in any order. The top-notch graphics, the professional voice acting, the photo-based locales, everything in this game is stimulating and great fun.
December 24, 2011
Great from start to finish
I agree with the other excellent review. I loved this game. I am a romantic, so I loved the location and learning a bit more about Venice. I loved learning some basic Italian with sound cues so I could hear what the words sound like and there was a well done, fun, minigame testing you on it. Getting around -There is no car to get to different places (good) but a great choice (it?s all auto done) in gondola rides with wonderful singing ? lovely touch. There is a good variety of places to visit and people but you aren?t back and forth too much for conversations which I found refreshing. The plot is very well done (although at the very end there was one bit I was a bit disappointed in) You are undercover again, but at least this time you are a tourist, and you are helping the police to uncover who and what is behind stolen items throughout the city. The puzzles were varied and well spaced. The game is sort of non linear but there are a few things that you need to do to trigger something else and then other locations open up. There is no clock but even though you aren?t told, you go to bed a couple of times to further the story. It?s just excellently done and a lot of time and thought has gone into this one, compared with some others. It was a pleasure from start to finish. And I love the newer interface, it?s less intrusive. ABOUT SOME OF THE MAIN PUZZLES (so don?t read if you don?t want to know)? At the end there was a long head scratching water puzzle and sort of a maze as well. I don?t know what the name of it is, but if you don?t like those puzzles that are 1d, and you move from square to square to avoid the moving sirens/lights/sentry then you won?t like this game. As there is a long series of these. I do, and I found it to be the most challenging and well thought out, that I have come across. Dance puzzle ? an easier version of ?dance? video games ? click on the right icon when you hear or see the related cue Scopa ? A card game, I don?t know if it is a made up card game but it was quite different, and nicely more complex than some I have seen. Really enjoyed it. TO GET CASH ? I don?t want to do spoilers but there is 3 different ways (one of them was in the crystal skull) so if you don?t like one you can try for the other two. I am stopping saying ?this is now my favourite? in my review title as it seems as each ND game I am playing, I have a new favourite. But can I say here that this is? I am now trying to play the ND games in order of release. In order of my personal preference ? (I only do this to show you my taste to help you decide yourself, I know you probably won't agree) 1) Phantom of venice 2) Creature of kapua cave 3) White wolf of icicle creek (tied 2nd) 4) Last train to blue moon canyon (I love loads of small puzzles which is why this is 4th) 5) Trail of the twister (although shorter, and less variety of location than others) 6) Legend of the crystal skull 7)Secret of the old clock (I like puzzles and there was more variety than other games) 8) danger by design (it?s more adventure) 9) Ghost dogs of moon lake (although the graphics and adventure side was better) 10) Danger deception island 11) Message in a haunted mansion
February 21, 2012
Confession of a ND Addict
This has got to be one of my favorite Nancy Drew games. I never really liked first person adventures with hard puzzles until trying ND games. Now I?m so hooked I won?t be happy till I?ve played all 26! Now I?m a guy and am used to playing classic style adventure games like Monkey Island or Broken Sword or Secret Files. So I wasn?t sure I?d like Nancy Drew. In ND you never actually see Nancy. It?s always from her perspective. Usually when they do show her it?s only in silhouette or in this game there?s a dancing mini game but she?s completely covered in a costume and mask so again you never see her face. In this game you can also change what she?s wearing, and it really ties right into the plot, which I really liked. Even in the ?paper doll? like view, showing what she?s wearing, she?s just a silhouetted outline. I think that?s pretty cool because then it you feel more like your in her shoes. (Not exactly in my case since I?m a guy, but aside from that I do feel more like I'M the detective and not just controlling a detective character on screen, which is pretty cool.) I really like how wholesome these games are. No real violence or any blood. There?s some suspense in places, but nothing really scary in this particular game. No inuendos or unrealistically proportioned heroines in their under garments, like so many games these days. So I really liked that. It?s a good change. You CAN lose, but it lets you try again right from the start of the perilous moment. This game has excellent voice acting and graphics as usual. The setting of Venice is great and you get to learn something about it and get the feel of being there. There aren?t a ton of characters but they are colorful and fun to talk to. I really got into the story. There?s not so much mystery but there is a sense of being undercover and working with the police and secret service which was great. It should be said that one of the ?trademarks? of ND games is that you can?t skip puzzles, minigames, or dialog. So I found myself having to do certain mini games over and over until I beat them. I usually hate that, but the major mini game in this is the card game Scopa which at first I found hard and frustrating, but after starting to get good at it, it felt pretty good when I finally beat my opponent fair and square. It?s actually a pretty fun card game, and requires some practice and skill to play, but it gave the sense of being in Italy. I looked the game up on Wikipedia and I guess it?s one of the major national card games of Italy, which is cool. I'm not into card games as a rule, but I liked the variety in this game. There's also a variety of puzzles and not just the usual stuff. This game does involve several cyphers and you have to figure out how to break several codes and secret messages. And they?re pretty clever, I thought, but hard. Still I figured out most of them, and I only had to quickly glance at a walkthrough a couple times (mainly out of laziness), and I had to get some hints from Nancy?s boyfriend, Ned and also Joe Hardy, whom you can call on the phone. But I was surprised I figured out almost all of it myself. Again, I love the feeling of getting to be the clever detective (even if it's only the "feeling" of being clever :) One word of warning though. I had to take a TON of notes to help break the codes and figure out some puzzles. I actually started taking photos of my screen with my iPad and annotating over them and using it to make notes. Worked great but I still used up a lot of sticky notes trying to track everything. There is a journal but it doesn't track everything. So if you're not into taking notes of clues you may find this a hard game. Personally, though, I loved it. All in all though, this is one of my faves and I can?t wait until the next one.
July 30, 2012
Bellissimo!
I'm actually new to the Nancy Drew series, and this was the 2nd game out of the handful that I've played so far. I loved the characters incorporated in this game. Their colorful personalities along with accents made it quite fun to interact with them since you do a LOT of interacting and talking as with all ND games. Never been to Italy, but felt like I was there. Being able to travel the map by foot, train, or gondolier was a nice touch. I really love the total immersion into solving the mystery that this game offered. Unique adventure and puzzles to solve. My second favorite, and I'm hooked. Looking forward to playing the rest of the series.
April 16, 2012
My absolute favorite ND!
This was my first ND game and the one that got me hooked. I loved the environment, characters, puzzles, and minigames. I spent nights awake trying to master dance moves (in catsuit, of course) and replayed the minigame Scopa many times. I think whether you like many ND games depends on whether you are interested in learning about whatever environment Nancy is immersed in. This is a great game, so if Carnival, chess, or Italy are of interest to you, don't pass on this one.
May 10, 2012
Great Game!
This was one of my favorite Nancy Drew games. This game takes you through parts of Italy of course. It allows you to learn some Italian words and a new card game called Scopa, which I wish they allowed you to play outside the game. It was addicting. My only complaint with Nancy Drew games is not being able to skip certain puzzles. The sapphire maze was especially frustrating, never thought I would be able to continue on but did eventually manage to triumph. I highly recommend buying this game! Thanks to all of the helpful reviews, I don't regret my purchase.
March 22, 2012
yet another great Nancy Drew game
I really loved the way this game flowed, the graphics were marvelous. The game play was excellent and challenging. I highly recommend this to those that want something a bit more challenging
April 30, 2012
My favourite Nancy Drew yet!
I've played quite a few of these now, but this really is my favourite. I haven't played any for a while, so I played on junior detective, and I had the checklist for clues to remind me what I was doing, although I didn't need them much, and as soon as the game started, it was like being back with an old friend. The story was engaging from the start, and I always felt I was moving forward and achieving something. The graphics in this one are the best I've seen in in these games, and the characters are well animated and all have plenty of personality, they are also all very well voiced. I also found the controls and navigation easy to use. In my opinion these is just the right amount of talking and information gathering, I never felt anyone was waffling on, well, maybe Prudence Rutherford a bit, but that suits her character. It really has a bit of everything. You have a map, so the exploring and navigation is simple, and the gondolier rides are beautiful. There are plenty of puzzles, all solvable but with a good level of challenge. The mini games are great, the dancing is great fun, and the scopa is really quite addictive, could be a good stand alone card game. There's even a chance to get a bit of shopping in, should you fancy it, which adds to the few necessary wardrobe changes. There are places where you can come to harm, but this adds to the excitement, and you do get second chances (and third and fourth as I found out!) I have to admit to glancing at a walkthrough for one part really near the end, but compared to most adventure LGFs, it's nothing really. Everything is logical and makes sense, I really felt like I was conducting an investigation, and the whole game is just really great fun, hours of fun! I don't think I've ever given a full 5 star rating before for fun factor etc, but this really does have it all for a great adventure game. I got a genuine sense of achievement when I wrapped the case up, although I would have happily played on for another day. Let's hope we get another new style Nancy Drew at Big Fish really soon.
March 13, 2013
Excellent Game!!!
It is my first Nancy Drew game. It is very challenging and I like how it provides some hidden objects, so you can unlock some small clues.
May 24, 2012
Fun
Great Game, very fun!! Definitely recommend this game!
September 22, 2013