Nancy Drew: The Phantom of Venice
Beyond the bright piazzas and open markets of the Venice Carnevale lurks a masked thief. Despite months of investigations, the Italian police remain helpless as stolen treasures vanish in the night. The authorities have asked you, as detective Nancy Drew, to join the case and infiltrate a dangerous crime syndicate. Can you catch the phantom thief before he or she destroys the heart of Venezia? Find out in the Adventure of Nancy Drew: The Phantom of Venice.
Realistic Adventure game
Detailed suspect profiles
Breathtaking scenes
Game System Requirements:
OS:

Windows XP/Vista/7/8

CPU:

1.0 GHz

RAM:

128 MB

DirectX:

9.0

Hard Drive:

913 MB
Game Manager System Requirements:
Browser:

Internet Explorer 7 or later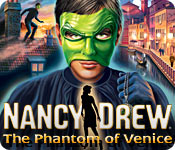 NEW299
The Big Fish Guarantee:
Quality tested and virus free.
No ads, no adware, no spyware.

Reviews at a Glance

Nancy Drew: The Phantom of Venice
0
out of
5 (
0
Reviews
Review
)
Customer Reviews
Nancy Drew: The Phantom of Venice
19
19
LOVE NANCY DREW
I really would love to see this game available for Mac
September 13, 2014
One of my favorite ND games!
I am hypercritical of games since I have played so many,but this one is one of my favorites. I love the Scopa game,and saved it on my computer and play it all the time. It is quite challenging,but I beat the computer most of the time. : )
November 3, 2012
Fun and Challangeing!
If you haven't tried any of the Nancy Drew games, this is the one you should try! There are so many puzzles! A couple of them are really hard! They let you choose if you want the game in an easy mode or a hard mode. But there really is no difference. In this game, I needed some cheats at a couple of puzzles. If you mess up the game will let you have another chance.
July 26, 2012
Fun Game
I'm a fan of Nancy Drew games and I really enjoyed playing this one. I loved the story line and tasks that had to be completed. I only needed to get help a few times but most of the puzzles are easy to figure out by thinking and using your brain. I think its worth buying I had a lot of fun playing this.
August 8, 2012
Stunning game
This is the second Nancy Drew game I've played, after Message in a Haunted Mansion, which got me hooked. The game has a great plot and fun characters. I enjoyed most of the dialogue and I didn't find it too lenghty because the characters were interesting. I liked the game so much, once I'd finished, I started a new game straight away! It was even more fun the second time because you could ignore the red herrings (there were a few) and choose different lines in conversations, and change the order you do things. Graphics were awesome, I only wish more locations had been open to explore the city some more, and I wish you could have moved around the locations a bit more, other than Nancy's house. Having said that, there were quite a few locations open, in some games you just have the one. There were some truly wonderful minigames, although if you don't enjoy card games be warned. You get to play one a lot. It was a good one though, and one that is actually popular in Italy. The reason I gave the game four stars is that for some challenges, you need to take tons of notes, in addition to which you are required to learn some Italian. Finishing this game really took some dedication! There's a maze with laser beams to stop you, the layout of which was super hard to figure out without looking it up in an online walkthrough, but after that the game was great fun, so it was worth it. However at the very end there's yet another maze which was so difficult the only way for me to get through it was to follow a walkthrough step by step. I would advise anyone to save the game just before entering the water pump maze, so when you screw up, you can easily start over. Otherwise you will find yourself going endless rounds trying to figure your way out. This was a great game though with lots of mystery and intrigue. I couldn't guess the culprit until the very end, although there were clues. I think the stealing of Nancy's locket was maybe the most obvious one, for someone who's into psychology.:) This game was well worth the money. I played over several days, unlike most PC games that are easy to finish at one go. Thank you Her Interactive and Big Fish!
July 5, 2013
Again, not ND's best
I bought this game because I play all ND games, but this one is one of my least favorite. There are annoying task (getting sapphire, dancing as a cat, playing scopa) that seems unneccesary and takes too much of your game time. There are only few scenes you can visit on the game, usually just the front of a store or a bank. I like that there's Collin who gives interesting character in this game. Other than that, sadly not ND's best.
June 29, 2012
It's a Love / Hate type of game
Ive been playing all ND games in order of release, and while I can say navigation for once wasn't as much of a nightmare as many prior games, there were plenty of things to annoy you to no end. At the same time, there were perks that made it fun. Sometimes I hated it, sometimes I liked it. Fun Factor was severely impaired by the wasps.. gads.. I cannot believe they put them in another game.. as if all the complaints about them in Crystal Skull wasn't enough to tell devs people hated it. This was by far the greatest game spoiler for me. Especially since I just couldn't resist buying ALL the outfits in the game. Another irksome part was the dancing. It just didn't seem to flow very well and didn't seem to fit into the storyline in any way whatsoever. Furthermore, it was too confusing figuring out which skill to use. =( On the upside, dressing up was a lot of fun, and I loved playing Scopa. I especially pigged out on the Gelato and Carb drinks for that zippy effect. Visual and Sound were decent. It was a treat to see Venice, but I wish there had been more locations to go to. I was a bit disappointed that when you paid extra for singing and sights, it tended to loop the same images over and over again rather then showing a full series of different pictures of the city. Level of challenge was only moderate. For the most part, you are practically handed all the clues. Most challenges are not hard to solve, and for most of the game, you could progress fairly easily. The only time I really got stumped was on the fax machine. Ok.. that one was NOT so obvious. You had to ask yourself .. what item/device remains in game that has numbers and has not been used yet?? After that, game progression was obvious. The sewer puzzle was the closest to a real challenge but still easy enough to figure out. Storyline was decent. While I personally didn't find the reason for ND being brought in on the case plausible, it did make for a fun story. As long as you don't rip it apart and just allow yourself to enjoy it, the storyline is actually quite fun and almost immersive.. almost. lol I would recommend this game to beginner players considering most of the clues come fairly easily. I also recommend a lot of patience tho b/c dealing with the wasps or dancing..it just comes down to picking which one you consider is the lesser of two evils.
December 10, 2013
This is definitely my least favorite ND
I love the complexity of large file games. I love the lack of HOG. I love to be able to explore and investigate. I also like to be able to figure out what to do on my own. There have been other games where I have (on more than one occasion) had to refer to walkthroughs. However, this is one where the walkthrough was left open and I had to switch back and forth between the game and it via my window button. I hated doing it, but it was the only way I was going to finish this game. I have played many a large file game, some extremely challenging; however this one particular ND seemed unplayable without the walkthrough. I don?t see how anyone could possibly find their way through the last chapter (no spoiler) on their own. It was as though the dev. didn?t want anyone to be able to complete it. I found that totally disenchanting. I had planned to play another ND, now I?m not so sure. The last one I played was enjoyable, challenging but do able. This one was not do able on my own, I?m leary what the next one may hold. In conclusion, I always encourage players to step out of their comfort zone and try these types of games (without HOG); however, this is definitely not one for a beginner. I am an experienced player with this genre and I found this game unplayable on my own without the assistance of a walkthrough. The play went from fun and exciting to difficult, tedious and ?just get it over with?.
April 23, 2012
Not what i expected
I thought i would like the game from the reviews I've read but it sorta wasn't the best Nancy Drew game I've played before. I wouldn't recommend this game at all, it was boring :(. The only part i liked was the game of Scopa!
April 22, 2012