Ancient Quest of Saqqarah
Travel to Saqqarah, an ancient Egyptian dwelling, where an eclipse transpires every thousand years. Below this eclipse, a magical underground oasis exists under a pyramid filled with puzzles, treasures, and legends. You must fulfill an Egyptian prophecy to stop an evil god from breaking out of his tomb in this Match 3 puzzler. In order to succeed, master seven distinct types of puzzles in Ancient Quest of Saqqarah.
Dynamic Match 3 game
Hand-crafted levels
Earn ranks and magic powers
Game System Requirements:
OS:

Windows XP/Windows Vista/Windows 7

CPU:

800 Mhz

RAM:

256 MB

DirectX:

8.0

Hard Drive:

34 MB
Game Manager System Requirements:
Browser:

Internet Explorer 7 or later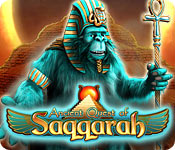 NEW299
The Big Fish Guarantee:
Quality tested and virus free.
No ads, no adware, no spyware.

Reviews at a Glance

Ancient Quest of Saqqarah
0
out of
5 (
0
Reviews
Review
)
Customer Reviews
Ancient Quest of Saqqarah
40
40
Lots of variety and challenge
Ancient Quest of Saqqarah is one of the most innovative, challenging and varied match-3 games that I have played. Khufu is a big hairy blue monkey who has excellent manners, is quite eloquent and has a manicure that I envy. Some of Khufu?s favorite words are ?Well Done, Amazing and Tricky?. I whole heartedly agree. This game has done it right! The artwork, special effects and sound effects are outstanding. The visual quality is similar to Magic Match and StoneLoops of Jurassica. The music is appropriate for the adventure theme and quite pleasant. There are seven different types of match 3 games to play as you restore the temples of different ancient gods. There are 72 games within each temple, plus mini games to earn bonus points and power ups. So there is plenty to keep you busy for quite a long time. The voiceovers for the gods and Khufu, the big blue monkey, are excellent. Each god greets you as you enter and Khufu encourages you as you play. When you have played four levels in one temple you receive a key that unlocks another temple and you can go there or stay where you are to complete the current temple. The game developers even added a relaxed mode to the game at the request of the players. This makes the game very adaptable to your needs as a player. I have completed the game in both the relaxed and timed modes and I thoroughly enjoyed both. This game offers a lot of variety and interest. It will keep you entertained for a very long time and is well worth the money If you like Match 3 or if you haven?t played one in a long time, I think you will really like this one.
November 11, 2011
OUTSTANDING!!! Many kinds o Match 3 in only ONE game !
Fantastic game, exciting, motivating with lot of challenges. The amazing story takes place in Egypt, with great, colorful and crisp graphics, very lively voice over, and good sound. Match3 are in the underground temples of gods as: Isis, Thoth, Anubis, etc.. In each temple the kind of game is different, ie, widely varied and very entertaining. Each temple has several phases, but not need finish one to go into another. Completing some phases, another temple unlocks. That makes the game not tiring ... you can vary the temple and consequently the kind of match. Really enjoyable and pleasant game!
February 19, 2012
Lots of M3 variety and then some
Pros: Timed/untimed option, many different types of games, extremely long playing time, expansion packs available at developer's website Cons: You'll probably get frustrated somewhere If you want variety in a game, Ancient Quest of Saqqarah has it in spades. Every type of M3 gameplay is featured here: swap, chain to match, pop clusters, connect the same, rotate sections, and token in hand. As if that weren't enough, there's also logic put-the-colors-together type puzzles and short not-quite-HOG "find the glyphs" games that pop up every few boards. The game is broken up into seven different temples each featuring a different type of game play with the object being to solve all 72 boards in order to fully restore the temple. With seven temples this is 504 boards total to play which will keep you occupied for a long, long time. If you want more after that, there are expansion packs available at the developer's website, each of which adds on a whole new 504 boards to play. There are also trophies earned for various game achievements. The graphics are beautiful and you are being aided by Khufu, a blue monkey with magical powers, and Sweeper the Scarab, who helps you enable Khufu's magic. Although Khufu may be a bit zealous with the help early on, as the game progresses, you'll be happy he's there. He's also got quite the sense of humor programmed into him. At some point or another you'll likely get frustrated, if not by a playing style you're not familiar with, then by the obstacles you'll encounter. If you haven't played a lot of M3 games I would suggest playing in untimed mode first to get the hang of how each of the games works. Timed mode is doable, but quite a challenge, especially with the expansion packs. Why should you buy this game? To quote Khufu, "There's no other monkey like me." And you and him will be in for adventures galore.
November 20, 2011
WOW!
This has everything one could want in a match 3 game... 7 different styles of match 3 to keep you from getting bored. Enough hindrances to make it challenging but not too easy and not too hard. Then there is the graphics, the game play, the interface and the sounds; all of which are top notch. As for the blue monkey... you either love him or hate him but I loved his laugh whenever I made larger matches. Well worth the time, effort and money.
November 26, 2011
A Match 3 Lover's Dream Come True
This was one of my very first Match 3 game purchases. I still play it. In fact I loved it so much I also had to buy the additional saq packs, because I couldn't get enough of this game. I was happy to discover that this game has both timed and untimed modes. There are times when I don't want to stress about the timer and times I want to kick up the difficulty. The game is long, challenging and enjoyable. Not your typical Match 3... it has 7 variations, one for each of the 7 different 'Gods/Goddesses'. There are trophies at the bottom of the screen to achieve... Levels 1 - 24 = Bronze Levels 25 - 48 = Silver Levels 49 - 72 = Gold I think the Temple of Thot is probably my favorite. If you want a nice, long game with some challenge to it...I suggest you give it a buy!
November 21, 2011
The best Match 3 game ever
There is so much to do in this game. So many levels. So much fun! So much variety! You can play timed or not. You will never get bored playing this. It's one of the first games we purchased on Big Fish and we still keep playing it. The graphics and sound quality are also great!
December 3, 2011
Solid Match 3 Game
This is not a typical match 3 game. Even for a match 3 fan like myself, the repetition of the puzzles sometimes gets boring. However, that's not the case here. Here, there's a solid variety of puzzles to complete, so it's anything but monotonous. Instead of just moving pieces to form matches, in this game, each stage involves doing something different to make matches and gain points. This game is innovative, fun and addictive. I highly recommend it.
January 28, 2012
One of the best
This game has several different types of match three puzzles. The graphics and sound effects are great and it'll take a LONG time to finish them all. Once you do, you can get add on packs. You definitely get your money's worth on this one.
December 2, 2011
Addictive fun
This game is really cute. The goal is to restore the ancient temples of the egyptian gods. by using different match 3 techniques. there's a lot of variety, swap M3, chain M3, buster etc.. 7 different temples each with a different type of game play. I have only finished the challenge level 1 (24 levels per challenge level) in each temple and it took me a couple days with marathon gaming. :D If you're looking for a game that has longevity, this one is for you. The one thing I didn't like is that it didn't give clear directions on how to get rid of the obstacles that are inevitably thrown your way in M3 games. I was in the fifth temple before I realized how I was supposed to get rid of one obstacle, and there's another one I still haven't figured out yet, but the fluke system seems to be holding for me so far. Something I missed from this game that I tend to find in other Egypian themed games is the history that the developers throw in as little tidbits. I like those, and this game doesn't appear to have any, however the voice overs that are done are good quality.
November 22, 2011
Hours of Fun
This is such a great game both my son and i love it hours of fun and challenge. And i just found out today if you go to the Codeminion website and choose the store tab you can get 3 more SaqPacks which are add on packs for the game which include new puzzles they are $9.95 per pack for hours of even more fun
January 2, 2012
The Apple logo is a trademark of Apple Computer, Inc.