Cooking Quest
You`ve been awarded a coveted entry for the Chef`s Challenge contest in Foodville`s Restaurant Row. Grease the cast-iron skillets as you gather ingredients to smoke the competition away. Manage your budget as you create multi-course gourmet meals in Foodville`s most elite restaurants. Can you stand the heat? Start at Chop City Steakhouse on Restaurant Row and find out in Cooking Quest.
Zesty Hidden Object game.
Replay restaurant levels.
Become a master chef.
Game System Requirements:
OS:

10.4, 10.5 (recommended)

CPU:

1.83GHz

RAM:

512 MB
Game Manager System Requirements:
Browser:

Safari 4.0 or later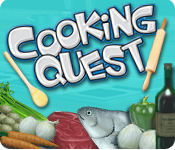 NEW299
The Big Fish Guarantee:
Quality tested and virus free.
No ads, no adware, no spyware.

Reviews at a Glance

Cooking Quest
0
out of
5 (
0
Reviews
Review
)
Customer Reviews
WASTE OF TIME!
SOOOO SLOW. Little to no instruction. Many items, even after they're found, bear little resemblance to anything I've ever seen before. Items are ridiculously small & often only the tiniest corner is barely peaking out. And after you think you've finished ... it wasn't good enough, so do it over. Perhaps I'm just dumber than the average bear, but this game left me totally bereft of anything vaguely resembling fun. Fortunately, I only did the free trial. Unfortunately, that's an hour of my life I'll never get back again.
January 27, 2012
Boring!!!
Like concept of the game, but items were so tiny to see and took longer to play than it was worth. As it was timed, had problems trying to reach the levels in order to advance. After buying it, realized it was a mistake since if you didn't reach higher levels, you had to start all over again. Also couldn't reach the bottom of the screen unless you constantly adjusted your screen. This took all the fun out of it for me!
January 4, 2012
Love the concept but too short
I really like the idea of combining a Hidden Object game with a cooking game, and all the different descriptions/possibilities depending on what your budget was. But I played about 80% of the game within the hour time limit, bought it, then was disappointed at how few levels were left. The other things I didn't like were how tiny so many of the objects were-- it was a literal pixel hunt. That, and while I liked the idea of finding special objects that gave descriptions, they should've been highlighted on the object list because I'd be trying to get a speed bonus then suddenly it would stop clicking. Also, I had to switch from full-screen to windowed just to click on objects at the very bottom of the screen. Overall, I felt this game would've been worth the money had there been more levels and these design flaws addressed because I really like the concept and want to see another cooking game like this.
December 28, 2011
i've had more fun taking a vision test
in this hidden object time- and budget-management game, you are a chef who is taking part in the Chef`s Challenge contest in Foodville`s Restaurant Row. in this game, you have to find various hidden items to create your culinary delights. you are given a total budget of $100 and a time limit of 10 minutes for each of four menu items. graphics: poorly done; often incredibly tiny, sometimes with similar colour as the background, made it difficult see some of the items in the search list. there is a click penalty. hints cost $20 each. music and sound effects: the only acceptable aspect of this game. before i start complaining, let me point out that i enjoy both hidden object games and time management games (i own and play these two game genres quite often, too), so i was looking forward to trying out this combination of these two themes. my complaints: in the demo, you start at the Chop City Steakhouse on Restaurant Row. i started by trying to make the dessert (a chocolate cake), which required me to find a number of random hidden items in the kitchen in less than ten minutes. i then moved on to find a wine, which required me to search out a bunch of random hidden items in a wine shop. by the time i had finished these two searches, i had purchased 4 hints, and had earned $2 for finishing before my time ran out, which left me with a total budget of $22 and i still had two more menu items to assemble! at this point, i gave up because it was clear i would be repeating this part of the game (perhaps forever), and i hadn't enjoyed it the first time around! my interaction: one hour demo. there is only one mode of difficulty, which i think qualifies as ?hardcore?. i found this game very stressful, and not in a good way, either.
June 8, 2012
Blurry
The picture was blurry which made it very hard to find things and gave me a huge headache. I couldn't even get all my ingredients for the first level within an hour! Very frustrating. Love the idea but the graphics need to be improved.
November 28, 2011
Making a meal
The game itself was fun because I like the hidden object games a lot. What I don't like is being timed. There isn't an option for a relaxed game. You have a set time for finding all the objects. Also, it wasn't a very long game either. Not enough game for the money. So, if you like being timed then this is for you.
April 2, 2012
LOVE this game! Definitely needs MORE LEVELS!!!
I love this game so much. It has the hidden object level which is challenging, it teaches you about cooking terms/products, and finally in the end you have to figure out how to put a meal together going thru the preparation steps the way a chef/restaurant would. Great great game...especially if you like cooking techniques and terms. My biggest complaint is there aren't enough restaurants to challenge you. I think the game only has 5 restaurants. More restaurants and challenges are DEFINITELY needed. Look forward to Cooking Quest Part II.
March 29, 2012
OK there is a lot of issues with this game but...
This is a timed hidden object game and I love the concept. A cooking conquest - you have six different restaurants and six different menus the aim is to get 5 stars at each restaurant and you can go back and redo the whole restaurant to try and get it. Each restaurant gives you $100 to start with and you have four different courses (hidden object scenes). Each scene you have 10 mins to complete it and if you want a hint you have to pay $20. If you random click you will be deducted money and time. At the end you get some money for time it took and speed bonus when finding items. With this money you have a choice of 4 items to buy for the course. You always have a free item if you don't have enough money. The scene just resets (not the money) if you run out of time. At the end of completing the four courses you are presented with a timed puzzle - food items arranged in an inventory and cooking items and plates etc below. You have to work out what goes where in the shortest amount of time. After that you get graded and your aim is to get 5 stars which is a combination of the quality of food you bought and how well and quickly you served it. I loved the premise of the game and I actually enjoyed the timer of it - making it different and harder and I don't like timed things normally. The replayability of it is good trying to get 5 stars in all 6 restaurants. I loved that it was mostly cluttered very well thought out hidden object scenes and I do wish modern HOPAs would do more like these. I love food scenes, I don't why! So why the one star? - - This is a short game, only 6 restaurants - We are talking lots of tiny items in the scenes - They kept repeating the scenes - Sometimes when I used a hint I couldn't see where the sparkles was supposed to be, so wasted it - Because the items was so small when I was trying to click on it, my money and time would disappear with the random click penalty which was really annoying as I was clicking on the correct item - The money was used up too quickly If they had characters and some sort of backstory to flesh it out, and addressed these issues this would be a really good game. I gave it one star to be objective but I thought it was fun. I got it as a DD, if I paid full price for it I'd be a bit miffed. I hope they address these issues, especially the length and the tiny items if they do a next game, if they do I would buy the next game.
June 14, 2012
Food
Very good game, it shows how to make different things and it's a hide and seek game. I enjoyed the challenges, I love this game!
November 17, 2011
Not my idea of fun
This game could've been good - a HOG combined with a cooking game, but I found the HOS to just be too difficult, which took away from the enjoyment of the game. Hints cost $20 and I found that I'd pretty much eaten through my budget with just the first scene. I enjoy HOGs, but not when they're so difficult that you go cross-eyed trying to find the objects. Not on my purchase list, even with the Daily Deal!
June 9, 2012
The Apple logo is a trademark of Apple Computer, Inc.
The Windows logo is a trademark of Microsoft, Inc.