Enchanted Cavern
Step into the gaping black hole of a legendary cavern and behold its secrets. The walls are dripping with glittery jewels. Match groups of precious stones, and work your way towards a treasure trove of priceless stones. The Enchanted Cavern is full of five brilliant episodes and 47 enticing levels. Activate bonus items and ignite their special powers in this Match 3 dazzler.
Glittery Match 3 game
47 dazzling levels
Activate bonus items
Game System Requirements:
OS:

Windows XP/Vista/7/8

CPU:

600 Mhz

RAM:

256 MB

DirectX:

7.0

Hard Drive:

28 MB
Game Manager System Requirements:
Browser:

Internet Explorer 7 or later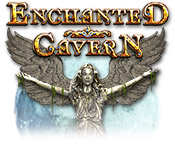 NEW299
The Big Fish Guarantee:
Quality tested and virus free.
No ads, no adware, no spyware.

Reviews at a Glance

Enchanted Cavern
0
out of
5 (
0
Reviews
Review
)
Customer Reviews
I really love this game!!!
There is the regular match three games which I really enjoy, and then this amped up match three with a wicked set of bonuses, timers, freezing blocks, bombs, and more. It is true, this timed match three is challenging. It isn't for anyone who does not like the timed games. The graphics are awesome, the challenge superb. I use games to step away from reality and into fun. But since I also get bored easily they need to be challenging. And yes, this one is that. This is the kind of game I will keep for a long time and play over and over again, assuming of course that I can actually get through it once. I am currently in the third level and wow - it is up there with the best. I appreciate the other comments here - when I see anyone suggest a game is too hard, I immediately want to play it knowing too hard for many is just right for me. So thanks to all the commenters, and big high five to those of you brave enough to take this one on and try to complete.
July 11, 2013
Not just another finger aerobic match game
I love this game. As an older person who didn't grow up on electronic games, I love a game that doesn't depend solely on fast clicking. You have to look for and use the power ups wisely to get through the levels in time. Also, you have to be willing to keep at a level until you get it, as there is no bypass. I don't mind playing the same level over and over, trying new ways to better my score. The game pieces are kind of boring, but the story graphics are wonderful. I'm half way through the second level, and have bought the game as I'm sure I'll be enjoying it for some time to come.
July 14, 2013
awesome game
this game was very challenging i loved it played it on normal and hard loved them both. Would love to know if there might be a sequal out there anywhere
December 2, 2011
Tough but worth it
I played this game three times all the way through, though it was the toughest match-three game I've ever played. The hardest level was 3 step 7. If you can get through that one, you can make it to the end. The trick is to get control of the clock, which tends to run you out of time a lot. Make sure you click on all the clock icons that come up, as they give you extra time. And don't make any stray clicks on the screen, since you may be penalized time for that. It's a good game, but not an easy one.
July 15, 2014
Good Game - Not for Me
I knew from the reviews that I would not buy this game because it's timed and I always get stuck on timed games, but I played the demo to see what it is like. Pretty standard match-3 with interesting power-ups that pop up on the game board. You need to strategize how to use these to complete the boards. GREAT visual reward for each level completed. There are also interesting clear the board games about every 5 levels. I (surprise) got to level 2-7 before the demo ended, but I doubt I would have gotten much further. The level 1 games are easy to complete in the time allotted. When level 2 starts they get SIGNIFICANTLY harder to finish. If you don't mind the timer this is a fun game. Just not for me. Enjoy.
July 10, 2013
Like this game
It may not be the perfect Match 3 game but I find challenging enough to keep me on edge to beat the clock. The levels are challenging and to get thru them one needs to use their noggin. Storyline is lame but I don't care about it so much. I just want a challenging game and I found it in this one. Could it be more challenging?? You bet especially for seasoned players. Great game for newbies. I bought this game for a take me away from a hard day at work.
July 10, 2013
Challenging, Sometimes Irritating
I played the entire demo and found the game to be an interesting new challenge and a new twist on match games that require you to click on groups of tiles. For me, the normal setting wasn't really that hard but it is a game that requires some concentration and fast movement to complete each level. The really annoying thing I found about the game was the time penalty that was given if you clicked on too many invalid matches (ie, pairs of tiles instead of groups). It's not that hard to do as you are clicking and moving rapidly to beat the time and the tiles are a bit small. Pinpoint accuracy is sometimes required to avoid the penalty. I made it to level 3-2 before the time ran out and this seemed to be about halfway through the game. There don't appear to be a whole lot of levels so I'm not sure if this game is a good value in that regard. Overall, I did find this game enjoyable and was certainly glad to see a new match game instead of a HO game. I don't think I'd pay full price for it though; maybe snatch it up with a credit or a sale.
July 10, 2013
I liked this better than I thought I would.
I read the reviews and thought I wouldn't like this game. Yes things get significantly harder on the second level, but yay for that. I like a timed challenge and I am happy when I can't get something on the first try, it makes achieving the level so much more gratifying. I did not however look to see how many levels this game had and someone remarked that they didn't think there were too many levels. A short challenge I do not like, so not sure I will buy it if this is true.
July 10, 2013
A match-3 that did not captivate me
This is a group-match game. *** Right-handed cursor only, *** even if you have a left-handed setup this game will not recognise it and force right-hand mouse. Timed only Could not see any choice for difficulty level, but as your game is saved with the description "normal mode", perhaps there is a choice after finishing to play again in a hard mode? You may turn off custom cursor and in-game hints. There is an automatic reshuffle if you run out of moves on a level. The backdrops are beautiful with slight animations such as rain, rustling branches etc., and it changes/adds objects as you finish levels. The usual helping bonuses such as bombs, crosses that removes vertical and horizontal lines, tiles that destroys all identical pieces. Obstacles are also the usual such as chains, monoliths of several layers. A nice touch that adds to the challenge is the random clicking penalty - if you mis-click several times without making matches then you suffer a time punishment. There are some puzzle levels in each chapter, where you have a limited number of pieces and your goal is to remove them all. The challenge is, of course, that since you cannot swap the pieces around you are dependent on how they fall from above. Which colour to remove first? Any stray pieces that will be left behind? It was a beatiful game with nice music. However, I do not care for group-match M3s - for some reason just finding and clicking on a group of identical colour pieces does not satisfy my sense of *doing* something. There is a skill in seeing pieces that can be dropped down by doing a matching of other pieces below - but I simply do not enjoy it. Also - the fact that it is right-handed mouse only makes this game not pleasant for me to play, esp. with the mis-click penalty. Fast mouse-action with my fingers on the wrong (for me) mouse buttons is straining.
December 25, 2011
Stops being fun when you can't win
I liked the layout of the game, but when I hit the second level during the trial period, I hit a roadblock. Tried 3 times to get through Level 2-1 and then gave up an Uninstalled.
October 3, 2012
The Apple logo is a trademark of Apple Computer, Inc.