Azada: Ancient Magic
Big Fish Games Studios summons you back to the deep mystery and magic of Azada. Too afraid to enter the library, young Titus calls upon your courage and superior puzzle-solving skills to disarm the magical menace. Luckily, Titus has given you a magic medallion to call upon him when in need. Enter the lives of storybook characters in more than 20 magic puzzle books. Meet famous legends like King Arthur, Rapunzel, Henry Jekyll, Buffalo Bill, and many more. Can you unveil the dark hidden secret in Azada: Ancient Magic?
Sequel to award-winning Puzzle Adventure series
Magical puzzle books with classic tales
Visit www.Azada-Game.com
Game System Requirements:
OS:

Windows XP/Vista/7/8

CPU:

800 Mhz

RAM:

512 MB

DirectX:

7.0

Hard Drive:

133 MB
Game Manager System Requirements:
Browser:

Internet Explorer 7 or later
Alcohol Reference
Mild Blood
Violent References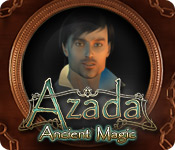 NEW299
The Big Fish Guarantee:
Quality tested and virus free.
No ads, no adware, no spyware.

Reviews at a Glance

Azada: Ancient Magic
0
out of
5 (
0
Reviews
Review
)
Customer Reviews
Azada: Ancient Magic
25
25
Azada better and better
The Azada games are better and better. So I enjoy to play more and more.
April 13, 2012
We love to play this game.
My Daughter (11) and I love to play this game together. We have a lot of fun trying to figure out the puzzles.
July 7, 2013
Great game
The Azada series is great. The gameplay is pretty long and the puzzles are both interesting and challenging. The visual quality is good. I also like how you have to go through different chapters within a puzzle book to solve riddles, etc.
July 7, 2012
Good Puzzle Game
Azada: Ancient Magic is a fun puzzle adventure game. If you are looking for a game heavy on hidden object scenes, this game is not for you. The only hidden objects to be found are incidental to the plot, and not in specific scenes. The story line revolves around you helping Titus find the source of the evil magic in the books in his library. The books are snippets of classic fairy tales and novels. Each book has around four pages that require you to go back and forth between the pages until they are complete. I enjoyed the puzzles. Some of them were very easy. Some of the books only took me 2 1/2 minutes to complete the entire story. I liked the graphics and music very much. I didn't enjoy pressing 'OK' every time I was in a book to exit the dialog bubble. The game took me around three hours to complete, and I played in timed mode. A good game for people who prefer puzzles to hidden objects in their adventure games.
January 12, 2012
Another fun Azada puzzle/adventure game!
The Azada series of games are quite enjoyable. Nice graphics, fresh and original puzzles. Hidden objects with an adventure story-line. If you enjoy this kind of genre, try the trial - you'll like it!
December 17, 2011
Great challenge
This is the second installment in Azada. Not knowing that the original was a puzzle game, I found that I did enjoy it. With the Azada: Ancient Magic, you are continuing the adventure. You are back in the library, however this time, you are to try and fix the computer. With the help of the identiy cards, you are to do a series of puzzles. The storyline is good. Working with puzzles on classical books again. The puzzles seemed failry easy for me this time around. I would suggest this game to anyone.
April 23, 2013
Played before.
Played before; had on hard copy; been so long that I forgot!! Good game, was excited about it then, and it was still a fun game! Set of fairy tale stories and you have to help them out of their problems, like Hansel and Gretal & Rapunzel . Different from the eerie, gory games we play now. Good game for kids. On my way to Azada Elementa
November 21, 2013
oddly original!
On the really positive side is that the game developers knew all along from the era of Azada (the first game) that there'd be a new azada as well. So, the password given in Azada I is used for an extra chapter in Azada II, which kinda amazed me. Also nice was that the storyline included a lot of the world's most famous fairytales. Not that hard were the riddles and such. All in all, a pleasurable, but non-the-less short game.
July 5, 2013
Another great puzzler
More puzzles, plus I can ditch the timer. A bit different than the original Azada, but equally as enjoyable. The challenge level is higher than the original. More thinking required and planning out some of the solutions was absolutely necessary. Storyline is a bit weak but supported the book concept. Also a set-up for a sequel. Visuals were mostly superb, even to the point of finding writing pens without magnification. My only ding on visuals is the card evaluation section. Finding the symbols was difficult for my eyes and at some points became a guessing game. Another great puzzler.
August 23, 2012
Good puzzles
I have played through the full game several times and replayed some of the mini-games even more. I?m glad I bought the game and it is worth playing. But overall it doesn?t seem to impress me as favorably as the original Azada. I didn?t have a problem with the timer at all. Mainly because if you time out on a segment of the game that has, for example, five books you don?t have to repeat all five books. You start over in the book where you left off. But I?m glad that everyone has a choice now. I thought the character?s dialogue type size was too small. The dialogue appears to be white and grey shaded print in a dark brown box. I found it to be fuzzy and difficult to read. I am one of the many intelligent and active older gamers whose eyesight is no longer perfect. I truly wish the game developers would let their parents and grandparents test their games. I wonder if you had testers that were in their fifties, sixties and seventies. Many of the things that I did not like about this game have to do with things being too small on the screen. In a few books you have to do something in one room like put water in the cooking pot, ring a door bell or knock on a door, then quickly go back to another room and do a task. This would be ok on a limited basis. But I think it happens too often and seems like a time filler to make the game seem longer. In general the logic of moving and solving the book puzzles is pretty easy. I enjoyed that aspect of the game but felt that some of the books were too short. Scanning the suspect cards every few books was a bit tedious. The puzzle was ok but the light blue and light purple symbols on the grey background was difficult to see. More color variance and larger symbols would have been nice. There was plenty of blank grey space on these puzzle pages so the symbols could have easily been made bigger. And we had to go to this game fairly often so I feel it would have been a more pleasant experience if there had been something there other than a blank grey grainy background. I liked the variety of the mini-games and I will enjoy replaying some of them. But some of the mini-games were in a small area of the screen rather that being made full screen as they were in the original Azada. I loved playing the Robots in Azada, but in this game the Tin Man game has very small objects and is in a small space. The glass tubes are hard to see in the Alchemy game where you blend the red, yellow and blue into the bottle. This is a pipes type game and I love pipes games but this one was a strain on my eyes. Also the Chicken Chase and the round Maze with the ball were very small on the screen. I didn?t enjoy tracing the signature of Dr. Jekyll. It?s just wasn?t fun and had no thinking or mental challenge. One can?t help compare this game to the original Azada. I had a happier and more fun filled experience in the original Azada. The mini-games were fun, they got progressively harder and they were full screen and easy to see. Also the visual mix of colors in the art and special effects throughout the original Azada was more pleasing. Azada Ancient Magic game gives me the impression that there are too may dark scenes with too much grey, dark brown and other dark colors. Overall I will say again that I am glad I bought the game.
December 11, 2011