Ancient Quest of Saqqarah
Travel to Saqqarah, an ancient Egyptian dwelling, where an eclipse transpires every thousand years. Below this eclipse, a magical underground oasis exists under a pyramid filled with puzzles, treasures, and legends. You must fulfill an Egyptian prophecy to stop an evil god from breaking out of his tomb in this Match 3 puzzler. In order to succeed, master seven distinct types of puzzles in Ancient Quest of Saqqarah.
Dynamic Match 3 game
Hand-crafted levels
Earn ranks and magic powers
Game System Requirements:
OS:

10.4, 10.5 (recommended)

CPU:

1.83GHz

RAM:

512 MB
Game Manager System Requirements:
Browser:

Safari 4.0 or later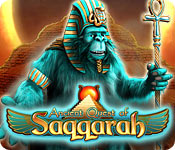 NEW299
The Big Fish Guarantee:
Quality tested and virus free.
No ads, no adware, no spyware.

Reviews at a Glance

Ancient Quest of Saqqarah
0
out of
5 (
0
Reviews
Review
)
Customer Reviews
Ancient Quest of Saqqarah
40
40
I love it - But Am I the Only One Who Thinks this game cheats?
I've played 100s of BF Match 3 and HO games, as well as many other puzzle games, and this is probably my most favorite game of all time!!! I love the challenge, I love the drama, I love the variety, and I could continue to wax on poetic. But I've recently replayed it for at least the 3rd time, having eventually defeated all 3 levels at least twice before (although I'm completely stuck on the one expansion pac I bought separately - there's a board on the second level of the Temple of Bast that I think I've tried at last 75-100 times and can never win). But all 3 times I've played the original game, I've sworn it's not playing by it's own rules and have looked for similar user comments, but have never found any. I just replayed a level of the Temple of Sobek and for several minutes I had only one last match to make to complete the board, and I made that match over and over again, yet it never recognized it and required that I play the level again. I've experienced this problem in other temples as well. Please understand - I'm definitely recommending this game as I do really love it - but I'd also love to hear that someone else has had the same experiences as me and that it's not just my imagination - or am I missing something???
February 13, 2013
Ancient Quest of Saqqarah
Fun, at times very challenging!!! Addictive!! Plan to play awhile once you start. One of my favorite match 3 games. I cannot see this game growing old...Love it!!!
January 18, 2013
Great Puzzle game
Multiple levels and a great variety of games. Fun!
October 14, 2012
Several match 3 in one
This is a real time killer. I replayed some of the challenges at least 10 times to succeed. But as you can change match 3 you do not loose patience. Also as it takes some time to finish, you have a game you can come back several times. Only the sound which is the same all the time is a annoying.
April 13, 2012
Match 3 heaven? - A guy's review
If you are into match-3 and look for something challenging with a lot of variety, look no further. This, I think, should be in any Match-3 fanatic's collection. Unfortunately I am not one of them, but with games like this it sure helps getting me there. The game plays wonderfully in a very arcade type manner. You play 7 varieties of match-3 setups in separated in 7 different temples, and you have to beat 4 levels of each one to open the next one. Still there are 24 levels in each temple with progressively difficulty throughout. From time to time you also get to bonus rounds of spotting symbols where you level up your power-ups. You don't get to pick and choose as you have to reach a certain level to open up each one. Also, they don't carry from temple to temple. You have to level-up from scratch in each single one. The game is timed, and there is a rating system based on both how well you do on time and how high of a score you manage to get. At times this can prove very challenging, as you not necessarily get enough points by going through the board quickly. All levels finish by coloring up the whole board. If this isn't enough of a challenge already, there are also trophies to collect, each one with several levels (stone, bronze, silver, gold) The graphics are gorgeous for these types of games. Everything is crisp and clear and even animations seem high level. The boards are never eye-straining and the color sets are never too bright or too dark. The music reminds me of something I've heard through Civilization 4 and similar games. It is dramatically orchestrated African themed (with lack of explaining it any other way), and actually never got annoying. Usually, and especially in games like these I turn the music way down as they tend to get on my nerves eventually, but not this game. That is quite strange. The mechanics is masterly refined and accurate in every way. It's a delight to move around and clicking is precise. You have the option of playing the way you like either by clicking or dragging. Going from temple to temple and through the stages is a breeze. If I was a true Match-3 player I would probably blindly give this game a 5 star rating, but I'm not quite there yet, so it had to be 4. Even with the great variety this game offers I seem to get bored after a little while. Though, the wonderful thing with these types of games is that you don't have to play it in one sitting, and it is really nice to have them for short gaming spurts and when you need a change of pace from what one plays regularly. I recommend this game to any Match-3 fan, and also anybody who wants to try at least one Match-3. Should not be missed. TJ
June 15, 2012
Stuck . . and soooo disappointed!
I simply can't give this a bad rating just because I'm not savvy enough on puzzles to play it! I'm a match game queen so I loved the first temple. Could not for the life of me get through Thor. I checked other sites, but their screens didn't match mine. This is probably a great game. Too bad I can't get past the first level. Maybe we'll see a walkthrough that matches our version sometime. FYI level one is like the first Montezuma, which I lost because I switched computers and BF doesn't have it. :(
September 18, 2012
A very mixed bag
There are several Temples you can go to. The first the Temple of Iris is a nice Match 3 Game that doesn't really get challenging until level 3. The Temple of Thot is probably the best in the early line up; the Chain Temple I forgot its name is probably the next interesting. The problem with the game is the sounds are nice but after a while ok, there isn't as much challenge as people led me to expect and the HELP system is very poor.
February 20, 2012
Needs a free-play mode
Based on the demo, i was convinced i would love this game madly. But after the game and i got to know each other following my purchase, the relationship went a bit south. I love the variety of puzzles. I love the unique way the tokens orient along lines rather than a grid. I love the stunning graphics and animation, and the satisfying pop-pop-pop sounds as you make matches. Saqqarah has -- at its earliest stages -- the all makings of an awesome game that deserves all five stars and then some. However.... I really do not care for the mini games at all, and not only are there a LOT of them (one for every four or five M3 boards), there seems to be no way to skip them. I also don't care for the orangutan explaining the same exact basic rules for about a minute and a half at the beginning of each temple. Shut up, monkey, i know!!!! But the biggest turn-off for me by far were the second and third difficulty levels. They're so riddled with obstacles and so intricately convoluted that my satisfying "pop-pop-pop" slowly evolved into "pop. pop. uh, ummm, ....pop." Which for me is neither satisfying nor fun. And just try coupling these advanced levels with a puzzle you didn't really enjoy all that much the first time through, and you may end up as i did groaning, "can i just be done with this temple now, please?" And on top of that, near as i can tell, it's not possible to go back and play the fast & fun lower levels without creating a new profile and starting over. For my part, this reduces the replay value of Saqqarah to almost zero. If there were a free play mode, though, that would change dramatically for me. If i were able to choose a puzzle type and just play it (with a less steep increase in obstacles and such), i would be so into this game that i'd give it SIX stars and play it hours at a time. At least until i felt if i had to find another ankh on a stone wall, i might scream.
July 5, 2013
Very annoying
This is probably a good game, judging by the other reviews, but I haven't got very far because I can't turn off the commentary of the blue monkey and this is extremely annoying. His unwanted comments are patronising and irritating, not only to myself, but everyone else in the room! I can't continue with this game because of this and won't be buying it. Provide an option to turn him and all other voices off and I will give it another try. Disappointed.
March 15, 2013
Ancient Quest of Saqqarah
Sorry folks, not my cup of tea. There are not the typical game boards. You have to "light" up the squares or lines,--never really figured this out. The other puzzles just didn't interest me.
July 23, 2013
The Apple logo is a trademark of Apple Computer, Inc.
The Windows logo is a trademark of Microsoft, Inc.