Pearl Diversion
Life in the Pearl Reef was serene until the Sea Dragon came to enslave it. Help a brave little Octopus protect his home from the cruel mage and his evil piranhas. Can you defeat an underwater villain with numerous Match 3 battles? The wise Goggle-fishes have developed powerful weapons to aid you in this action-filled Puzzle quest. Match piranha-filled pearls and save the day in Pearl Diversion.
Match 3 pearl game
200 exciting levels
Outmatch the Sea Dragon!
Game System Requirements:
OS:

Windows XP/Vista/7/8

CPU:

600 Mhz

RAM:

256 MB

DirectX:

7.0

Hard Drive:

27 MB
Game Manager System Requirements:
Browser:

Internet Explorer 7 or later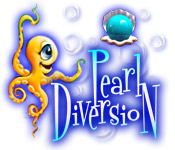 NEW299
The Big Fish Guarantee:
Quality tested and virus free.
No ads, no adware, no spyware.

Reviews at a Glance

Pearl Diversion
0
out of
5 (
0
Reviews
Review
)
Customer Reviews
Play for hours
I loved this game, so I bought it. It is a nice change from the typical match 3. In this game you direct an octopus to fling pearls from the right side of the screen to the left. He has two colored pearls. If you don't like the main pearls color, you use your right mouse button to switch to the reserve pearl. Meanwhile other pearls are moving across the screen from left to right. If you accumulate too many pearls, and get too close to the right side of the screen, a warning sound goes off (rather like an alarm in a submarine). If you don't make a match within the next flung pearl or two...you will lose a life. Note: to increase the level of challenge, don't allow yourself to swap pearl colors - The first time I played this way I lost all of my lives in level 14 and had to start a new game! (May I rest in peace!) The graphics are very colorful, sharp, and likeable (cute). I enjoyed all the music and sound effects, particularly as I increased in levels and bonuses. The multiple explosions are great! There are bonus rounds where you must shoot 'zombie sharks' without nailing any innocent goldfish. The tinier zombie sharks are very swift and wicked, so watch for them! There are 30 levels in this game with six stages to each level (= 180 levels plus bonus rounds). I'm quite sure this took me somewhere between 7 - 10 hours to complete (including snack prep time). Also, to a large degree there is very little interruption between rounds, so it can get rather intense. Note: you are asked about game preferences in the beginning of the game. You will need to tell it not to give you statistics in order to have the fast play through (you will still see statistics, just not as often). Also, I elected to not use tips, so I have no idea if they're of help. The initial instructions are displayed at the beginning of the game, and they are very simple to understand. The storyline is very simple and charming and it is not forced upon you with endless pop-ups interfering with your game play, which I personally appreciate. That's it. My best score so far is 2,257,526 if anyone would like to compete! : D
February 22, 2012
Irresistable marble popping
Not my favourite genre, but bought this one after playing less than half the trial hour! You can either add a pearl to the end of a row or swap with any pearl in any row. Some strategy is needed ? it usually pays to think one or two moves ahead, though some levels have unpredictable (and explosive) chain reactions. The levels vary, using different obstacles such as three in a box, frozen pearls, locked columns, rather than just getting steadily harder, so never gets boring. It would be nice to have the option to skip the shark-shooting bonus levels. Difficulty was just right for me - didn't get frustrated but needed all the power ups I could buy to get through level the last level (30).
February 16, 2014
A Fun and Fast Game!
This match 3 is different from all others where your octopus is armed with a colored pearl and you determine where you want to place it to your best advantage. The octo also holds a reserve pearl, and if that color will work better for you, you right mouse to switch the pearls. It gets harder and has more powered pearls as the game progresses. You're playing against the clock, but you also need to keep the rows short...pearls are added from the left, and if a row reaches your octo you'll lose a life! In between are games where you have to shoot pearls at the villainous sharks at high speed. The number of sharks and their approach speed increases in the higher levels. I really like this diversion! The game can be as fast or slow as you want to play it. While the icons look cartoonish that?s part of its charm it is great fun, and when played fast is great eye/brain exercise! Enjoy!
December 23, 2012
Fun Game
This is a fun game, I just wish it was harder. For me it was not much of a challenge.
November 8, 2012
Oh No! The Big Black Sea Dragon!!!!!
You play the brave little octopus who is going to free the underwater territory from the big black sea dragon with the help and advice from the Gogglefish (who wear the cutest glasses to make them look smart). To do this you play the quirkiest and cutest match 3 game ever devised. You, as the little brave octopus, are on the right side of the game board. To your left are conveyor belts of colored pearls. In your 2 hands, you hold 2 colored pearls. Toss one of the colored pearls into the rows of conveyor belts in order to make groups or matches or 3 or more colored pearls. Sounds easy? Yeah, I thought it was entertaining and fun too. You can earn bonuses in the form of additional coins (which you earn through completing levels), extra lives (which I assume will be needed as the levels get harder) and ones you purchase (as they become available). Each bonus you purchase can be upgraded 9x. The 9th time giving that particular bonus the maximum power available - and those bonuses are helpful. There are also 3 mega bonuses that I believe you can only purchase once - no upgrades. Along the way of playing the game, the Gogglefish will show up between levels warning you of the Big Black Sea Dragon's next wily move against you as well as offer you tips and tricks of defeating the levels facing you. Pay attention. These Gogglefish, they know some stuff. LOL. One thing you AREN'T told. The conveyor belts will periodically move closer to you. Don't let them or I believe you will lose a life. They start off small - 6 pearls each row and grow and grow as you level up. Every so many levels, not each level. There are also bonus levels where you shoot at bomb carrying sharks (of all sizes) - I hadn't missed one yet. I was on the end of the 2nd level of the snaky looking "map" when the demo timed out and I believe I was at Level 12-something so the game is substantial in length IMO. Also, it appeared that at the very top of the map (as you work your up from the bottom) the Big Black Sea Dragon waits for you. Big Boss Challenge? This isn't a purchase for me yet because I own many match 3 games I have yet to play but it's on my wish list. Try it yourself. If anything, you have to smile your way through the hour. Happy Gaming!
September 7, 2014