Ikibago
Ikibago is an action-filled Match 3 game with a seafaring twist! Take on the role of a pirate and go on an adventure to recover the Ikibago jewel. Ikibago offers new intuitive Match 3 gameplay. Line up at least 3 kegs of the same color in each column and watch them blow as they scroll to the right. Swap kegs anywhere to set up amazing combos and adjust your strategy.
Unlock special modes.
Go on an adventure.
Easy to learn.
Game System Requirements:
OS:

Windows XP/Vista/7/8

CPU:

600 Mhz

RAM:

128 MB

DirectX:

6.0

Hard Drive:

38 MB
Game Manager System Requirements:
Browser:

Internet Explorer 7 or later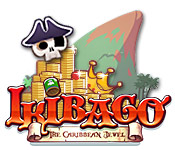 NEW299
The Big Fish Guarantee:
Quality tested and virus free.
No ads, no adware, no spyware.

Reviews at a Glance

Ikibago
0
out of
5 (
0
Reviews
Review
)
Customer Reviews
Fast paced, unique M3. YOH00H000 and barrels of fun!
I just flew through the whole hour demo, and boy are my "'arms" tired! *BaDaDup* :p I hate timer, pressured, fast games etc. They are all too stressful. I can never keep up, due to carpel tunnal and RA. I normally just play HOGs, but like something else to play not so story intensive, that I can come back to it, for a break in between long HOGs/HOPAs The first 5 minutes I almost clicked "exit". Next thing I know. Surprise! Yet again startled when the hour was up! Second game out to do that in 2 days. I'm glad I stuck it out, it is hard to get at first, but the graphics are great and the game play very addictive! It's a challange for sure, but not impossible by any means, as I think I'm the slowest player here! If you like fast paced, you'll love it for sure! Though they may be easy if your an expert at them. I played 6-7 Missions and it hadn't spead up crazy fast. There is some thinking/planning ahead required and a few levels you need to think fast too. I've never played a M3 like this one. You match up colored barrels, red, blue and green in vertical lines of 5 barrels, as they float by at a pretty good pace, getting loaded onto your ships cargo hold. Later levels have spaces for you to make the rows. Each Mission has 3 levels, each level has a goal, like 10, 3Xs matches in a row. Matches are: 3X in a row, 5X in a row, 2 5X rows of the same color connected make combos, Those are the basic goals/ways to match. One level had me make a shape, that was easy actually. I played on Normal mode, not sure if you uncheck that box in options, if its harder or easier? I sugest playing sound on, there is quiet warning if your barrels are close to docking (They shake too) and not matched with at least 3. If one gets by, they explode.. and I think you lose a life, but it didn't seem to be a big deal as you can keep retrying them and are given more lives. So they seemed pointless. Get 2-3 stars and a high score in a mission opens bonus levels, where you plunder another Pirate ship, you earn more and other power ups. You can also replay the missions and there are tons of achivements to earn!! Was only "forced" to do 1 Mission over and 3 levels, just because I was learning. There are power-ups, earned 2 ways. First pludering another pirate ship for things like unlimited lives! In play some barrels have rings to turn a row gold when moved, no matter what colors they all are, or if locked. There are plenty of these to help. There are also keys and lock barrels. Now this confused me as it wasn't explained well. The tutorial is automatic as you encounter different things like the rings and keys, but its a short explanation on a scroll and didn't help much. I was trying to drag the "key barrels, to the lock" I finally figured it out, you swap a key barral (to any spot) and you earn a key, shown on top with your lives. If you want to use a key to unlock a barrel (locked barrels can't be moved from the row, until unlocked) just click on the barrel, If you have a key, it unlocks it to swap. You get used to it the more you play. Con's: There is no real help menu and very little explaining how to play the game. I was totally lost for about 30 minutes. It's not timed, but it does require you to be quick swapping the barrels. This DOES get easier as you get used to it, coming from me, that's saying a lot as I have terrible hand disabilites and my eyes aren't great. Pro's: I LOVE the begining storyline and that it's a female pirate running for this "quest". (don't want to give too much away). The graphics are very well done, clear sharp and I loved some of the other pirates I plundered from! There is a wide screen mode and it does auto adjust, so no black bars here, or settings to adjust. Your PCs setting also go back to how you have then when you exit. The music was fitting and I found myself humming along and it did not distract me. It's fun, unique and not your typical "Cookie Cutter M3" The Pirate theme and story was nice, not dialog heavy either. There are TONS of Achievements to earn, and you can play any level over, after unlocking the unlimited mode very early in the game. Doing so also seems to open more Missions, like the other Pirate ships (I LOVED them!). So from a "hand disabled/limited" slow poke, like me. This games one of the few games I'm willing to over look the fast pace, as it is so well done, beautiful clear BRIGHT graphics (No dark tale here) and once I got the hang of it, it was FUN! It's a big YES must buy for me! I only gave it 4 stars, because I'd like more dialog and a relaxed, or easy option. I recommend you TRY this game first, it won't be for everyone. Do try to do the full hour if you can, or you won't really experience all it has to offer. I'm glad I did and didn't quit! Great game WTG Devs, high quality. I'll definatly buy, and hope there is a sequel.. but please included a slower more easy/relaxed option! ~Happy Gaming!~
June 10, 2013
Be the New Super Captain
The story line is weak. Find a jewel (ruby) and beat out the current "Big Man Captain". And, you play a woman. This is a timed game as well as being "timed" by success in completing a level. Miss a level and you lose a life. Game Play has an interesting concept. There are rows (containing 5 each) of colored "stocks" (barrels). These rows of stocks are constantly moving to the right and disappearing off the game board. Your job is to complete the "mission". For instance, make 5 rows of stocks. This is not a click and pick game but a drag and place game. So, you might have 3 red stocks, 1 green and 1 blue varied vertically. Pick up the stocks that will make 3 in a row. I'm assuming vertically because there was no indication that horizontal rows (in addition to the vertical row) would gain any bonus, etc. The game has no tutorial. I believe there was a help page. The concept is just to continue making more and bigger stocks. My dexterity for drag and place games is nil so this game, besides being boring, is not a purchase for me. I recommend it only so those who want to try something different can. Happy Gaming!
August 26, 2014