Dracula Origin
2nd Runner-Up Best Adventure Game of 2008!
Play as the vampire slayer Professor Van Helsing, hot on the trail of the diabolical Count in this thrilling Large File Adventure! The ruthless Dracula is searching for an ancient, eldritch ritual to return damned souls to the earth. As the eminent Professor Van Helsing it`s up to you to stop him before his evil machinations are realized! Sharpen your stakes and dive into the terrifying depths of Dracula Origin ™ today!
Terrifying 3D characters
Challenging puzzles
Battle the ultimate evil!
Game System Requirements:
OS:

Windows XP/Vista/7/8

CPU:

1.2 GHz

RAM:

256 MB

DirectX:

9.0

Hard Drive:

2187 MB
Game Manager System Requirements:
Browser:

Internet Explorer 7 or later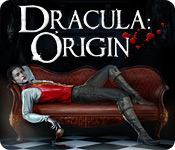 NEW299
The Big Fish Guarantee:
Quality tested and virus free.
No ads, no adware, no spyware.

Reviews at a Glance

Dracula Origin
0
out of
5 (
0
Reviews
Review
)
Customer Reviews
Best game I have played here at big fish
absolutely brilliant - I loved this game. A lot of different and unique puzzles, really quite long, and you aren't allowed to leave an area if you need to pick up an item. For clues in a scene just hit the space bar to see 'hot spots'. I wish there was an option to turn off the music without turning off the voices. It isn't a 360 spinner game (good) but you do have to make sure you hit every' footprints'- easy to miss some scenes (but the space bar helps you out with this) It has a completely different style of gameplay than HOPAs. It's more difficult and challenging than them. So if you are looking for that then this isn't for you. I would recommend you search online for a walkthrough, and look at the very beginning for instructions on how to play it - how to use journal etc, move around etc. I wouldn't recommend this for kids or for the very faint of heart - I will place a spoiler alert at the very end of the review so you don't need to read it if you don't want to. I played this on windows 7, with no tech problems. And I have had quite a few tech problems with other large file games here. Really recommend this game. spoiler alert (sorry can't white things out here)- There is a scene later in the game with a trapped monk in a cage and other monks. you don't see anything but are aware of what is happening, it was a bit gruesome. There was some blood on the ground - but it wasn't very realistic in other part as well.
November 19, 2011
Great game in all counts
This 2008 game is a full-blown adventure game, not a casual game that BF usually sells. It's longer, puzzles are harder, graphics are more advanced (your main character has 3D movement that you control) than a typical casual game. But anyone who invests effort and time into it will be rewarded with a great gameplay experience. You travel to many places, from scary mansions to tombs and deserts, and you face a variety of puzzles. Save often. In non-casual games, you need to manually save your games. BF doesn't offer a trial, but there is a playable demo out there, so google for it.
December 5, 2011
Challenging, longer adventure game
This review is based on the full game which I recently completed. This is a classic adventure game where you walk around, visiting different locations, solving puzzles and collecting clues and information. I liked: ~ the decent length of the game, well worth the cost and hassle of the huge download!! ~ the story, which was interesting enough to keep me wanting to play til the end. ~ the graphics and variety of locations that you visit in the game, which were spread over several countries and were different and well designed. ~ the puzzles, which for the huge majority were logical and possible to solve if you thought about it a while. I didnt like ~ one or two puzzles, which were illogical and caused me to consult a walkthrough. Even using the solution, I was thinking- what?!?? ~ the lack of direction at the very start, this could be off-putting to some players. I used a walkthrough at the very start to learn the basic controls and felt a tutorial wouldn't go amiss, especially in such a long game. In general, this is an excellent game which I would recommend to most people, although some parts might be easier with a walkthrough.
March 25, 2012
Why all the hoopla?
Despite the rave reviews, awards, and accolades for this game, I found it to be seriously lacking in fun factor. The entire game was slow and tedious, with lots of back and forth scenes and locations. The gamer also spends a lot time watching Van Helsing casually stroll from one place to another. The dialogue between characters was also slow and at times painful. I began to cringe each time the dialogue box popped with the number of questions for a new character. The actual game play was the standard -- find a character, do them a favor, they do you a favor, on to the next step. The ending was also the usual -a setup for sequel without making real sense to the game just played. The graphics were detailed and would have been beautiful had they not been draped in a sad sepia-tone. The music was ok, but I turned it down midway through. There were very few mini games (bummer) and no HOS (ok by me). The first mini-game was also the one I found to be to most clever. -Easy, but different. It required combing through newspaper clippings to identify where an attack occurred and direction in which the villain fled in order to triangulate on Dracula's lair. On the plus side - The Journal was very helpful and well put together. It contained one stop shopping for inventory items, reports, dialogues, and just about all else needed for game play. Another good thing was the ability to save the game at any point. This came in handy when having followed steps out of order I was left without an badly needed inventory item. Kudos for offering this feature! Sorry that I can't recommend. Clearly many put a lot of time and effort into this. This one was just not my cup of tea.
July 27, 2012
Dracula Origin
I am 61 years old and I loved this game. Very challenging and fun. Graphics are great but I did have a hard time finding the hook in one scene. Hope another comes out like this.
June 12, 2012
Absolutely wonderful game
Brilliant puzzles, beautiful graphics, a sometimes quirky sense of humor shining through in spots, a different take on the Dracula legend and a very Holmesian hero in Van Helsing. I still catch myself saying, "I am in need of something" or "Perfect! Now, on to the next thing!"
November 30, 2011
Classic Van Helsing vs. Dracula
Exceptionally long playing game, pure adventure no HOG. Classic Van Helsing vs. Dracula storyline. You play the role of Van Helsing. Characters are a bit stiff, however voices are exceptional. Recommend you get a walkthrough as there are tasks that need to be performed that may not always make sense. There are puzzles that range from moderate to difficult, all are do able, sometimes you just need a gentle push in the right direction. All information is written in Van Helsing?s journal, just be sure he states the information, and says perfect. If he does not state the info, he does not know it and it is not recorded in the journal, so you will not be able to proceed at some point in the game. There is much written text, you will need to read it and be informed as you will need to use the info at various points. Controls: As with most traditional adventure games the game does not save automatically you will need to manually save yourself before exiting the game. To save hit esc, you will be taken to appropriate screen. To access inventory right click your mouse button. Game play is smooth and for the most part intuitive. As it is about the classic vampire, it is at times bloody and gross/shocking, so be warned (no spoiler, but brace yourself when you interact with the monks).
May 30, 2012
Loved it
Really enjoyed this game. Was hard in parts and had too use the walkthrough, expecially as there is not much in the way of explanation and hints on the puzzles, but overall really enjoyed it, super long which is great. On the look out for another similar now... recommend.
April 8, 2012
Just too much!
I am used to the Hidden Object games that have a story line with quests with HOBs to find and mini game, puzzles. I did not even get out of the first room to explore...The game should have offered a tutorial in the beginning so that one knew that hitting the spacebar would help reveal objects to view.(got that tip from the blog)...I think hints should be offered to those who need them; at least what you were supposed to be doing. Switching between a walkthrough guide and playing does not cut it. Maybe I'll try this again at a later date; maybe these types of games just aren't my forte. I love Return to Ravenhearst and those types of games...Wish there had been a trial to play before I bought it. I see a lot of others have enjoyed this game, so I will try it again at a later date...Maybe I just need a bit of patience!
March 21, 2012
Great if you don't mind graphic content
I loved the storyline and I knew what Dracula was all about but I wasn't quite prepared for the amount of graphic detail they would go into a game like this. My own fault...even still it was creepy and intriguing and a lot of fun. Side note: Dracula is a total babe. ;) ha! I'd recommend this game to any Dracula fan
June 12, 2012