Dracula Origin
2nd Runner-Up Best Adventure Game of 2008!
Play as the vampire slayer Professor Van Helsing, hot on the trail of the diabolical Count in this thrilling Large File Adventure! The ruthless Dracula is searching for an ancient, eldritch ritual to return damned souls to the earth. As the eminent Professor Van Helsing it`s up to you to stop him before his evil machinations are realized! Sharpen your stakes and dive into the terrifying depths of Dracula Origin ™ today!
Terrifying 3D characters
Challenging puzzles
Battle the ultimate evil!
Game System Requirements:
OS:

Windows XP/Vista/7/8

CPU:

1.2 GHz

RAM:

256 MB

DirectX:

9.0

Hard Drive:

2187 MB
Game Manager System Requirements:
Browser:

Internet Explorer 7 or later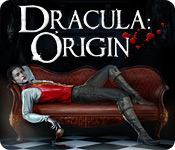 NEW299
The Big Fish Guarantee:
Quality tested and virus free.
No ads, no adware, no spyware.

Reviews at a Glance

Dracula Origin
0
out of
5 (
0
Reviews
Review
)
Customer Reviews
Hardest game i ever played
At first i absolutely have no idea what they wanted me to do,it took me ages to finish,but it was a fun game.
November 18, 2011
Glad I finished it...
This was one of those games that promised so much for me and in the end really didn't deliver.. visually it was great - fantastic graphics and scenes. Some of the puzzles were very hard and the items that you use did not always make sense to me so I had to use a walkthrough quite a bit. The ending was the killer for me - it didn't make sense at all to me - in fact I still have no idea about the identity of Dracula, which was dissapointing. I guess it shows how I felt about it that I haven't even bothered to search through forums to see if someone has an idea! And another thing - I hate it when a game finishes and you still have items in the inventory - which I did in this case. Overall - it was the type of game that I continued to play but I was glad it was finished.
October 4, 2012
Thousandth iteration of damsel in distress - booring
Kinda boring. I played The Testament of Sherlock Holmes first from the same developers before, that was a lot more enjoyable and modern. In this one the player doesn't have a free camera and it was annoying. I admit I never read the original novel, but the game's story is bland (the thousandth iteration of damsel in distress - yawn) the characters are not even two, but one-dimensional. I can't say they put any effort in the game aside of the visuals. (One scene that stood out as particularly beautiful is the Viennese library <3) Overall my rating is 3/5, kinda bland, boring game, not engaging, but not overly horrible either. Some of the puzzles and situations didn't make sense, I had to use UHS multiple times.
February 21, 2014
Why all the hoopla?
Despite the rave reviews, awards, and accolades for this game, I found it to be seriously lacking in fun factor. The entire game was slow and tedious, with lots of back and forth scenes and locations. The gamer also spends a lot time watching Van Helsing casually stroll from one place to another. The dialogue between characters was also slow and at times painful. I began to cringe each time the dialogue box popped with the number of questions for a new character. The actual game play was the standard -- find a character, do them a favor, they do you a favor, on to the next step. The ending was also the usual -a setup for sequel without making real sense to the game just played. The graphics were detailed and would have been beautiful had they not been draped in a sad sepia-tone. The music was ok, but I turned it down midway through. There were very few mini games (bummer) and no HOS (ok by me). The first mini-game was also the one I found to be to most clever. -Easy, but different. It required combing through newspaper clippings to identify where an attack occurred and direction in which the villain fled in order to triangulate on Dracula's lair. On the plus side - The Journal was very helpful and well put together. It contained one stop shopping for inventory items, reports, dialogues, and just about all else needed for game play. Another good thing was the ability to save the game at any point. This came in handy when having followed steps out of order I was left without an badly needed inventory item. Kudos for offering this feature! Sorry that I can't recommend. Clearly many put a lot of time and effort into this. This one was just not my cup of tea.
July 27, 2012
Just too much!
I am used to the Hidden Object games that have a story line with quests with HOBs to find and mini game, puzzles. I did not even get out of the first room to explore...The game should have offered a tutorial in the beginning so that one knew that hitting the spacebar would help reveal objects to view.(got that tip from the blog)...I think hints should be offered to those who need them; at least what you were supposed to be doing. Switching between a walkthrough guide and playing does not cut it. Maybe I'll try this again at a later date; maybe these types of games just aren't my forte. I love Return to Ravenhearst and those types of games...Wish there had been a trial to play before I bought it. I see a lot of others have enjoyed this game, so I will try it again at a later date...Maybe I just need a bit of patience!
March 21, 2012
Hate It! Not For Me
I only did the first part, way to complicated to enjoy. I play HO games to relax, not to want to pull my hair out. I play more serious PC games for that. I'm glad I bought the follow up game, Dracule Love Kills, at the same time or I would never have gotten and it's great.
February 6, 2012
Disapointing
The game just dragged on. You spend a lot of time watching characters move from place to place. There aren't any hints, so if you're stuck, you're pretty stuck until you can find some kind of hint online or get lucky. They sequel game is significantly better, but this is a skip.
February 22, 2013
:(
Not my favorite play type for a hidden objects game, I actually hated the game play. The story was pretty good, but I would have like to have better game play to enjoy the story.
May 21, 2012
Boring, Boring, Boring!
Visually good, however game play is slow and there's a lot of back and forth at a snails pace. Tasks are more challening than a lot of games I have played.
April 22, 2012
Horrible, Boring, I Hated It
I got this game because the sequel looked good and I wanted to start with the first one. I hated it. Although, there is no trial option on this one, I won't play a game on here again without a trial. This is probably just not my type of game. I still have a headache from playing it. Its just boring. Lots of walking back and forth trying to figure out what to do. Why would I use a dead beaver as a holder for a funnel? There was very little I could figure out without the walkthrough. Very few puzzles. Lots of long dialogue and reading assignments. It just wasn't fun and I was not impressed by the graphics. I have lost interest in the sequel now even though people that did not enjoy this game liked the sequel. The most annoying thing about this game was that if you did not click certain pieces of information you had viewed, it did not register that you had the information and let you go to the next step. So I was just wandering around trying to figure out what I missed. I agree with the other reviewer that said she plays these games to relax, not to pull her hair out.
April 20, 2012