World Mosaics
Dr. Remington has unearthed a relic of the mysterious Pelasgians. To truly discover and unravel the mystery of an ancient civilization, you must travel to the city of the majestic Parthenon, Greece! Work your way through seven exotic locations in Story mode or tackle over 100 puzzles in an extra puzzle mode. Safeguard the history of World Mosaics in this globe-trotting Adventure.
Globe-trotting Adventure
Exotic locations
Travel the world!
Game System Requirements:
OS:

10.4, 10.5 (recommended)

CPU:

1.83GHz

RAM:

512 MB
Game Manager System Requirements:
Browser:

Safari 4.0 or later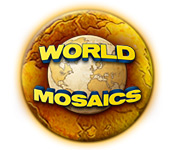 NEW299
The Big Fish Guarantee:
Quality tested and virus free.
No ads, no adware, no spyware.

Reviews at a Glance

World Mosaics
0
out of
5 (
0
Reviews
Review
)
Customer Reviews
Outstanding
The more I play, The more I want to play ! Hours and hours of pure enjoyment I'm hooked!!
December 29, 2011
A Wonderful, Logical, Numbers Game
I first came across this type of game in a Nancy Drew adventure game. I could be wrong, but I believe that this is a game that first originated in Japan. The object of the game is to create a picture by uncovering a certain number of squares per column and row within a box. This particular game is a collection of these number puzzles with an adventure story behind it. You are an archeologist uncovering beautiful, historical mosaics around the world. If you haven't played this type of game before, there is a short tutorial to show you how to solve the puzzles. The puzzles are simple to learn, but not always easy to solve. It takes a lot of strategy and logic to determine which squares are to be uncovered. The puzzles start off easy enough, with the grid being 10X10. As you progress throughout the game, the puzzle grids get larger and a bit more difficult. You are given a certain amount of mistakes that you are allowed to make before the puzzle blows up. However, the best thing is that you can restart the puzzle over as many times as you choose without any penalties. One helpful tip: when working on larger puzzles, if you find that you are one mistake away from the puzzle blowing up and you have a significant amount of the squares uncovered, take a picture with your digital camera or cell phone so that if you do make the last mistake, you won't have to guess which squares to uncover again and it'll be easier to finish the puzzle. These puzzles are timed, but you can always go back and redo a puzzle for a faster time. Even after finishing the adventure, you can unlock extra puzzles for more fun. I can see that this game has a lot of replay value. I highly recommend this game if you really enjoy logic and number puzzles.
January 19, 2012
Good Brain Challenge
I love this game so much. I have played it over and over and over. It is a great numbers game for all the number lovers. It keeps the brain working. I challenge myself to see how fast I can complete a level with no mistakes. I wish there was a way to bypass the beginning levels that are really easy and boring. I will probably go back to it as soon as I finish my first time through World Mosaics 4 (which I will review separately).
November 15, 2011
if you are a sudoku fan, you'll love this game
in this logic game, you are rebuilding mosaics originally constructed in the ancient world. this is a picross game, a pictorial grid game that gives you clues in the form of number patterns that you use to solve the puzzle by uncovering or breaking specific tiles in the grid. the concept is simple to grasp but the puzzles quickly go from 5X5 (easy) to 25X25 (challenging) grids. graphics: they're stylised but quite nice; colourful, clean and crisp. music and sound effects: music was ok, nothing special, but also not annoying, and the sound effects were minimal. gameplay: there's several modes of play. a helpful tutorial is provided if you've never played this sort of game before. all puzzles are timed and a tally is kept of the number of mistakes you make whilst solving the puzzle. you earn hints throughout the game, although you can only accumulate up to four hints total. smooth gameplay, no frustrating hesitations or freezes. my interaction: one hour demo, story mode. this game is on my must-purchase list. although these games are somewhat different from sudoku, the principles for solving these puzzles are the same as what you use to solve sudoku. as a sudoku fan, i fell in love with this game from the moment i started playing it. there is tremendous replay value with this game, and it'll be addictive fun for the entire family!
August 20, 2012
Wow for World Mosaics
I seriously enjoyed this game. It was hours of fun. I have since bought all the rest of World Mosaics and am anxiously waiting for more to be released!
November 14, 2011
Addictive
World Mosaics is definitely an addictive game - I just can't seem to stop playing! In this game you are researching different ancient cultures to learn more about the origins of the sea people - and with each mosaic you solve you are one step closer to solving the mystery. As with the other World Mosaic games, you are given a grid with numbers associated with each column and row - and it is your job to use this info. to determine which blocks/bricks to keep and which to break in order to create a specific picture. I really enjoyed this game and can't wait to get started on World Mosaics II.
May 28, 2012
I truly love these types of games.
I was overjoyed to discover this wonderful series of games. I play a version on this my Kindle. It is challenging and fun. If you like Suduko, you will enjoy this game.
December 11, 2012
Lots of fun
I loved this game it was very addicting
January 21, 2012
Cerebellum Treat
Take off your shoes, sit back, relax and enjoy your cerebellum at play. Each mosaic increases with difficulty gradually. The easing into the difficulty does not take away from the challenge, but makes it nonstressful.
September 2, 2013
One of the best games i have ever played on big fish
absolutely and thoroughly enjoyable, at the moment there are six of these currently available, I got this one, purely just to try it . I tried it for 3 or 4 minutes and immediately bought it. I have no doubt what my next five purchases will be on big fish. I cannot fault this game in any respect.
August 30, 2013