Laxius Force
Exclusive
Prince Djarma is the last in a noble line of ancient Viziers from the northern kingdom of Ultai. He has returned to his family's ancestral pyramid to find it turned into a crypt filled with the denizens of the Order, a dark and mysterious cult bent on conquest. Djarma only help is an unlikely ally: the undead warrior Kraiten, who seeks to lift a curse placed upon him by the Undead King. Explore dungeons, solve mystic puzzles, learn magic spells, and gather unique artifacts to aid their quest.
Spells, weapons, magic items!
Explore ancient dungeons.
Discover the Laxius Force.
Game System Requirements:
OS:

Windows 2000/XP/Vista/7/8

CPU:

1.0 GHz

RAM:

256 MB

DirectX:

6.0

Hard Drive:

75 MB
Game Manager System Requirements:
Browser:

Internet Explorer 7 or later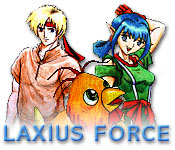 NEW299
The Big Fish Guarantee:
Quality tested and virus free.
No ads, no adware, no spyware.

Reviews at a Glance

Laxius Force
0
out of
5 (
0
Reviews
Review
)
Customer Reviews
The "Master" of the Genre
Ah....The birth of a Legend is here!...The Legend of the Laxius Force! I remember years ago when I first played Final Fantasy, and as I continued to follow the Series, I swore no game could ever compare! Yet now, there is Laxius Force!! The Master has met its match!! Indinera of Aldorlea Games has done it with the introduction of this massive quest! The 3 part series is epic in scope, beginning with Laxius Force 1. One eventually loses count of the number of characters who join together to battle a supreme evil. The number of sidequests is unmatched in any other RPG, yet does not become frustrating as some games do. You will be challenged, no doubt, but if you follow the ample clues, you will undoubtedly prevail! Or, if you prefer a simpler task, the main quest can be completed without the necessity of finishing them all. There's nothing "linear" about it... you choose your own path to ultimate victory! But, be warned, once you come to know these characters intimately, as you will, you WILL become enmeshed with them, and will find yourself returning to visit them for years to come, as I have!! This is a true classic, which will last for generations, and places Aldorlea Games as the undisputed leader in the genre!!
December 24, 2011
Complex and challenging
My favorite among similar games. Very long, challenging, complex fights, tons of equipp and plenty of quests (around 100 I believe). Also, the story is very deep and with many unexpected twists. If you like exploring huge dungeons / fighting lots of monster / searching for secrets Laxius Force is a must. But be warned, if you are new to the genre or prefer simpler/shorter games, then I would advice you to start with 3 Stars of Destiny (it's a prequel to this game) or with Millennium:A New Hope. I will also add that Laxius Force is the first part of a trilogy, so don't expect the story end here.
December 19, 2011
Utterly epic RPG
Laxius Force, and just about any game by Aldorlea, is just one word: EPIC. It is long, full of great gameplay and level-crunching, and kept me hooked for several days on end. It has great replay value because there's always something you missed on the first few play-throughs. It really pushes RPG Maker's capabilities above and beyond, I love how the base avatars are really brought to life with beautiful hand-drawn combat sprites, character portraits, and sometimes close-ups. Now for the uninitiated, Laxius Force's storyline picks up a few years after the events of the Laxius Power series, thus if you haven't played those games you'll be a tad confused as to who some of the characters are and references to the other story arcs throughout the LP series. Casual players may be turned off, but hardcore RPG players will rejoice. I can't praise the Laxius series enough for its epic developments, and I hope Aldorlea brings us more.
February 20, 2012
Adventure Game!
The story will pull you in. There are quests to complete, secret rooms to look for, fall or walk into. There are strategies to plan and the intrigue of this being the first of a 3 part series is something to look forward to. The challenge is whether you are up to it.
December 12, 2011
Addictive, long, with huge replay value
This game has been out a while now, so won't give you cutting edge graphics. What it will give is an involving story, linked to brilliant game play. If you like side quests, this will be the nearest thing to heaven this side of playing episode 2. Enormous possibilities for exploring and finding goodies; great range of possible strategies. I've played it 4 times now, and still found new stuff on the last play through. There's a really good walkthrough on the developer's website. I strongly recommend this game.
July 13, 2012
great storyline, great quests and the right amount of challenge
very engaging storyline, and quests. balanced level of challenge. some quests are hard and has a timeline. but the main storyline quests are comparatively good and just challenging enough.
August 11, 2012
Probably one of the best 2D RPG game series ever made by an Indie studio.
As a follower of the Laxius saga from the very beginning (I have been a player of the first three free games made on RPG Maker 2000), I've been quite pleased with the three new opuses, especially this one, who prolongs on a new epic way what gave all the fun to the saga in the past: non-linearity, a wide world to explore and some fierce dungeons and bosses to deal with. The characters are still pleasant to play with and the story follows its paths as surely as usual. One of my absolute references in this style of RPGs. You MUST give it a try! o/
October 9, 2012
Great experience
I started playing this game to pass time but I discovered after a few hours that it's actually interesting, enthralling even, and gives you so much to do. It IS a fantastic way to pass time but that wouldn't give the game justice not to mention the complex plot and unique characters.
May 11, 2013
Long game that is really fun
Awesome. loved this game and the characters are funny. There are two more games to this series but BFG doesn't have it :( They are more pricey in $20 and up but worth it. I love this almost as much as Aveyond. However, Aveyond is still my #1 :)
May 5, 2013
Zelda
Game puts you in mind of the old zelda on nintendo which I liked. Only problem is the game is not an entire download. Just when you really get into the quests and are starting to get into it the game stops you and say game over just before a big fight you see coming which was VERY disappointing. I can say what i did when it happend with out the bleep machine going off
September 3, 2012