Mushroom Age
Help Vera track down her lost love through thrilling epochs of earth's past and future! Battle the forces of evil through challenging puzzles and time-twisting mini-games! Explore world history first-hand and interact with ancient sages and fearsome, pre-historic predators! Save Tom, the world, and time itself in this expansive Hidden Object game. Why`s it called Mushroom Age? Take a trip through time today and find out!
Mesmerizing mini-games
Strange and amazing landscapes
Save the past and future!
Game System Requirements:
OS:

Windows XP/Vista/7/8

CPU:

600 Mhz

RAM:

512 MB

DirectX:

8.1

Hard Drive:

128 MB
Game Manager System Requirements:
Browser:

Internet Explorer 7 or later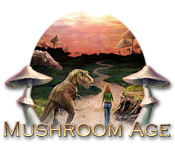 NEW299
The Big Fish Guarantee:
Quality tested and virus free.
No ads, no adware, no spyware.

Reviews at a Glance

Mushroom Age
0
out of
5 (
0
Reviews
Review
)
Customer Reviews
An humorous game just for a change...
If you are a bit tired of dark manors, werewolves, curses, ghosts and asylums tragedies, you might enjoy the different atmosphere and the humour of this game, which is only apparently easy. The graphic is a little old-fashioned and not very sophisticated, but it?s clear and pleasant, the characters are unpretentious but have an enjoyable self-irony, the voices are good. The game is quite long and all seems to be perfect?but there are a couple of flaws, which might seriously disappoint many people ? The quizzes and mini-games cannot be skipped, so you have to remain stuck there until you solve them by yourself ? You have to finish a chapter before leaving the game, because your results are saved only in chapters, so if you didn?t finish completely a chapter, when you start playing again, you have to re-start that chapter from the beginning. A part from that I recommend the game, which is definitely enjoyable.
January 5, 2012
Loved it!
This game was longer than most which was nice. The puzzles and HO scenes were all very different and didn't get boring. It was kind of hokey, and yet the story line kept me going right up until the end. I wish all games were like this one! You can only save at the end of chapters. The uniqueness of this game was refreshing.
November 27, 2011
Mayzy's Review- Mushroom Age
Hmm... how to describe Mushroom Age? I think the only word to really give it justice is 'quirky'. The story follows Vera as she travels through the past and future, trying to rescue her missing fiance. You meet all sorts of whose real-life counterparts might be appalled (or hopefully highly amused) by their depictions in this game. It sounds odd, but you quickly become hooked and eager to find out what crazy things will happen to Vera next! The game play itself is nicely varied. There are a wide variety of mini-games and most of them are quite fun, if a bit on the easier side. Some of them are just silly! Brush the dinosaurs teeth? Well ok then! The hidden object scenes tended to make me want to tear my hair out because the objects were often VERY difficult to see. What? You can't spot that slightly darker brown square against the mottled brown tree trunk? I don't think I've ever had to use a hint button as much as I did for this one. The characters are fun and well designed, though some of the backgrounds are not as smooth. The music matches the game and has enough variety that you don't get sick of it, even though this is a relatively long game. Definitely worth trying out, if you're up for a whimsical, somewhat goofy romp!
November 29, 2011
This Game is Too Much Fun!
Of the 100 or so games I've played over the past 1.5 years, there has been maybe two or three that made me laugh out loud....this is one of them. Really funny and fun to play. The characters and voice overs are top-notch and make the game what it is...story is ok, but it doesn't matter here because you are enjoying the zany people, plants and animals. I know this will be a replay for me...and that is the biggest down side to HOG's...I don't replay them, except for a couple. Enjoy.... ps. Wonder how many people that played noticed the phallic symbols? Pretty obvious....what were the dev's thinking?
December 10, 2011
Cheesy graphics and cornball voice-overs make this game a hoot!
Yes, the graphics of this game are cheesy, however the story line is very cute, and the voice-overs are so goofy they make you laugh. I still laugh thinking about the dinosaur, and I haven't played the game in 2 years! In any case, the game play was a lot of fun, with a great mixture of puzzles and interesting hidden object scenes. An absolutely delightful game!
December 20, 2011
A long HOG, not free from becoming tedious
No reason to attack this game on its stroyline... it's whacky, which makes it kinda funny. What about the gameplay? It is quite a long game; you have to go through 23 chapters with HOS and puzzles. But it sometimes gets kind of boring to go rummaging through the same scenes again and again, pushing aside the same objects, opening the same lockers, drawers and curtains, now to look for pills, then to look for something mice, then to look for something else again... the novelty soon wears off. The puzzles are not difficult, same old stuff: disentangling wires, wordguessing, matching pairs, reconstructing images, etc. ... not much of a challenge. All in all, if you want to spend a day or two doing this kind of thing, buy this game... but don't if you are looking for something new and challenging.
August 13, 2012
Fantasy Fun!
A "classic" game that stands up well against current games! Very well thought out story line, fun characters & challenging mini-games! Your eyes will love it & your brain will get a nice little work out! Likely it will go straight to your "replay this!" list!
November 25, 2011
Niiiiice! + Awesomeness!
Storyline interesting from the get go...This game has multiple game play strategies, Hidden Object, Brain Challenge, Time Management etc...all in one! Even some Trivia while taking you through different eras in time...hours of guaranteed entertainment with a surprise ending to boot!
November 25, 2011
Go in directions you wouldn't normally expect - Funny and Fun
If you want a game that is a bit "off the wall", makes you laugh out loud, and has a medium level of difficulty with a good pace - then look no further. This one, was a bit of a gamble for me, as I am not particularly eco-anything and thought this game might be too 'save the planet' or goodie-goodie, based on graphics and initial impressions. Thank you to the prior reviewers and their comments for tipping my decision to buy this game. Upon starting this game, I was immediately struck by the quality and strong characterizations of the actor's voices and also the excellent and appropriate music in the game. For example when you are in the future, the music really made me grin and feel like I listening to the sound track of an 80s SciFi movie. Brilliant. Visually it is not as beautiful as some HO games I've played on this site, but its artwork helps makes the feel of the game, work ever so well. The humor is thoroughly ridiculous (in a good way) with astonishing takes of historical (or hysterical:) characters and bonkers situations and timelines that Vera the main character keeps finding herself in. How does she cope? To quote: "A-A-A" The big writing and slightly childish feel, appealed greatly to me, after so many seriously themed HO games I'd been playing. There is also appeal to more adult humor which is very tongue in cheek, and not necessarily obvious to younger players (Get that Socrates guy! And indeed I had noted the phallic symbols per LuvBFG56's review!:) The length of game was good (I played over 2 days whilst watching TV) and a good pace of game play is maintained throughout. The puzzles were very varied which helps keep interest, and quite a few were new to me (for an intermediate player). There was no skipping allowed, but they were all solvable with a bit of thought or a good night's sleep after hours of playing and a tired brain. For me, a strong story line and characters I want to spend time with, make me want to progress in a game. If I don't care "What happens next?" then I don't care about the puzzles and just want to skip skip skip. In this game, I looked forward to every new twist and turn in the game. To summarize: A definite laugh out loud game, taking the end user on a roller coaster trip to the bizarre! Cheers to the Creators.
June 5, 2012
INCREDIBLE, DIFFERENT AND HYSTERICAL GAME
I have been playing this for two days, on and off. I LOVE it!! The first game that is hilarious. I didn't look who created this one but "GREAT JOB". The voice overs have me laughing every time! The mini games are fun and different. I'm still thinking about Dino's voice lol Anyway..ahem.. it's like Monty Python meets Gaming. I totally understand the "mushroom" reference now. If you want to play a game laughing your way through this one is freakin AWESOME!
January 20, 2013
The Apple logo is a trademark of Apple Computer, Inc.