Mushroom Age
Help Vera track down her lost love through thrilling epochs of earth's past and future! Battle the forces of evil through challenging puzzles and time-twisting mini-games! Explore world history first-hand and interact with ancient sages and fearsome, pre-historic predators! Save Tom, the world, and time itself in this expansive Hidden Object game. Why`s it called Mushroom Age? Take a trip through time today and find out!
Mesmerizing mini-games
Strange and amazing landscapes
Save the past and future!
Game System Requirements:
OS:

Windows XP/Vista/7/8

CPU:

600 Mhz

RAM:

512 MB

DirectX:

8.1

Hard Drive:

128 MB
Game Manager System Requirements:
Browser:

Internet Explorer 7 or later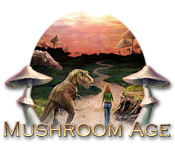 NEW299
The Big Fish Guarantee:
Quality tested and virus free.
No ads, no adware, no spyware.

Reviews at a Glance

Mushroom Age
0
out of
5 (
0
Reviews
Review
)
Customer Reviews
My favorite game!
Mushroom Age is my all time favorite game! Love it!
February 10, 2013
Fun, unusual game with lots of variety
This one is different, but I love the variety of games: hangman type, unscramble, HO and more. I love variety, not the same puzzle over and over. This one is fun, with lots of chapters, and always something new to do. Traveling through different times is interesting, although I didn't know mushrooms were more evolved than anything else-- hint hint. Not hard, just an entertaining brain- teasing game.Lots of talking, but it was done well. Haven't noticed the music. For something different, great fun.
February 9, 2013
Fun fun fun
This game is so funny. Lots of things to do. Tons of humor.
February 8, 2013
Fun and Surprise
This is a game that you get a lot for your money with. The game seems like it continues on and on in a good way. Very fun and surprises around every corner. Love this game and recommend it highly for all.
February 5, 2013
Mushroom Age is hilariously fun
I played this waaaay back when it was new to BFG and just laughed my way through it, despite some pretty sticky puzzles. It's a really good game and the witty, silly dialogue just amps it up a notch.
December 21, 2012
Mayzy's Review- Mushroom Age
Hmm... how to describe Mushroom Age? I think the only word to really give it justice is 'quirky'. The story follows Vera as she travels through the past and future, trying to rescue her missing fiance. You meet all sorts of whose real-life counterparts might be appalled (or hopefully highly amused) by their depictions in this game. It sounds odd, but you quickly become hooked and eager to find out what crazy things will happen to Vera next! The game play itself is nicely varied. There are a wide variety of mini-games and most of them are quite fun, if a bit on the easier side. Some of them are just silly! Brush the dinosaurs teeth? Well ok then! The hidden object scenes tended to make me want to tear my hair out because the objects were often VERY difficult to see. What? You can't spot that slightly darker brown square against the mottled brown tree trunk? I don't think I've ever had to use a hint button as much as I did for this one. The characters are fun and well designed, though some of the backgrounds are not as smooth. The music matches the game and has enough variety that you don't get sick of it, even though this is a relatively long game. Definitely worth trying out, if you're up for a whimsical, somewhat goofy romp!
November 29, 2011
Go in directions you wouldn't normally expect - Funny and Fun
If you want a game that is a bit "off the wall", makes you laugh out loud, and has a medium level of difficulty with a good pace - then look no further. This one, was a bit of a gamble for me, as I am not particularly eco-anything and thought this game might be too 'save the planet' or goodie-goodie, based on graphics and initial impressions. Thank you to the prior reviewers and their comments for tipping my decision to buy this game. Upon starting this game, I was immediately struck by the quality and strong characterizations of the actor's voices and also the excellent and appropriate music in the game. For example when you are in the future, the music really made me grin and feel like I listening to the sound track of an 80s SciFi movie. Brilliant. Visually it is not as beautiful as some HO games I've played on this site, but its artwork helps makes the feel of the game, work ever so well. The humor is thoroughly ridiculous (in a good way) with astonishing takes of historical (or hysterical:) characters and bonkers situations and timelines that Vera the main character keeps finding herself in. How does she cope? To quote: "A-A-A" The big writing and slightly childish feel, appealed greatly to me, after so many seriously themed HO games I'd been playing. There is also appeal to more adult humor which is very tongue in cheek, and not necessarily obvious to younger players (Get that Socrates guy! And indeed I had noted the phallic symbols per LuvBFG56's review!:) The length of game was good (I played over 2 days whilst watching TV) and a good pace of game play is maintained throughout. The puzzles were very varied which helps keep interest, and quite a few were new to me (for an intermediate player). There was no skipping allowed, but they were all solvable with a bit of thought or a good night's sleep after hours of playing and a tired brain. For me, a strong story line and characters I want to spend time with, make me want to progress in a game. If I don't care "What happens next?" then I don't care about the puzzles and just want to skip skip skip. In this game, I looked forward to every new twist and turn in the game. To summarize: A definite laugh out loud game, taking the end user on a roller coaster trip to the bizarre! Cheers to the Creators.
June 5, 2012
So cute.
I played this game on my phone so I'm not sure this review will be allowed to be posted. Just thought I'd give it a try. I thought this game was so unique. The characters are funny and the puzzles are enjoyable. I laughed so many times during this game. It isn't your usual kind of HO Adventure type game. You don't really walk through areas, your just put in an area and have to look for stuff and do puzzles. It's more like a straight HOG with a tiny Adventure thrown in. I recommend this for the Catch of the Week but not so much for full price since I thought it was shorter than most other games. I'm glad they have this game as the "Catch" this week, it needs more people to know about it and enjoy it.
February 4, 2013
A fun adventure!
While time travel has always been a fascinating subject, the hidden object mystery game Mushroom Age takes it to a new level of fun and silliness. We are playing as Vera, a regular lady with a fiance', Tom, that works in time travel theory. When she goes to her man's workplace, she finds his boss there instead. Dr. Einbock is a dead ringer for Einstein, and just as goofy. Before we know it, Vera is using a cellphone-looking thing to travel through time and hunt her fiance' down through all kinds of places, from the far future, back to the Jurassic period, into the Stone Age and who knows where else? So how does Vera work with those whom might be hostile to her to find Tommy Boy? With the help of a robot from the 31st century, she receives a translator, and she can now speak with anyone, from Nostradamus to a female T-rex with a toothache. She helps out those she finds along the way, and they give her information to find her man. This is most definitely not your normal time-travel tale, though it does remind me somewhat of Bill and Ted's Excellent Adventure</a>. I doubt a movie based on Mushroom Age would be nearly as funny as a story about two headbangers on a mission to save their history report, but this does have its moments. Maybe once the Yuletide season is over, I'll go on back and find out what happens next.
December 25, 2012
Cute, fun and silly game
this game is great for kids, probably best for kids 8 and up. that being said, i really enjoyed it. the HOS are well done and challenging, with a mix between "find lots of one thing" and the regular hidden object style. no junk piles at all. the games were fun, inventive and some that i wish i could play again (cosmic pinball anyone?) many of them i have never seen before, which really impressed me. the level of challenge varies, which is nice. some are easy, while others are quite a challenge, which i love. the music is likeable (with the exception of the organ music in the medieval age. yikes.) the characters are well voiced by real actors, who clearly had a blast making the game. it is very much geared to kids, who will get a laugh from several of the characters. the game is really long - which i love! a good value for the price. the overall feel of the game is light, fun and engaging. the graphics are really pretty, clear and bright. on the cons side, there is no way to skip any puzzle, and the hint button takes a while to recharge. while i like the challenge in that, some may not. you also must make it to the end of a chapter to save, which isn't all that hard, as the chapters are short. but if you quit in the middle, you will have to start at the beginning of the chapter again. as well, if you have no patience for something aimed more at kids, give this game a miss. it is def a kids game, with the feel of a Saturday morning cartoon - albeit a really well made one. overall, i am really pleased that i bought this game. i was feeling blue, and it picked me up. and i just love Dino.
February 11, 2013
The Apple logo is a trademark of Apple Computer, Inc.