Nancy Drew: The Haunting of Castle Malloy
Mystery is afoot at Castle Malloy! A groom has disappeared and the townsfolk are whispering of a malevolent banshee! Are ghosts to blame, or is it merely a case of cold feet? Immerse yourself in the haunted legend of the Emerald Isle, gathering clues and information from the terror-stricken wedding guests. It's up to you and Nancy Drew to unravel the mystery in this chilling adventure game.
Chilling storyline
Unveil a ghostly legend!
Game System Requirements:
OS:

Windows XP/Vista/7/8

CPU:

1.0 GHz

RAM:

128 MB

DirectX:

9.0

Hard Drive:

1012 MB
Game Manager System Requirements:
Browser:

Internet Explorer 7 or later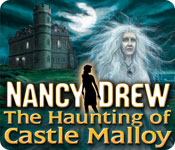 NEW299
The Big Fish Guarantee:
Quality tested and virus free.
No ads, no adware, no spyware.

Reviews at a Glance

Nancy Drew: The Haunting of Castle Malloy
0
out of
5 (
0
Reviews
Review
)
Customer Reviews
Nancy Drew: The Haunting of Castle Malloy
11
11
Very immersive, truly gripping, highly challenging.
This time, our young sleuth, Nancy, flies all the way to Ireland to attend a friend's wedding. But nothing ever goes as expected with her -else there would be no mystery to unravel. As she approaches the castle, a ghostly figure pops up in front of her car and she ends up in a ditch. Walk, walk, walk.... Once at the castle she is told the groom is missing. Needless to say that Nancy starts investigating without delay. No, I will not reveal more, that would spoil your fun. Let me just add that the storyline is based on Celtic folklore and is pretty enthralling. As in all her adventures, you can choose between 2 Modes: Junior Detective and Senior. The latter is a lot more challenging, though the former is never easy. Nancy [you for the occasion] will interact often with the different characters; she needs to talk to them to gather clues. Reading books and documents is also important for the same reason; they also provide a lot of interesting information on Celtic legends and the history of the Malloy family. Exploring the different locales and collecting inventory items are two of her fundamental tasks. The decor is, as usual, extremely well conceived and crafted, quite impressive actually; the interior of the castle is wonderfully rendered giving the impression you are in a real one. And all the tasks, even though quite a few are not obvious, are good fun. Another strength of this investigation resides in the puzzles and minigames. Some of these minigames are timed, but if you fail once, you can try again as often as necessary. In the end you're bound to win. In everything she does, she needs to be creative and think out of the box. One reason why a Nancy Drew investigation is never a piece of cake. Another reason is that no puzzle is easy. They also differ according to the level you choose; they are harder on Senior Level. I enjoyed that 19th intallment from start to finish; I loved the eerie atmosphere, how the characters react to your questions, their answers, collecting clues one by one, reading, the series of creepy events that spice up the adventure, the tricky puzzles, the fun minigames, and the surprises. Yes, in every one of Nancy's adventure there is at least one surprise showing how much imagination the developers have, how much work and originality they put in each time, and how well they master their art. Castle Malloy is a challenging RPG which grows on you as you progress in the game. I can only recommend it and encourage you to play it. Note: The tutorial at the beginning should not be skipped if this is your first Nancy Drew.
January 8, 2012
Good challenge level
Though the game seems to be a bit older, it's very in depth and loaded with puzzles and logical problem solving issues. Be prepared to work puzzles - you can NOT skip puzzles with this game. You will have to slog it out, or look up a solution online. (Most are rather doable - give them a try - isn't that why we buy these games?) You can earn help and hints through the fortune teller machine inside the castle, though it costs three lucky coins. Don't worry - you can get more coins by working at the bar at the inn downtown. The navigability isn't as high as in games made today, however, it is still very good. You will still explore the castle, though the interior isn't very large in terms of exploration. Don't judge on that - there are plenty of things to find/do all over the castle, as well as on the castle grounds. Even in Junior detective mode you are really going to have to think outside the box to decide what to do next, where to go, or how to get past a particular obstacle in the game. No one gets a free ride in a Nancy Drew mystery! And, quite frankly, why would anyone want to? You get a lot of challenge for the money you spend with this game.
January 20, 2012
not one of my favourites
The game started badly for me. My family is Irish although I lived in Scotland. So when I first heard the worst fake accents, not just Irish but English, followed by bad canned, what the makers think is Irish music, I nearly gave up. This is not one of my favourites of ND games. I think the graphics were worse than the last game in the series although still good. There were some nice moments, and fun things. I think whether you like or love a ND game, a lot has to do with the setting, variety, and the puzzles. If you like all 3 then you are set. Personally I don?t like a game set around one location, and most of the puzzles I just didn?t like. The story is you are maid of honor at a friends wedding in a castle in Ireland, when you get there the groom has disappeared and that is the mystery you have to solve. Cons- - I had a bug in the game, the game forum gave 3 tips to try which did work (it was to do with the thing/item that helps you access a part of the castle). I kept getting killed so was frustrated. - This is one of those game where the 2nd chance (game automatically restarts the game just before you did a fatal error) must be a record with the amount and in different places it is used, so if you don?t like that.. - There is only 3 main characters that you see for most of the game. - a small thing but the bride is just sitting reading a book the whole time just before a wedding? And where is all the guests or family, a bit weird but if you enjoy the game I am sure your 'disbelief will be suspended' pros - There is humour in a minigame (sheep) and there is a very good ?spot the difference? in the pub arcade machine ? 10 different scenes. You have fun doing something unexpected; I don?t want to spoil it for you. If you love Irish folklore, haunted castles, exploring the castle and grounds (that is the whole game apart from the pub) then I think you will enjoy it. So I know a lot will enjoy this, and I did in parts but overall it just wasn?t for me. But still like most ND games it?s a good game, just not my taste.
February 29, 2012
Very Challenging and Different Nancy Drew Game
This Nancy Drew game is more of a challenge than many - I recommend it for experienced players. What I liked about it: Minimal talking to the characters, no long boring tunnels or halls to walk down, lots of exploring, a few laughs and one very cool contraption that Nancy has to build. I didn't like: Pointless mini games and earning of tokens to play, guess what? More mini games. A few places were not as snoopable as I'd have liked.
September 24, 2012
Very Fun and Challenging
I really loved this one I thought it was fun and the story line was interesting too. If you love Nancy Drew games then you'll love this one too. It was spooky at times and involved a lot of thought but it didn't seem impossible when you really thought about it. I defiantly recommend this game, I don't understand why people didn't love it.
August 20, 2012
War meets Medieval
When I first see the preview of this game, I was excited. I thought this will be similar to Curse of Blackmoor Manor, ND visiting old castle in Ireland, and it all started so well, with reported banshee, but then I kind of like 'what?' when 'World War II' came to conversation. It's not good to combine both as it is like scientific meets local legend, it doesnt mix. Everything from graphic to sound is great in this game, but the storyline as it progressed doesn't make much sense. Sorry, HER Interactive, the Blackmoor Manor is wayyy better than this one.
June 29, 2012
Good times!
Interesting game, fun twists along the way!!
January 13, 2013
Only for the die-hard Drewers
An incredibly tricky chemical puzzle near the end of the game destroys (no pun intended) all enjoyment and especially after getting through trying to guess the temperment of a bunch of sheep and not to mention an awful druming game. This game is only for die-hard Nancy Drew fans and good luck to them.
March 28, 2012
first time playing games of N. Drew and last, got stack freom the beggining, no hints no explanation of nothing,no my type of game
disaster!!!! didn't like it don't buy it likely cost only $4
January 28, 2013
So Disappointing! Not my kind of ND Game!
This review is based on Junior Detective level.. Don?t expect to see the lovely sights of Ireland you never see daylight!! I wanted to Love this game so much I bought it and saved it for when I was really in the mood for a gripping ND game.. Darn!! The Amazing Cast-Yes, that was sarcasm. ?-) Kyler- Bride to be- Dull as dishwater personality.. Matt- The Groom to be- Missing.. Alan- The Best Man a voice by phone. Kit- Matt?s Best Friend, not Best-Man. Sits on a cot the entire game drawing. Donal-The caretaker of Castle Malloy spends the game nodding off drunk at the Screaming Banshee Inn! Fiona- I?m still not sure what she is/was/is/was/is? And how she did what she did given how they portray her at the end? And I just finished the game.. Ned, Bess and George-Via phone at a pool party back home not much with hints! Soundtrack.. Non-existent except for some crackling fireplaces if you are near one! And some creaks and eerie sounds few and far between. To dark visually and just the entire feel of the game! The graphics were dark and gritty! Why would anyone want to spend a minute in that dump they call a Castle let alone invite people there for a wedding? Yes a zillion years ago part of it blew up but the very minimal parts used 3 areas inside if I remember could have and should have been visually tolerable!! The Grand hall you enter through the huge castle doors looks like a homeless shelter or military barracks with cots lined up in a corner for the Wedding Party and guests? I wish they had NOT used the creepiest looking room in the entire place "The Baby Nursery? where Matt was supposedly staying (No-one would stay in that room) good grief what were they thinking using a gloomy depressing room and deciding to make it the nursery? Why not the Study-Den-Library? Anything else! The story was disjointed form the start.. The tasks Nancy had to do some were just bizarre filler for lack of a better term? The 4 characters you visually interact with were not fun or interesting at all! I avoided any unnecessary conversations! This is how much I disliked the Castle and lack of secret passageways! My favorite parts of the game were drumming/difference detectives and above all mixing ..None alcoholic drinks...at the Inn! By the end of the game I think it said 45 in my coin purse I racked up after not needing anymore money! I just kept going to the Screaming Banshee to get out of the doom and gloom mood of the Castle! Nancy didn?t have a room in this game or cell phone hers was destroyed when she crashed talking while driving, serves her right! All Phone calls are made from the phone booth with her International calling card! No calls were any fun either! And apparently the entire game took place in one night which would be impossible in real life considering everything she did! I wasn't a fan of actually seeing Nancy either, that?s been a big part of the mystic of these games, and that you are Nancy. The Chemical puzzle everyone said was hard, was and wasn't! Fitting them in was easy compared to de-coding the codes in the codes within the apparently hidden codes! I did blow up 5 times, but was expecting that. The bewildering part of the game wasn't the moving of the chemicals it was worse!! I easily looked at the chart and wrote down the same list for all 3 categories that?s on every single walkthrough in the www I found out after! 6 chemical codes for category 1! Not hard to figure out by just taking the time to look at the chart on the wall.. However when you start the puzzle there are NO.. Na, Al, Ag, C, Ab, Cs. etc. on it! Lots of I, k, h, f, n, p and so on that apparently make up codes within codes on the chart they don?t tell you how to do? Word of warning there are not simply 6 chemical codes to move into category #1. There are 13 separate ones for that category alone! I would have quit the game right there if I hadn't found the only you tube video that went nice and slow and showed the real chemical codes that go into the slots on the puzzle! I?ll be the first to admit I am not good with Science but this seemed like an out right mistake! Breaking down codes from the Chart could have been a very good game and something that I would expect in a Nancy Drew game, but do we really have to be rocket scientists to further break them down to play? My last gripe/gripes, the ending was utterly ridiculous!! I?m still not sure what the entire purpose of that ?Blast Off? without giving it away but it was sure over-kill in my opinion. And I didn't see the door get unlocked? Odd way to save the day? What went where at that moment and why it was necessary, will confuses me forever! However, after all the whining I did, I?m still a major Nancy Drew fan and like em or not I?ll never quit playing! Just won?t play this one again other than to Mix non-alcoholic drinks and see how fast I can rack up tips to play difference detectives and maybe try darts again! :-)
May 11, 2013