Nancy Drew: The Haunting of Castle Malloy
Mystery is afoot at Castle Malloy! A groom has disappeared and the townsfolk are whispering of a malevolent banshee! Are ghosts to blame, or is it merely a case of cold feet? Immerse yourself in the haunted legend of the Emerald Isle, gathering clues and information from the terror-stricken wedding guests. It's up to you and Nancy Drew to unravel the mystery in this chilling adventure game.
Chilling storyline
Unveil a ghostly legend!
Game System Requirements:
OS:

Windows XP/Vista/7/8

CPU:

1.0 GHz

RAM:

128 MB

DirectX:

9.0

Hard Drive:

1012 MB
Game Manager System Requirements:
Browser:

Internet Explorer 7 or later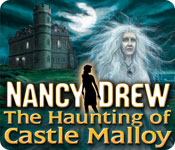 NEW299
The Big Fish Guarantee:
Quality tested and virus free.
No ads, no adware, no spyware.

Reviews at a Glance

Nancy Drew: The Haunting of Castle Malloy
0
out of
5 (
0
Reviews
Review
)
Customer Reviews
Nancy Drew: The Haunting of Castle Malloy
17
17
not one of my favourites
The game started badly for me. My family is Irish although I lived in Scotland. So when I first heard the worst fake accents, not just Irish but English, followed by bad canned, what the makers think is Irish music, I nearly gave up. This is not one of my favourites of ND games. I think the graphics were worse than the last game in the series although still good. There were some nice moments, and fun things. I think whether you like or love a ND game, a lot has to do with the setting, variety, and the puzzles. If you like all 3 then you are set. Personally I don?t like a game set around one location, and most of the puzzles I just didn?t like. The story is you are maid of honor at a friends wedding in a castle in Ireland, when you get there the groom has disappeared and that is the mystery you have to solve. Cons- - I had a bug in the game, the game forum gave 3 tips to try which did work (it was to do with the thing/item that helps you access a part of the castle). I kept getting killed so was frustrated. - This is one of those game where the 2nd chance (game automatically restarts the game just before you did a fatal error) must be a record with the amount and in different places it is used, so if you don?t like that.. - There is only 3 main characters that you see for most of the game. - a small thing but the bride is just sitting reading a book the whole time just before a wedding? And where is all the guests or family, a bit weird but if you enjoy the game I am sure your 'disbelief will be suspended' pros - There is humour in a minigame (sheep) and there is a very good ?spot the difference? in the pub arcade machine ? 10 different scenes. You have fun doing something unexpected; I don?t want to spoil it for you. If you love Irish folklore, haunted castles, exploring the castle and grounds (that is the whole game apart from the pub) then I think you will enjoy it. So I know a lot will enjoy this, and I did in parts but overall it just wasn?t for me. But still like most ND games it?s a good game, just not my taste.
February 29, 2012
War meets Medieval
When I first see the preview of this game, I was excited. I thought this will be similar to Curse of Blackmoor Manor, ND visiting old castle in Ireland, and it all started so well, with reported banshee, but then I kind of like 'what?' when 'World War II' came to conversation. It's not good to combine both as it is like scientific meets local legend, it doesnt mix. Everything from graphic to sound is great in this game, but the storyline as it progressed doesn't make much sense. Sorry, HER Interactive, the Blackmoor Manor is wayyy better than this one.
June 29, 2012
Enjoyable atmosphere, just not enough content.
Ive been playing all the ND games in order of release. Like almost all ND games, this one suffered from horrific interior navigation controls, but once you got outside it was much better. Yet again, this was a typical ND game with regards to the necessity for loads of note taking. Have a notepad and pen with you, because you will need it. Fun Factor: In actuality, it was overall boring. With only a few places you could travel to, a ridiculous storyline, and not very likeable characters.. well.. you were somewhat challenged to enjoy the game. Some of the mini-puzzles were lots of fun tho. The atmosphere was rather immersive, and probably what saves this game. Visual/Sound: graphics were decent, animation was .. a little on the rough side, sound was .. O.K. but not impressive. The major ding in the game was how limited the space was. I noticed no bathroom visits were included in this one.. were they using an outhouse??? Level of challenge: The variety of challenges/puzzles was decent, and in fact I enjoyed the nice mixture of them. Most weren't difficult to solve but there were a couple that were a tad over the top which can kill the fun. Overall enjoyable, but you may need help with one or two of them. Warning.. the swamp notes you get .. just throw them out.. it really just comes down to trial and error which way to hop. Storyline.. oh gads. Not believable, very weak, in fact, this is one of the very few ND games that really completely failed in this department. At least others with weak stories, had some secondary support system like history or something to fluff it all up.. but not this one. Just.. fell flat on it's face. So sad. I enjoyed the game, good play length, but occasionally ridiculous challenges and very limited interaction. I guess I would recommend this game to intermediate or advance level players, but definitely not for novices.
December 18, 2013
Very Frustrating
Moving about in the game was very frustrating - I kept moving in circles within the castle; eventually, without any particular reason, I got to where the next sequence of events would occur. Within outdoor scenes, the entire thing was in the dark and it was more miss than hit to get where you needed to go. Help information was useless. I was a big fan of the Nancy Drew books and thought I'd enjoy the story line in game format - never again will I order one of these nor any other game by this creator.
July 29, 2013
Only for the die-hard Drewers
An incredibly tricky chemical puzzle near the end of the game destroys (no pun intended) all enjoyment and especially after getting through trying to guess the temperment of a bunch of sheep and not to mention an awful druming game. This game is only for die-hard Nancy Drew fans and good luck to them.
March 28, 2012
Terrible
This is the worst game I have played since joining BF, and I've played a LOT of games. No direction on how to play/solve the puzzles, bad graphics, dialogue took forever to get through. I'm not even going to finish this game...The reason I play is to relax, not to get frustrated.
August 21, 2013
first time playing games of N. Drew and last, got stack freom the beggining, no hints no explanation of nothing,no my type of game
disaster!!!! didn't like it don't buy it likely cost only $4
January 28, 2013