Redrum ™
2nd Runner-Up Best Puzzle Game of 2008!
Rose sees dead people. Unfortunately her visions have landed her in an asylum. You must help Rose to use her psychic powers and ghostly visions to solve a series of grisly murders and thwart the plans of an evil doctor in this pulse-pounding Hidden Object game. Warning: Redrum ™ is an intense psychological murder mystery intended for mature audiences.
Intense psychological thriller
Darkly surreal graphics
Solve ghastly murders!
Game System Requirements:
OS:

Windows XP/Vista/7/8

CPU:

800 Mhz

RAM:

256 MB

DirectX:

7.0

Hard Drive:

61 MB
Game Manager System Requirements:
Browser:

Internet Explorer 7 or later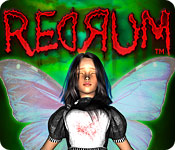 NEW299
The Big Fish Guarantee:
Quality tested and virus free.
No ads, no adware, no spyware.

Reviews at a Glance

Redrum ™
0
out of
5 (
0
Reviews
Review
)
Customer Reviews
Its really is for mature audiences
Wow, gothic is not my thing. I find the scene quite disturbing. And, the puzzle does get repetitive, but I don't mind. I enjoyed the puzzles. I enjoyed the game, its just the scene is not my thing. Look forward to play the sequel.
April 7, 2012
Repetitive and dull
The game is so incredibly repetitive. You go between two or three hidden object screens and then a minigame or two. The hidden object scenes mostly use the same things to find, but many things are overly hard to find. I had to use the hint button at least once per scene. Worst are the "find the shadow" ones where you're looking for a shadow that could fit multiple things on the screen. Fortunately the game doesn't count wrong clicks against you. Unfortunately the game doesn't let you click things in a rapid sequence, so you have to wait a second or two before it acknowledges your next find. The mini games are repetitive: A scene with 20-ish items of the same type (ie. "Find all the teeth"). A scene broken down into a grid where you have to identify 12ish grid pieces at the bottom. And a very simple anagram puzzle that moves the overly wordy plot along. The best things I can say for this game is that it doesn't count wrong clicks against you and that you gather hints by finding hidden roses in every scene, so there's no "wait for the hint to refill." If you're really bored for a HoG game, pick this up on one of the really cheap sales. Otherwise I'd pass it by.
December 2, 2011
Poor hidden object game.
Me and my friend LOVE LOVE LOVE anything scary - ouija boards, scary movies, etc. etc., so when I saw this game and read the description I thought it would be pretty cool for us to try, but it just turned out to not be any good - we only made it halfway through the free trial before calling it quits, there's much better games to be playing, that aren't as repetitive as this one. The plot is there's this girl who can see ghosts, and you're her detective Uncle, and your trying to use her power to solve mysteries, and simultaneously prove her sane, because her power has landed her in an insane asylum. It's a pretty boring game, that's repetitive.
February 6, 2013
Not One Of My Best Game Choices
This game is totally unreal and boring. After about 10 minutes of game play, that was enough for me. Sorry I wasted my money. I'll have to choose carefully in the future.
July 18, 2012
warning
As no one has mentioned it yet in these reviews I felt I had to warn some people. The plot of this is about child abuse, and from the child perspective a lot of the time. Personally I don't find games about this subject matter fun or something I wish to play in a game. I don't mind dark or eerie things at all but child abuse, just don't get it (either in real life or as a choice of game). As ever it's a personal preference but stating mine. Apart from the plot, this game is just old, the puzzles are repititive and really boring. I think they chose a 'dark' storyline to try and give a really boring bad game some edge - to try and win players that like warnings about it being for mature audiences. So my bad rating for this game isn't just for the plot but for repititive bad puzzles and a boring game.
January 5, 2012
Where's the exit? I want to get off!
Honestly, I could not find the exit button!! I was stuck in a terrible, awful game. This game is not worth the three stars people seem to be giving it. This game is a big fail. Do not buy, try the demo first.
December 13, 2011
Oy Vey!
Oh how I wish I had read the reviews on this game first before buying it! It was offered as an bonus game when I purchased another one. All the bad reviews before mine are all true. Wish I hadn't spent hard earned money on this one. It cycled between 'find where this image clip is in this large picture' and 'find objects that aren't proportionate to the surrounding graphics' and 'find the sihlouetted object in this messy picture' to one I actually liked: 'scrambled letters'. But... the scrambled letters were only 2 words and was over way too soon. Save your money and ALWAY down load the trial version!
March 8, 2012
Awful
One of the worst games I've played. Ist - if I had wanted to read a novel I would have grabbed a book and done so. 2nd - it's so dark and gloomy you can't even see to play. 3rd - the same games over and over. Really, don't waste your money.
April 2, 2012
Save your money!
I played the trial version of this game (so glad I didn't buy it), and was bored from the start. I found nothing creepy or dark here (not like some of the really good dark gothic stories that have amazing artwork ). There were too many written things to read rather than the story playing itself out. There were too many of the same monotonous puzzles to solve. Nothing drew me into the story,and I played the full 60 minutes only to kill time.
April 29, 2012
recycled junk
Well...... That was bad on many level. First, you need to click continue every time done with search of items totally unrelated to the environment or "story line". Second unimaginative game. No find clues, items to use only HOGs and match sections of picture to details at the bottom. Boring and even tho the visual good it is flat and uninteresting. Items, sounds been recycled from an other similarly bad game Hide and Secret series. Just awful. Creepy. But not in the old Victorian/ abandoned mansion/ asylum/ cemetery creepy. Pages of TLDR story which was just as flat and not even close to be interesting as the game. No cut scenes, no V O (which I thing it is a blessing seeing how poor quality the rest is). Even with not too great games I try to finish the one hour free trial just to see how far I can get, but this was so bad I quit at 20 minutes. Hard to put in words how bad this was. It is a -1 on my "ten-o-meter"
December 11, 2012