Mystery Case Files: Return to Ravenhearst ™
WINNER! Best Game of 2008!
Emma`s soul is free. But her ghost has delivered a dire warning: evil still lurks in Ravenhearst Manor. Big Fish Games Studios takes you deep inside the cursed estate in Mystery Case Files: Return to Ravenhearst ™, the thrilling sequel. Experience Ravenhearst`s spectral halls as never before with new immersive adventure-style gameplay and an epic original soundtrack. Feel the floorboards creak as you move from room to room solving puzzles and seeking out clues in over 150 detailed scenes.
The biggest MCF game to date
Immersive gameplay
Game System Requirements:
OS:

Windows XP/Windows Vista/Windows 7/Windows 8

CPU:

800 Mhz

RAM:

512 MB

DirectX:

7.0

Hard Drive:

348 MB
Game Manager System Requirements:
Browser:

Internet Explorer 7 or later
Alcohol Reference
Tobacco Reference
Violent References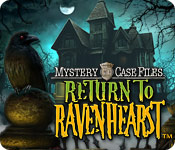 NEW299
The Big Fish Guarantee:
Quality tested and virus free.
No ads, no adware, no spyware.

Reviews at a Glance

Mystery Case Files: Return to Ravenhearst ™
0
out of
5 (
0
Reviews
Review
)
Customer Reviews
Mystery Case Files: Return to Ravenhearst ?
166
166
MCF starts to move to HOPA
This review is based on a complete playthrough: This is the game that 'bridges' the pure HOG's like Madame Fate with the HOPA's like Dire Grove and the ones that followed. It continues the story from Ravenheart (and Madame Fate if you count that cameo). You go back to the haunted house, this time with Charles supposedly on your tail. You now can move around different areas, and there are many puzzles to solve - a few I haven't seen elsewhere. Still lots of Hidden Object scenes, especially at the end, where you have to go back and redo about eight of them to get to the 'last puzzle'. The graphics are much clearer, and the objects are easier to find than they were in Ravenhearst (and Madame Fate). The game would really, really have benefited from a map. There's lots of places to go, and keeping track of them all isn't always easy. You do a LOT of backtracking in this game, so put your running shoes on. While not as large as the newer games, it feels big because you are running around so much. The puzzles are very challenging. I almost never skip puzzles, and I skipped a few of these in frustration. Fortunately, the puzzles are clear this time - as compared to the 'What am I supposed to do with this stuff?' puzzles of the first game. But they are not simple to solve. There's even a fun 'whack-a-mole' mini-game in there that you can replay as often as you want. I love that they copied down most of the important clues in the journal. That doesn't absolve you from taking some notes of your own though - but even there, the journal at least gives you hints, if you read carefully. The story was much better this time around. You learn a lot more about Charles, and what befell the maid from the first game. I won't give any spoilers, but it wasn't the cookie cutter predictable story the first game was. So why only 3 stars? Because I've got to compare this to games that are coming out now in 2013. This game was probably 'state of the art' when it came out, but there are a lot of games that do the same things, only better. If you love the Hidden Object side of the game, this will probably appeal a bit more to you, as there are still a lot of those to work through. If you need that 6th punch or this is a deal of the day/week, I'd say it's a great buy. If you want to follow the storyline, it's not a 'weak' game by any means, but it's not quite at the level of Dire Grove or some of the newer HOPA's that have come out since.
March 23, 2013
I'M STUCK
THE HO IS A GOOD GAME, BUT I GOT HALF WAY AND I'M STUCK. THE PUZZLES ARE GETTING HARDER AND HARDER. YOU GET NO CLUE ON HOW TO PLAY THEM, OR TO SKIP IT. I LOVE TO FINISH IT BUT IT'S TO HARD.
February 15, 2013
It had potentials
It would have been a great game if there were better guiding systems. 2 minute cool down for hint and and hint started to reload (cool down) at the beginning of the HOS even if you had not used it yet. I was sitting there done with all the items to find but one, waiting and waiting for hint to pop up. (FYI starfish is green in the cemetery. HUH????) Good graphics, sound. Bit annoying that the ghosts kept bugging you to free them. Like I'm not trying the best! My main problem is with the hint or lack of. Recommending it only to those who want to buy it and does not concern about have to leave it to skip over to check the walk-through.
November 26, 2012
disappointed and frustrated
I really do love the game...but, the help is nonexistent, the games don't have any explanations or 'hints' to know what to do or what you'll get. I am now in an unending circle with no clues as to get any further in the game. I don't normally buy the games but thought I'd take a chance on this one. I'd really like to have my money back. And to have to buy the strategy guide on top of the game...what's up with that, it should be included if you aren't going to make the game friendly to use. Just saying.
November 25, 2012
Not as good as its prequal.
I so looked forward to this sequel because I prefer adventure games to those that are solely hidden object like its predecessor, but I was a little disappointed in this one. Not a lot but just enough to keep me from giving it five stars. I found too many of the minigames to be so difficult that I had to skip them and those that couldn't be skipped, I had to resort to the forums or elsewhere to find what I needed to progress. I know I'm smarter than this and would have been able to spend the time working them out but it was almost impossible. Adequate help is not provided in both the hint system (nondescript and takes too long to refill) and nonexistant with the puzzles. I like a challenge just as much as the rest of you but as a casual gamer, I just want to be able to move along at a pace where I would be as if I were really in that situation. The time spent having to quit the game to look elsewhere for guidance took away a lot of the fun for me. Yes, the game looks beautiful and the story is engaging but it left me feeling cold when I was done with it. And I didn't get that satisfied feeling like I do when playing an all-around great game. It just wasn't fun enough for me. I had hoped we'd get to explore the house by wandering around the hallways and was disappointed in that too. I guess the devs didn't do that because we already saw the rooms in the prequal but if you didn't play Ravenhearst, you wouldn't know what they looked like. Maybe it's the devs' brilliance in thinking you'd buy the prequal too for just that reason. A better alternative for the series might have been to make Ravenhearst an adventure game where you'd get to do the wandering instead of the point and click method to access the rooms. In RTR, I was excited to be able to enter the living room but disappointed that the kitchen was the only other room we'd get to walk directly into. It's been awhile since I played this game because I've found others that I like better but I'll give this one another try someday. Just not anytime soon. I still recommend it though because it offers the challenge that others are looking for and what I may want sometime too. But I won't be buying the next installment as the preview turned me off and the reviews seem to indicate that the devs were going for shock value instead of quality so I'm passing on it.
September 23, 2012
Hard To Go Back In Time
Once I've played MCF's newer HOG's like Dire Grove, it was painfully difficult to go back to these older versions. I was hoping to still experience some enjoyment, but it was just okay. Now if I had started with the first installment MCF made and proceeded with each one thereafter in order, I believe my experience would have been much better! So I still recommend purchasing because I'm sure this was something in it's day, but you might be disappointed like me, if you play MCF games out of order. I'm a huge fan of MCF, but it's so hard to go back in time and play the older games. So... I'll patiently wait for the next installment!
September 2, 2012
Utterly Frustrating!
I do enjoy a challenge, but I don't like to be frustrated. I completed the first Ravenhearst with no problems and enjoyed it enough to get the second game. This one, though, does not allow you to SKIP all puzzles, just certain ones - and provides no hints when you get stuck! There is no blog. You are stuck buying the strategy guide which costs as much as the game. I was very disappointed - I'm at a level that I can't get past!! It loses points in Fun Factor for being so annoying.
November 25, 2011
Bad game
The HOS in this game are obscure, and the hint button not only takes forever to charge, it shows a very large area that you still have to search through. There are no hints, maps, etc. to help you, as well as no instructions on puzzles. The skip button is fairly fast charging though. The story is dumb. The music is annoying. I found this whole game to be annoying as a matter of fact, and not fun at all.
March 24, 2012
Ditto what the others are saying.
Wish I hadn't wasted my money since there are not enough clues about some of the puzzles. The further you get in the game, the less clues there are until there's nothing to go on at all. I'm stuck in a spot & unless I buy the Strategy Guide (not spending money on that when other games give you a free blog walk-thru!) I can't finish this game.
April 6, 2012
What happened in Blackpool should have stayed in Blackpool
I couldn?t remember if I liked this game as it as been almost 2 years since I first played it. So, I played again today and found that I really don?t like it. The graphics are better than Ravenhearst, but there are still grainy, unclear HOScenes that really strain my eyes. By the end of the game my eyes were burning and incredibly tired. I liked only a few of the puzzles in this game. But, perhaps one of the reasons for that is that there is no help feature in the puzzles. Your only options are to exit the game and try to find help in a forum or skip the puzzle. I could have finished all of the puzzles if there had been a hint feature nudging me in the right direction. I know this because I did exit the game a couple of times and found a solution. I was very close each time, but just needed a little more info to figure out not the solution, but how the game was to be played. The hint feature in the HOScenes was horrible. It took 5 minutes for it to reload. FIVE minutes of sitting and waiting for it to reload so that I could use it again for something else too blurry to be recognizable. I actually found my stepladder and changed a burned out light bulb in less time that it took for the hint to reload. The hint feature in the regular game play was also sorely lacking. If you ?showed? it an inventory item it would give you a snapshot of where that item is used. No text, just a picture. The item I tried this on was used in an area of the game that I hadn?t yet received access to so this was a total waste. Then I had to wait 5 minutes for the hint to reload. There was no hint feature that helped you when you needed to know what to do next. Again, if you were stuck you had to exit the game and try to find someone?s forum or walkthrough. The soundtrack was OK, but I did have to mute it couple of times as it was getting on my nerves. The storyline was OK, but nothing exceptional. On the whole a wasted purchase for me.
November 21, 2011