Casebook
Exclusive
Children have been kidnapped! Take on the role of a forensic investigator and find them before it`s too late. Explore stunningly realistic crime scenes and challenge your sleuthing skills with intriguing mini-games! Be part of the action as you watch the thrilling story unfold in this realistic Large File Adventure game. Buy Casebook today and immerse yourself in the harrowing world of forensic science!
Photorealistic 3D crime scenes
Authentic forensic mini-games
Find the missing children!
Game System Requirements:
OS:

Windows XP/Vista/8

CPU:

1.0 GHz

RAM:

1024 MB

DirectX:

9.0

Hard Drive:

1353 MB
Game Manager System Requirements:
Browser:

Internet Explorer 7 or later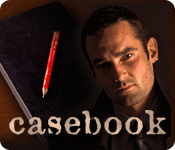 NEW299
The Big Fish Guarantee:
Quality tested and virus free.
No ads, no adware, no spyware.

Reviews at a Glance

Casebook
0
out of
5 (
0
Reviews
Review
)
Customer Reviews
Look Ma; I'm a Detective!
I just finished playing the first episode of Casebook and must report that I enjoyed the experience very much. I?m used to playing 1st-person perspective games with the 360-degree line of sight, so that aspect of the game was no problem for me. Among the many features I liked include the following: ? The immersive feel to the game with the game?s camera moving smoothly with your mouse?s movement, ? the mini-games that represented your collection and processing of evidence, ? how the player can look away slightly (to view the road while driving or to admire a topiary while walking) while Burton talks directly to him/her; a really clever idea to further simulate the sense of being there, ? and the sheer simplicity of ?nodding? or ?shaking? your ?head? to indicate the method by which Burton (your partner in the game) should interrogate persons of interest?no ?guessing? how much to intimidate or psych out the person (and being penalized for guessing incorrectly). There were a few items that displeased, but not to the point of entirely spoiling the game experience for me. A log that actually kept more details on the evidence gathered would have been quite helpful. Towards the end, there was so much stuff to try to link to other evidence that the process became tedious (the print was awfully small as well). As a result of the confusion and exactness of relating evidence, linking evidence was my least favorite aspect of this game. The game automatically links some items for you, but the player must ensure that, say, a bomb that links to a cigar through a matchstick ALSO links to the bomb explosion that is linked to a city and suspect. Those examples don?t exist in game, but it?s exasperating to check items singly for all their related links. Gathering evidence by peering through the camera at fuzzy images often strained the old eyes (smile). The other problem I had was with the mirrors puzzle. Sometimes, the mirrors and the target would disappear. I had to take a ?skipped game? hit when that happened because the puzzle would be unplayable. Nonetheless, I plan to replay for a higher ranking (ranked as a case supervisor, not an expert), and look forward to playing the entire trilogy. Adventure game fans, do give this a try.
May 26, 2012
Short and easy but fun crime scene investigation
I like playing the role of a police investigator or private detective, so this game naturally seemed promising to me. I wasn't disappointed. The gameplay could have used a bit more variation and the game was a bit too short and easy, but it was fun to play, with a good story. The gameplay consists of taking photographs of the crime scene, playing mini games to process evidence and linking different pieces of evidence together. The mini games are quite easy and the crime scene photography part can be solved by simply taking photographs of everything, in particular since a significant part of the objects you can take photos of are relevant pieces of evidence. The only real challenge therefore comes from linking pieces of evidence together. The links between different pieces of evidence are mostly fairly easy to find. One problem is that the game doesn't record the context in which pieces of evidence were found or what resulted from the forensic scientists analysis of them. Unless you take your own notes or finish the game in one sitting it is therefore easy to forget the relevance of a piece of evidence. It would have been preferable if the game had kept track of these things for you. The graphics are in general good. Cutscenes are of high quality and the crime scenes are displayed in adequate detail when viewing them in normal mode. Unfortunately the resolution of the images are reduced when you view the crime scene through the camera for taking photos. This is unfortunate, since it means you sometimes can't quite make out what it is you're taking a photograph of. This makes it harder to look for the most relevant pieces of evidence and instead encourages photographing everything. I would have prefered if the game had made it easier to look for relevant evidence and rewarded finding the most relevant evidence early on, rather than photographing things at random. Voice acting is of unusually high quality. The story of the game, which is told through cinematic cutscenes, is a fairly standard crime investigation story with a few (somewhat predictable) twists. It is made more interesting, however, by how the content of the cutscenes directly relates to pieces of evidence that you have found, making it feel like you are really solving the case. It is also delivered well, with good acting all around. In conclusion, while the game is quite easy and a bit short and gameplay could have been a bit more varied, the game is quite fun to play and has a well delivered and interesting enough story that kept me motivated. I would recommend it to fans of police investigation/detective games.
October 17, 2012
What a unique game !!
I own this game and I must say-I LOVE IT !! You get to play a detective and you're examining a crime scene...And I mean really examining,like an actual detective does...You have a van equipped with your portable crime lab...You get to do different tests,those are your "puzzles"...You have a camera and you use it to photograph your crime-scene ,then to the van to upload your camera and analyze your evidence...then you put it all into your files and then you can link different pieces of evidence to different suspects or to different forensic evidence... I felt like I was a real detective and it was my "duty" to find the who,what,where,when and why..Bravo big fish for a truly unique adventure game !!! And if you enjoy this one there are 2 more "Crimes" to enjoy !!! Give it a try it's worth the credit !! Happy Gaming Everyone !!!
October 31, 2014
Short interesting game
This review is based on the full version of the game which I have just completed. I liked ~the cinematic style of the game- it is like being in an episode of CSI, where the other characters talk directly to you ~the storyline was different, although a little darker than other games, it kept your interest and I wanted to keep playing ~the mini-games were fun and relevant to the game (like looking for fingerprints, 'extracting' DNA, registering footprints etc) ~the level of challenge was good, if sometimes illogical I didnt like ~aspects of the gameplay which were illogical, like having to click on random items or having to do certain things which didnt make sense to me. I had to resort to a walkthrough at several points to find out what to do so that the game would let me progress ~the overall length which was very short, especially for a large file game (although this is no doubt due to the excellent cinema quality graphics). This is the main reason I am only giving 3 stars as the game itself is worth 4 stars, but I think there are longer games (of the same quality) out there for the same price. Overall I did enjoy this game and would recommend it (especially if you can get it on special offer as I did), but be prepared for the experience to be cut short just as you are really getting into it!
March 12, 2012