Book of Legends
Join Zoe and Charleston Black as they unravel a powerful and ancient Arthurian legend in this gripping Hidden Object game! What began as a casual interest quickly spirals into a dangerous obsession when a young researcher is consumed by the search for a mythic book of limitless power. Travel the world uncovering clues to one of the most powerful and sought-after tomes in human history. Delve into Book of Legends today!
Captivating storyline
Challenging mini-games
Unleash legendary power!
Game System Requirements:
OS:

Windows XP/Vista/7/8

CPU:

800 Mhz

RAM:

128 MB

DirectX:

7.0

Hard Drive:

106 MB
Game Manager System Requirements:
Browser:

Internet Explorer 7 or later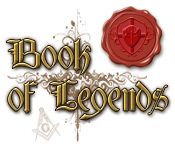 NEW299
The Big Fish Guarantee:
Quality tested and virus free.
No ads, no adware, no spyware.

Reviews at a Glance

Book of Legends
0
out of
5 (
0
Reviews
Review
)
Customer Reviews
Better than National Treasure
Awesome HIdden Object game! Better than National Treasure! I loved how you kept getting sent to different places after figuring out the clues. Challenging, but not so hard you get frustrated.
November 23, 2011
I Love this game
It is a little older which is why i rated it lower in the v/s quality but it's not so bad you'll be sorry you bought it. The HOS are challenging and the little adventures between the HOS are fun. Funny banter by brother and sister lighten the mood. Thumbs up on this one
July 17, 2012
A little overlooked jewel
If you loved "Samantha Swift" you'll love this one. Same pretty views #and their not being full sized makes them more so#, same showcasing of beautiful museum pieces #approprite for the country# same miniminal but servicieable storyline, same vairety and twists to HOS to make them intersting. And there is a point to HOS, to make Zoe earn money for her plane tickets, which gives them a point. I already traveled to DC, Prague, Paris, Venice, and am now in China. And then there are mysterious men in black trailing Zoe. And I think that a couple of her clients are suspicious characters.... I love it!!!!
May 21, 2013
Book of Legends
I like this game but, it is a very hard to play. If you get stuck there is no hint button. What you have to find is very well hidden. I would recommend this game.
July 17, 2012
Fun to play
I really liked this game; the voiceovers are good & I liked the humour between the main characters, a brother & sister. She is on a quest to find a book that holds the key to finding Excalibur, the sword of King Arthur. There is rather too much dialogue but you can click through it or in the options screen you can turn the voiceover down & just use the subtitles. The adventure starts in a boat & you have to find items to get it moving; the story then moves on to Washington & I liked visiting various famous places to find clues. While you are looking for items you will be asked to perform other tasks for which you can earn money; you need to do this to collect enough to pay for your airfare to the next location. Each time you successfully complete a task there is a fanfare which got very tiresome after the first few. The hint is unusual ? you can click on the PDA to get a silhouette or if you click on the question mark a grid is displayed on screen & you are given a reference square to search. The hint recharges in around 30 seconds which is a good thing as the items can be really hard to find; being an older game the graphics are pretty grainy which doesn?t help. There is no misclick penalty for which I am grateful as I had to randomly click around some screens quite a bit. Each location takes a while to complete; this game is very good value & a pleasure to play
January 7, 2012
Relax and Enjoy HO with a Little Story
As one review stated it reminds me of the movie National Treasure. You go on a treasure hunt, and along the way provide services to accumulate money to fund your adventure. You will receive phone calls with request to seek something; upon completion you will receive payment. The calls are an access to HO scenes, which are clear although items are sometimes small. There is lots of dialog, which you can skip by simply clicking your mouse, although you do need to know what they are saying, so you can read the dialog in the log book. There is a cell phone that is your help/hint button, it shows the shadow of the desired object and if you click the X it will bring up a grid on your screen that will narrow down the location. You also have a map that will transport you to your desired location. Music is very good/exciting (IMHO)?and love the fanfare after a HO scene. It is a fun game; however it does hold your hand all the way through. If you want to relax and enjoy HO with a little story this is quite good. If you?re looking for adventure I don?t think you will find it here even though the constantly remind you that you are on an adventure. Personally, I enjoy more adventure in my games (some HO are ok) so this will be a pass for me. For $2.99 DD it is a GREAT buy for HO lovers. This is a really great plot for an adventure game and I wish some dev. would follow through with the concept.
July 17, 2012
Talk About Squabbles
This is a beautifully crafted adventure/puzzle/HOS game; length is about 5 hours. The creators gave us real-life squabbling siblings through the entire game - brings back memories. Voice-overs are quite good and actually sound like authentic bickering. He is overenthusiastic, optimistic, and sees the world as one rosy adventure. She is the smart one, cynical and humors him and, for her reward, is exasperated. Their differences in personalities will make you laugh. There are 6 cities in which riddles are solved, puzzles played and money earned to pay the airfare to the next city. The siblings use a PDA to keep in touch. There may be too much handholding for some people because the characters are always making suggestions. Each chapter ends with variations of HOS and a few puzzles. Story is very well thought out and all the fairly easy riddles, puzzles and HOS are integrated into the game. The artwork is bright and colorful. An orchestra with an occasional choir provides a changing rhythmic music appropriate to the story. Definitely worth a try and a smile or two.
August 1, 2012
A must-have!
This is one truly fun treasure hunt of a game that bring together apsects of various pop culture icons and blends them together in a great way. Usually in HOMs you spend time hunting down useless junk to find one silly thing, but not in Book of Legends. Like in the movie, National Treasure, each new item leads you to a new clue, that sends you on a global journey as you help Charleston and his sister Zoe find Excalibur. The beginning of the game seems very much like the opening of season 10 on Stargate SG-1, and the bookish library geek, Charleston reminds of us of the very young Daniel Jackson. Unlike Daniel, he merely calls the shots and gives Zoe directions to follow. Along with Chuck manning the helm of the operation, Zoe also picks up odd jobs along the way to fund the hunt. Some of these characters are a little shady, but when someone pays you $200 to do five minutes worth of work, you jump at it, especially in the 2012 economy. Even the hints we get to find items are done more logically, as we see the place through a grid, and hunt for the item in a map-like pattern rather than simply see a shimmer on our screen. Book of Legends has become a must-have for me. If you like those kinds of hunts where one thing leads to another, and there is little back-tracking involved, then it will be a must-have for you, too.
July 22, 2012
Great game for younger players
I want to give a shout-out to the voice acting in this game - it is really exceptionally good. Normally I am not a fan of lots of dialog, but in this case the actors are so good and the dialog is entertaining and very natural-seeming so it's not even annoying. The other sound effects and music are good too. Another plus - there is a lot of variety in what is basically a hidden object game. The objects one needs to find correspond to a great extent to the city where the action is located from time to time, which I think is a plus. The graphics are pretty but somewhat grainy but mostly it's not too hard to find the objects. It is definitely aimed at kids about 11-15, I would say, so adults may get bored after a while. I am still playing, though!
July 23, 2012
Something a bit different - try it for yourself
After reading such conflicting reviews I had to try this. I love the riddle clues and the variety of tasks. Some hidden objects are easy, others are tricky even with a hint - the grid type hint is a good original twist. Not so thrilled that I will buy immediately, but for now it's at the top of my list of games to buy with my next monthly game club credit.
August 5, 2012
The Apple logo is a trademark of Apple Computer, Inc.