Echo: Secret of the Lost Cavern
Walk the path of Arok, a prehistoric tribesman in search of his destiny in Echo: Secret of the Lost Cavern. His journey will take him into the heart of an enchanted mountain and through a cavernous maze. Armed with his wits, and the help of a mysterious spirit guide, Arok seeks out magic cave paintings to help him solve cunning puzzles and face deadly traps. Modeled after the real-world cave network of Lascaux in France, this Adventure game is sure to challenge and inspire.
Clever and intuitive puzzles.
Breath-taking environments.
Explore the Lascaux cavern.
Game System Requirements:
OS:

Windows XP/Vista/7/8

CPU:

800 Mhz

RAM:

128 MB

DirectX:

8.0

Hard Drive:

1031 MB
Game Manager System Requirements:
Browser:

Internet Explorer 7 or later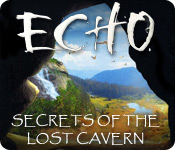 NEW299
The Big Fish Guarantee:
Quality tested and virus free.
No ads, no adware, no spyware.

Reviews at a Glance

Echo: Secret of the Lost Cavern
0
out of
5 (
0
Reviews
Review
)
Customer Reviews
Echo: Secret of the Lost Cavern
34
34
AWESOME!!!
One of the best. It's a large file but the story line is nice and interesting. Some challenge but when I got stock I was able to find a walkthrough in the web.
April 13, 2012
Tough? Absolutely! Fun? You bet!!!
Now and then I like a game that gives me a real challenge, and "Echo" definitely does! If you're the type who likes to figure everything out no matter how long it takes, you'll love "Echo" -- however, for me, all I can say is, "Thank Goodness for walkthroughs!!" ;) (You'll have to use a search engine to find one....) I'm nowhere near done playing "Echo" yet, but enjoying every minute... and this is a game that will take a long time to play.... For one thing, it's not one you'll accomplish in one sitting. For me, I'll play for a while then switch to a more casual game.... If you're a curious person who loves history, you'll enjoy all the reading material that comes with it.... (also helps you figure out some things....) If not, you can just ignore it. The graphics are great and the voice-over is good, but the mouths just move regardless of what's being said, which looks weird to me ;) -- Anyway, fair warning..... this one's no walk in the park but, for me, well worth playing!
April 13, 2012
This game is awesome!
Omg, it's the Daily Deal and I really hope that this message gets to the review board today rather than later. This game is totally awesome. I found it educational, entertaining and challenging. At first I was totally clueless (something that often happens to me in large file adventures) but if you put yourself into the situation of a stone age man and allow yourself to think a lot more basic when having to solve a problem (e.g. if you need certain tools you may have to build them without any mod-cons and without materials that hadn't yet been invented) you'll get to the end.
April 13, 2012
Difficult but outstanding gameplay
You will need to download a walkthrough for this game BUT it is worth it. The graphics, audio, and storyline are superb. This game is VERY challenging, but can be done. I highly recommend it :)
April 28, 2012
wanting a hard adventure game with challenging puzzles?
This is a KHEOPS game. The same people that made return to mysterious island. If you like this game or played RTMI it's the same kind of play, same interface. Once you get used to the games interface you can slip right into the other game. You play as a prehistoric caveman and his life. I did need a walkthrough with this game, as the game play area seems so vast (it's not really). Also it's useful to help you at the beginning to know how to play - instructions. I would rate this at the harder end of adventure games that are out there, this is not an easy game! The puzzles were a bit hard but I think the challenge was more in figuring out what the puzzles are and how to do it. This game takes patience and a lot of time. Which to me is great! If you are a HOPA/IHOG player, don't expect large file games to be like a HOPA without the hidden objects. It's not. It does take a while to get the hang of how any large file game plays. But if you want a long, go on an adventure with lots of puzzles type game, then you will be rewarded for your patience and persistance. I love how they incorporate some history and the inbuilt encycopedia into the game, I learned stuff playing this! It's certainly worth the money and plays on my windows 7 nivida card computer.
November 19, 2011
Just a Few Things
Simply fantastic, I must say. Great graphics and story, an amazing amount of background information, and all around, I'd love to see more games like this - truly adventure games without hidden object scenes. BUT. Some of the puzzles are not 'intuitive' at all and if there is a logic behind them, I can't find it. The Hands puzzle for instance, seems totally random. I want to be able to understand the point of the puzzle and logic behind it, and that one simply eludes me. Other puzzles were simply frustrating by the lack of information. Several of them neglect to tell you that all the colors need to be the same (after I'd spent ages graduating the colors). Having the character gives a few words of information for the mechanics of the puzzle would be excellent. The colors for the various puzzles could be a bit more clear, the brown and black were difficult to distinguish, and the 'clear' for white was confusing. The final puzzle is a teeth gritter due to game mechanics and was difficult to finish. Again, a few explanations would be helpful. Overall, it's worth the price of admission, and I'd love to see more of these. The story itself was engaging, the characters likable, and the history fantastic.
April 22, 2012
Fairly short but edutaining cave painter adventure
I've found most of Kheops studio's games to be enjoyable and this one was no exception. Additionally, it is actually educational, but only if you want it to be. The story is a rather simple affair about a young Cro-Magnon man striving to be a painter in a world where cave paintings have supernatural powers. While this is an interesting idea for a story, there is barely any background information or detail and I found the story to be the weakest aspect of the game. On the positive side the game contains plenty of information about life in pre-historical times but this is optional reading in a small built in encyclopedia and does not form part of the story. Like most Kheops games the game also has a pleasant atmosphere. Puzzles are fairly challenging and for the most part quite fun. They also fit the theme of the game quite well with. For example you need to do some crafting, such as making a simple weapon, and a bit of painting. There are also some fairly original puzzles that are based on manipulating cave paintings that come alive. On the downside the game is very linear and there is often only a single puzzle to work on at a time, which means that if you get stuck on that puzzle, you cannot do something else in the game and come back to that puzzle later. Graphics and sound are good but nothing exceptional. The game is rather short and unfortunately not all that replayable since it is mainly the puzzles and not the story that make the game fun and having solved them once they won't present much challenge on a second playthrough. In conclusion, this is an enjoyable and potentially educational game with fairly challenging puzzles and an interesting and original setting. Unfortunately short length combined with lack of replayability, a story without much depth and excessive linearity keeps it from being the great game it could have been but it is still good enough that I can recommend it.
May 7, 2012
Great game. Another winner from Kheops. Great graphics, sound, story, and educational too.
Play time ~9 hours As with other Kheops games, the games visuals are wonderful. The atmosphere and settings are very foreign to me and looked splendid. It makes you feel like you are in the old age depicted according to the story. It felt very adventurous. The puzzles were also quite fresh, and I love how they integrated the puzzles in to the environment of the various settings. The story is good but not too involving; the main interesting parts of the game are how they involve you directly in to the center of the story. You may also learn some things from playing this but it is completely optional, as there is a hub that keeps track of things you encounter and give you some interesting historical facts. The game is also suitable to all ages, as I am concerned. As any violence in the game is purely for the survival of the main protagonist and is characteristic of the age in which the story takes place.
February 23, 2014
Great fun even though travel made me dizzy!
Even though I knew the motion in traveling through this game would make me dizzy, I tried the demo and found the game to be fun & challenging. The graphics and voice overs are very good. This game will make you think and then think again. Loved the challenge of the bison hunt and the fact there is so much history documented in this game Played 50 minutes of the demo and got as far as finding the torches for the journey through the other caves. Decided then to purchase, since I wanted to continue the adventure and knew I would not complete that challenge in the next 10 minutes!. Try the demo. As far as game controls, remember you can also right click......
April 13, 2012
Very hard, but doable with walk-through
Thankfully, I got this game as the free game of a buy one, get one free promotion. When I got it, there were only 4-5 star ratings, but they all said it was very hard. And it is. But I do like to push myself, and I also like historical games. This one may take me a while to finish, though. The graphics are beautiful for most things, but the people look cartoony. I was unable to adjust the sound volume, but that may just be something I need to look up in help. If you do a web search, you'll find several sites with walk-throughs. Each walk-through is different, though, so look at more than one before bookmarking the one you like best. To play this game: First, it's really important to read all the help notes first, and read the documents as you go along. When you click on the documents (seashell), an article will open that refers to the task you are doing. Sometimes that is helpful, other times it isn't. Right-click to access, and to close the inventory. You have to close the inventory to move around. There is NO automatic save! Save the game before quitting if you're pleased with the progress you've made so far.
April 13, 2012
The Apple logo is a trademark of Apple Computer, Inc.