Echo: Secret of the Lost Cavern
Walk the path of Arok, a prehistoric tribesman in search of his destiny in Echo: Secret of the Lost Cavern. His journey will take him into the heart of an enchanted mountain and through a cavernous maze. Armed with his wits, and the help of a mysterious spirit guide, Arok seeks out magic cave paintings to help him solve cunning puzzles and face deadly traps. Modeled after the real-world cave network of Lascaux in France, this Adventure game is sure to challenge and inspire.
Clever and intuitive puzzles.
Breath-taking environments.
Explore the Lascaux cavern.
Game System Requirements:
OS:

Windows XP/Vista/7/8

CPU:

800 Mhz

RAM:

128 MB

DirectX:

8.0

Hard Drive:

1031 MB
Game Manager System Requirements:
Browser:

Internet Explorer 7 or later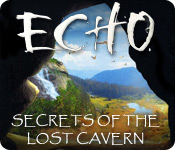 NEW299
The Big Fish Guarantee:
Quality tested and virus free.
No ads, no adware, no spyware.

Reviews at a Glance

Echo: Secret of the Lost Cavern
0
out of
5 (
0
Reviews
Review
)
Customer Reviews
Echo: Secret of the Lost Cavern
34
34
Feels like time travel!
First, this game is just like a large file game & not sure why it is only in the adventure section. I found it because I was looking for more games like "Return to Mysterious Island" and it is by the same developer. I don't quite get the organization of games on this site... Anyway, you can try this first so there is no reason to be disappionted if it's not your genre. Pros: Beautiful graphics like Mysterious Island, Interesting time frame with real historical data that makes you feel like you are experiencing life during the distant past, difficult but interesting puzzles, cool music and sound effects, neat characters. Cons: Storyline is a little flat, not much suspense or mystery or surprise involved. And although there are some beautiful scenes, there is a lot of time spent in dark caves. Honestly I enjoyed this game & it is well worth it; I'm just giving it a 4 because Mysterious Island, Nancy Drews, Rhiannon, etc are 5's imo and it is close but not as good. I wish I could give it 4 1/2.
September 1, 2012
i wanted SO MUCH to like this game
i am a fan of large file games and of adventure games, and i have an especially soft spot in my heart for games that are (or appear to be) educational. but i was unable to get this game to work for me. i could collect the items in the cave, but was unable to recall the item inventory so i could use those items to progress. there is a walkthrough on this site that is downloadable but it's only for PCs, so that was zero help for a mac game. i finally found a walkthrough on a gaming discussion forum elsewhere on the web, which told me i was on the right track, but since i couldn't access my inventoried items, i was left spinning in circles.
April 5, 2012
Help-less
If you like to have to figure everything out for yourself, then this game is for you. There was no help as to what buttons I need to use to grab or let go of objects or how to put things into or out of inventory, not even how to find your inventory. No help to tell what the cursor means when it changes from one shape to another. There was just no help whatsoever. It would be prudent to show basic game controls, but it does not. After solving several puzzles, because of the tedium in having to figure out basic (and all) gameplay by myself (as it does not follow other HOG basic controls) I found this game too boring.
April 6, 2012
They made it challenging but forgot to make it fun!
Positives: Very challenging, with minimal instruction on what needs done or how to do it. Lovely atmospheric, immersive visuals. Old-school adventure with freedom to wander around and explore. Unique, unusual game. Large file, lengthy game. Possibly historical and educational (I cannot verify that). Negatives: Awkward gameplay and use of inventory. Puzzles and tasks require arbitrary actions and sequences, rather than logical. No direction, instructions, or hints. Half a dozen items remain in inventory throughout the game, never to be used again. I completed the entire game, so I did become accustomed to the controls and gameplay, but I still didn?t like the game. On principle, I hate using walkthroughs and hints. I play games and solve puzzles because I enjoy the challenge, so I don?t like ?cheating? with walkthroughs. This game proved impossible for me and most other players (according the other reviews) without resorting to a walkthrough. When a game cannot be played without Internet cheats, there is a flaw in the game design. Here are some examples. After being told to get a reed, you have to wander around and try to pick up every tuft of weeds you see until you happen upon the correct one. Inventory contains items like: twig, stick, gnarly tree, skin, piece of skin, bladder, animal fat, strap, flint; and you are expected to somehow know the correct items to place on a rock, and the correct sequence, in order to create a useful tool. After assembling a puzzle, the random next step that you?re supposed to figure out is picking up the item and looking around the room while holding it. Things that don?t work when you try them suddenly work later on, after returning to talk to someone again, so even though you tried everything earlier, you now have to try everything again. I think there are two ways to complete the game: use a walkthrough OR be willing to try clicking on every stick, rock, tree, leaf, and blob, in every different sequence, over and over again. My primary complaint about the game is that, despite the lovely setting and challenging puzzles, they forgot to make the game FUN!
June 29, 2012
Too much twisting back and too little instruction
I had to keep getting out and going to the walkthrough. Could have used real hints, rather than vague descriptions of an historical nature.
April 5, 2012
Couldn't Figure It Out
Storyline: You are Arok, a young man/boy, a cave dweller back, back, way back in the day. You've gone out hunting and, as luck would have it, you see a huge deer. But before you can sling your spear it runs off. Then, from the direction the deer has gone, a jaguar looking animal comes stalking in your direction. You take a step back and fall. There is an entrance to a cave behind you - you had seen a strange symbol on it and remembered your grandfather (?) telling you how art/drawing was important, that it not only told a story but much more. You throw yourself into the cave and half cover the entrance with a huge stone.h Graphics: 3 D which is unusual in gameplay. I know a lot of people have problems when playing a 3D game. So, beware, it may cause motion sickness, dizziness. Having said that, I would expected a lot more coloring so was disappointed that everything was so dark and dismal (yes, I know, cave). Sound: Sorry, I tend to tune things out. I vaguely recall music directly in correlation to the time period. Nothing loud and annoying. Gameplay: Unfortunately, here is where everything went south for me. So south I left the country. Seriously, you are now inside a cave, a very dark cave. What do you do first? Find something to scare away the animal at the door to the cave? Or, build a fire? Or, make a light source? I can't answer it because I couldn't do anything. I could move around in a 360 degree circle (not the right number is it?), could be on the ceiling, whatever, that's supposedly one of the great benefits of playing with 3D characters. You can pick up objects almost everywhere. The picture will pop up in the top left-corner of the screen, but there is no way to retrieve that inventory. There is no hint button, not even the ones I detest which only have limited numbers and then you have to catch a ghost, or kill the robber, whatever, to get more. There is also no map AND NO TUTORIAL. No strategy guide (well, it is an SE). I simply could not figure out what to do, how to get to my inventory and use the items there. One reviewer compared it to a game that you had to really think and figure out your next move. I get that, my favorite game is exactly that kind of game and I loved it and would love more like it. However, even in that game I had to use my inventory items to progress. In this game, I cannot even access the inventory. Very confusing. I wish I could have gotten into the real "meat" of the game because I think I would have truly enjoyed it. Unfortunately, that just wasn't meant to be. Because of the above issues, this Glam-ma cannot in good conscience recommend this game. This review is based on my unbiased opinion of the game - mine, and only mine. If this review was helpful, please click on the "yes" button below. If not, there is also a "no" button. Happy Gaming.
May 23, 2014
Motion sickness alert!
The graphics were great, and they did a good job of making this 3D, but almost immediately, it made me nauseous with all the moving around. I can't say much more about this game, because I couldn't stand more than 2 minutes of it. Interesting and different concept, though.
April 20, 2012
Beautiful Graphics
A great concept, with beautiful graphics which fell short in terms of gaming. It was not easy to move around in free space. Suddenly I am twirling in circles and am upside down on the cavern ceiling. It was awkward to pick up and use tools and accessing the menu and information was also difficult. It was very informative but not really enjoyable. If you can master the movement it may be one of the most stunning games I have ever attempted. I tried so hard to like it because the content fascinates me. I could not get through the free hour.
April 15, 2012
Hopelessly lost
This is my third experience playing a Kheops Studio game, and I found it incredibly disappointing. I know they have a proud tradition of not telling you what's going on or giving much in the way of a clue about what to do. However, in previous games that I've played of theirs, I can at least get an idea of things from the shape into which my mouse pointer turns. In this game, not so much. The arrow is comprehensible enough, but I can't understand what the other symbols are or what they mean. I'm still stuck in the very first part of the game, in which Arok is trapped by the lion, because I don't have the slightest idea what I'm supposed to do. The game has no hint button, no manual, no information of any kind at all. The graphics are excellent and what little I've seen of the story looked really good. It's also certainly a challenging game - unfortunately, it's TOO challenging because it doesn't provide any information about how to proceed. A simple tutorial, even just information about what the different symbols that the cursor becomes, would have been a big help. I usually like Kheops games, but I wish I'd never bothered with this one.
July 16, 2012
Lots of potential
I am a old pro at big fish games and I love challenges. However, this game had no direction what-so-ever. After five minutes of spinning in circles (literally) I had to go online to find a walkthrough so I could figure out the control. The game is gorgeous and I suspected the story line would be great as well. It's just too bad that I couldn't get anywhere and my frustration level ruined the game for me. I didn't even what to continue. A little direction or instruction would have been nice, even a tutorial would have made the game better. If you are looking for a game that has zero direction then this game is for you but, this game was NOT for me.
April 4, 2012
The Apple logo is a trademark of Apple Computer, Inc.