Nancy Drew Dossier: Lights, Camera, Curses
Join Nancy Drew in an exciting new production! A beleaguered movie studio is attempting to remake a classic film that cost its leading lady her life. Go undercover on the set to get to the bottom of suspicious press leaks and uncanny accidents that have put the production schedule in jeopardy. Is someone trying to sabotage the movie or is it the curse of the fallen starlet? Put your detective skills to the test with Nancy Drew Dossier: Lights, Camera, Curses today!
Exciting mini-games
Unlockable alternate ending
Seek the source of sabotage!
Game System Requirements:
OS:

Windows XP/Vista/7/8

CPU:

1.0 GHz

RAM:

256 MB

DirectX:

9.0

Hard Drive:

364 MB
Game Manager System Requirements:
Browser:

Internet Explorer 7 or later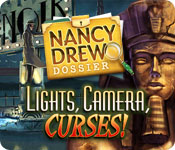 NEW299
The Big Fish Guarantee:
Quality tested and virus free.
No ads, no adware, no spyware.

Reviews at a Glance

Nancy Drew Dossier: Lights, Camera, Curses
0
out of
5 (
0
Reviews
Review
)
Customer Reviews
Nancy Drew Dossier: Lights, Camera, Curses
12
12
Fun game, different gameplay makes this an intriguing game
I loved this game. The dossier games are completely different to the normal Nancy Drew games - lighter more fun. I was expecting the normal nancy drew (the frustration and back and forth to see what you do in what order, which wastes time. I still like them though!) but this was so different. It's more linear, clear what you have to do. Sparkles which I usually hate, were helpful here* and only showed up once your cursor went over it. It was fun, from the graphics to the puzzles, more laid back than the 'normal' Nancy Drew games. I was dreading the snakes but those turned out to be very cartoonish and I was OK with them. I liked that you had try for achievment which changed the story at the end - *Clicking on the right order of things in a scene gave you bonus points. Also you got bonus points for following the plot, if you answered the questions correctly. There are 3 (I think) different timed areas which was very tight. And I understand the frustration they caused. There was the crows, and then lighting the candles which you had to replay later and the timer got even tighter. There should have been a skip button for them. But I printed out the crows screenshot (search for it in a walkthrough) which really helped. when you finish all the puzzles open up for replay. For a completely different type of gameplay, fun not hard (apart from the timed areas) I give this an A-. If you could skip the puzzles and timed areas, I would give it an A.
November 19, 2011
A Nancy Drew not quite like the others
There is a difference between this "Dossier" and Nancy's other investigations that come in Large Files. "Lights, Camera, Curses" is much closer to the more simple type of casual games which are released everyday, such as HOGs and mixed games [HO/Adv], except that this is not a HOG like the others as you have to find objects without the help of a list or silhouettes This forces you to figure out what you need and how to use what you've picked up. This feature is present in the Large File investigations but to a much lesser extent. The rest is fairly similar and has the same high quality. The graphics are top-notch, extremely well crafted, detailed, colorful and the soundtrack is perfectly adapted to the story. Nancy interacts with the different characters by means of dialogs; depending on which phrase you click the reply will be different. But Nancy's replies have to make sense else the other person won't know what she is talking about. Dialogs are important to collect clues and receive information relative to the case. Reading notes and listening to gossip serves the same purpose. The numerous puzzles and minigames are all good fun to play; they come in a large variety ranging from classics to innovations. There is an originality which you won't find in her other adventures: you earn points [as a measure of your progess] by giving the right answers in a conversation, doing certain things right, solving the puzzles and playing the minigames. If you obtain enough points, you will unlock a special ending [easier said than done...!]. The relative simplicity, by comparison with the Large Files, as well as the absence of major difficulties makes this game an ideal and accessible introduction to the world of Nancy Drew.
January 17, 2012
A Real Joyride from Beginning to End!
This Dossier Series is "off the beaten track" Nancy Drew. Totally different from the usual "look around and pick up clues" format, the Dossier Series has the player using two implements in a room that will go together to keep the game going. And....throw away your walkthroughs! You won't need them with the Dossier Series. Although there are some maddening areas where things get a bit difficult, all can be solved without having to resort to outside help. I only wish that the developers would work further on this series and bring us about 25 more Dossiers! I'm now playing the only other Dossier game available in the Drew Series, "Resorting to Danger," and it, too, is a gem! I can't say enough about this marvelous part of the Nancy Drew persona!
May 30, 2012
Wowee!
(Not even sure that is a word). This game, I completed in less than a day, which is surprising for a Nancy Drew game (with my ability) but this new gameplay. I found it much easier to complete the levels, I knew they were a number of items and I liked the fact that items had to be chained together. If you have never tried a 'dossier' game, then do, it is easier, the storyline is still as good, if not better.. The only thing is I missed the choice and flexibility in the game play, it fit with the storyline but I prefer to walk through the game myself at my pace. Play it. New Nancy Drew gamers or those who want a new challengers. It will definitely please the detective inside you!
July 7, 2013
A different Nancy Drew
The Dossier series from Her Interactive combines the HO format with adventure; these games are easier than the typical Nancy Drew games, but they are every bit as wonderful in their own right. Here, Nancy goes to Hollywood to investigate a series of accidents bogging down filming a movie. Lights Camera Curses features a terrific plot,voice overs that rival the very best in adventure games, and wonderfully noirish graphics that complement the theme. As an aside, if you liked the Nick Chase games--especially the first one--you'll love this game. The art work for example, is remarkably similar and though I didn't check the credits, it's entirely possible the same hand did both. The music here is jazzy and terrific, too. And, as one did in the Nick Chase series, one hunts up objects within the scene and then uses them to solve each part of the storyboard. It's not a difficult game--about the only really tough thing is beating some of the games against the clock--but Nancy Drew fans are used to having to do that. Sparkle hints can be turned off--althought the first time through --especially when you have to find all those candles and light them quickly enough-- you may be glad you've left them on! It's a terrific game and it really holds your interest. It may be kid approved, but adults will love it, too! One final word about voice-overs because they are so outstanding--more developers ought to hire talent of the same caliber as these actors. Simply fabulous and a real delight to listen to--especially since the dialogue is also very well-written.
August 8, 2012
the first dossier
it was a great game i loved it but i was suprise on who the culprit was
July 3, 2012
Great as long as you don't need a skip button
Another reviewer here has given an excellent overview of the game. I was enjoying the gameplay immensely until I met the 'match the crows' mini-game which was impossible for me to complete. As an older gamer my hands are simply too painful to move at speed. I can never understand why Her Interactive games don't do a skip button . If you do not have this problem then this will be a great game to play.
January 16, 2012
Fun Hidden Object Adventure Game
Not like the usual Nancy Drew fair, & with all the negative reviews in the forum, I thought I wouldn't like this game, but decided to give it a go, & I am glad I did. This is more like a hidden object game, rather than the usual Nancy Drew adventure game, however, it is not a typical hidden object game either, you need to match items rather than finding a list of things or fragments. The game is light hearted & fun, with nice visuals, & fairly linear game-play. As mentioned, some of the timed mini-puzzles are challenging, but for the most part the puzzles are not hard
November 29, 2011
It's Up to You as Nancy Drew
This time Nancy is pitted against a saboteur on a movie set. Although this is a great game for Nancy Drew lovers, some might find the point scoring system used throughout the game annoying. I wouldn't say that this game is very difficult at all as all the tasks can easily be completed using common sense as well as by paying attention to Nancy's comments about what needs to be done. I found the graphics to be fairly good quality, though a bit more on the cartoonish side than is seen in the usual mysteries.
February 5, 2012
ND for novice :)
This game is great for me because I am always a beginner, ND is usually about adventure game, but this one is more like a HOG, and it's exciting for a change. The theme of pharaoh and Egypt is exciting, and you can also guess who's the culprit at the end of the game. The storyline flows quite well and sometimes you really need to put your thinking cap on as you're trying to pair objects. It is fun game and I recommend you try it ^^
May 10, 2012