My Tribe
Create a prosperous island paradise for your industrious, intelligent tribe with this real-time Brain Teaser! Your tribe will have a mind of its own, learning skills and starting families even when you`re not around, but check back often to keep your island idyllic. Uncover mysterious secrets; unlock exciting new technology; build wondrous structures, and even explore other exciting islands in My Tribe!
Billions of islands to explore
Create unique environments
Will your tribe prosper?
Game System Requirements:
OS:

Windows XP/Vista/7/8

CPU:

600 Mhz

RAM:

256 MB

DirectX:

7.0

Hard Drive:

65 MB
Game Manager System Requirements:
Browser:

Internet Explorer 7 or later
Comic Mischief
Mild Suggestive Themes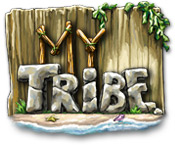 NEW299
The Big Fish Guarantee:
Quality tested and virus free.
No ads, no adware, no spyware.

Reviews at a Glance

My Tribe
0
out of
5 (
0
Reviews
Review
)
Customer Reviews
Fun
Good fun - addictive - best of the VIRTUAL GAMES.
June 22, 2012
Virtual Villagers Improved
This game improves on the roots it takes from Virtual Villagers and gives it a whole new beginning!
June 14, 2014
Good but nothing new.
There are a lot of Tribes games and My tribe is one of the better, but I wouldn't call it especially good. The graphics were fine and the music was quite pleasant. Another thing I found entertaining was the character development trough out the game teaching them to specialize in different things. I could never hold the tribe for long thought. Since I get pretty busy it would happen that I wouldn't play the game for a few days and since they continue to work and grow while your gone my tribe would eventually seize to exist. Creating a new tribe again and again from the start would get pretty bothersome and tiring. Its not a bad game and it can be quite fun, but I've stopped playing it for awhile now.
December 22, 2011
Too Easy for me
At first, it was fun, but the options were limited and not very creative. It did get to be too repetitive for me. Sorry, I had hoped for much more challenge, like in another "tribal/Villagers" game. You might like it, but it wan't my cup of tea.
December 11, 2012
Can no longer play this beloved game
I played this game off and on for a couple of years. I loved it. I would still love it... if the developer would upgrade it for most current Mac OS. Do NOT buy this if you have upgraded your Mac in the past several years... since 2010 or 11. Very sad. I keep waiting to download an upgraded version, but apparently... it is money I spent on a game I cannot play. Recommend ONLY if you have an OLD MAC or a pc
September 23, 2013
A good idea that falls short of its potential
A bunch of little people put out to sea, looking for a new home. They learn to fish, grow crops, build, and do manual labor. The really important priority (other than food) is to build a science lab. Several scientists allow faster upgrades, but if you don't build a lot of storage for food the tribe starves and they aren't able to work if hungry. Potions enhance, but when you find some helpful ones, write them down. They need a recipe book.
July 3, 2014
Years Later, Still Dissappointed
If you're looking for something to spend chuncks of time on, save your money for another game. Originally bought this instead of one of the Virtual Villagers (which I highly regret# because My Tribe was so fun during the 1 hour demo. After that hour it all goes downhill. What is suppose to be fun is more stressful than anything else. The major flaws #villagers don't mate unless YOU tell them to, and they will starve unless YOU mark the trees for harvest# makes leaving the game running while I sleep for the night suicidal. I often awake to see 95% of my villagers aged and no children to continue the tribe. What are suppose to be mysteries to solve are almost a joke. They either reward you with a potion ingredient #most of which are purely aesthetic and pointless anyways# or science points #which after you unlock everything its pretty much useless#. The game boasts you can travel to new islands but there really isnt any point unless you want to unlock the rest of the mysteries which as I explained above, give out pitiful rewards. The "hundreds" of new islands are basically reandomly generated and look almost as identical as the next. They all contain trees, rocks and everything else you need which offers next to no challenge #lets have an island without trees or rocks and see how we fare?#. Theres also an inability to construct roads or really rotate the buildings to at leastbuild a beautiful village. The islands are too small and the buildings are too large and blocky to really give way to creating a beautiful looking village. I was expecting something more Sims-wise when it came to construction and customization. The little variety this game offers is aesthetically and even then the selection is limited. There are only 3 styles of huts, 7 kinds of flowers to plant #don't even bother, they are a waste of labor and your villagers won't plant them unless u CONTINUALLY drop them on top of the dirt mounds# and about 10 different styles of tops/pants altogether. You can change their hair style if you feel so inclined but there really isnt much point to that either sincewhen they get old their hair turns grey regardless. I was expecting a much more complex game with infrastructure and much more scientific upgrades #theres only 12 upgrades, all of which are pretty much predictable# but all I got was an island version of dress me up that attempts to disguise itself as a simulation game. I've played this game on and off over the past couple of years and everytime I've tried to become engrossed in this game I left wondering why I wasted my ten dollars on this. You're much better off buying Insaiquarium Deluxe or Plants vs.Zombies. Don't waste your money on this. Or much better, just play Farmville, at least that is a bit more bearable.
December 28, 2011
Honestly the dumbest game I ever played...
I am sorry, because for some reason this game is rated very highly, but it is dumb. There is practically nothing to do! You assign jobs to the tribe, pick up moondust or stardust, open a crate or a barrell, and other than that you go off and leave them alone. If you want to play God to a virtual tribe for about 15 minutes a day (All I can do before I get too bored and have to go on to something else.) then this is the game for you. oh, yeah, they won't reproduce unless you tell them to. There are a couple of "mysteries" to solve on each island - with practically no hints of any sort or any idea of how to do it. You occasionally get recipes for 'potions' to create, but they aren't saved anywhere so you had better write them down. I bought this without doing the usual trial and I always regret it when I do that. I got it based on a recommendation that it was similar to The Promised Land, and it doesn't even compare - at least not favorably. Made me with there was a money back guarantee, and I normally rate games much higher than this!
October 22, 2012
Not at all like Facebook version!
So disappointed! First downloaded the trail version. Right after download, program said I timed out! Not getting to try first, but thinking it was the same as game on Facebook, I purchased it. I was so very disappointed! It is nothing! Like the Facebook version! It is very, very boring! I'm not concerned about the small amount it cost, I just want the other version. I've already removed it from my computer as It is just such a horrible game! Where is the other version!
March 24, 2013
The Apple logo is a trademark of Apple Computer, Inc.