Book of Legends
Join Zoe and Charleston Black as they unravel a powerful and ancient Arthurian legend in this gripping Hidden Object game! What began as a casual interest quickly spirals into a dangerous obsession when a young researcher is consumed by the search for a mythic book of limitless power. Travel the world uncovering clues to one of the most powerful and sought-after tomes in human history. Delve into Book of Legends today!
Captivating storyline
Challenging mini-games
Unleash legendary power!
Game System Requirements:
OS:

10.4, 10.5 (recommended)

CPU:

1.83GHz

RAM:

512 MB
Game Manager System Requirements:
Browser:

Safari 4.0 or later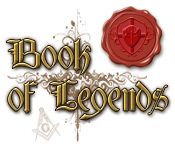 NEW299
The Big Fish Guarantee:
Quality tested and virus free.
No ads, no adware, no spyware.

Reviews at a Glance

Book of Legends
0
out of
5 (
0
Reviews
Review
)
Customer Reviews
book of legends
i have completed the game and it was a pretty good game can any1 tell me what the follow on from his one is as it ended it came to a part where it said catch the follow on and never specified what the follow on was can any1 help
January 6, 2013
Something a bit different - try it for yourself
After reading such conflicting reviews I had to try this. I love the riddle clues and the variety of tasks. Some hidden objects are easy, others are tricky even with a hint - the grid type hint is a good original twist. Not so thrilled that I will buy immediately, but for now it's at the top of my list of games to buy with my next monthly game club credit.
August 5, 2012
Turned out to be fun
Based on demo only this one turned out to be better than I thought. Interesting information given at each location and the locations were good. Play between the siblings was good. It took me a few times to figure out the hint button. All I saw were the grids before I zeroed on that there was a location. I probably will buy this with a game credit.
July 17, 2012
a fun and interesting game
I did the 1 hour trial and it was a fun game. The talking between the siblings was fun too. Not too hard, just kind of relaxing and going from place to place made it interesting. Its worth the 2.99 daily deal...at least so far. I got caught up in it so now I want to buy it ( : !! Have to see what happens...
July 17, 2012
A nice game, fun to play
I played half an hour of the free hour and then bought it: A mixture of HOG and IHOG this is a nice little game to play. Contrary to a previous review there are clues if you can't find things. You don't have to search for where to go next, the story takes you there and the dialogue, although there's a lot of it, can be clicked through as fast as you want. There are also mini HOG's to play to earn yourself some cash on the way... no idea what you need it for but no doubt I'll find out later on.
July 17, 2012
could have been better
This was such a great concept, but the HO scenes killed it for me. The graphics were detailed but I'm realizing I don't like that type of drawing, there was no depth perception, just piles and piles of junk. Some HO were nearly impossible to see, and some of the objects I'd never even heard of before. There was no misclick penalty and the hint button recharged fairly quickly so that saved me. Also good was the banter between the brother and sister. I'm disappointed because this could have been much more fun if they had included interesting puzzles and better-drawn scenes. Towards the end I couldn't wait for it to be over.
July 27, 2012
Not for me, but you may like it. :)
This didn't really grab me. I've played through the whole of the demo, but won't be buying it. I like to start with positives, so... One good thing I noticed is that there doesn't seem to be a penalty for too much clicking, which is always a plus. :) Also, I see that one reviewer said that you can't skip the intro, but I found that it skipped just by clicking on the screen. :) As for the less good stuff... For me, the plot was a little too daft. I won't annoy myself by rehashing all the details of its daftness. However, I will say that, for an ancient mystery, it's remarkable how much of it seems to hinge on very modern things, and that, for an Arthurian mystery, it seems to have naff all to do with Arthur, apart from the mention of Excalibur, which, it seems, you won't find till the end of the game. However, if you don't mind daft plots - or indeed, if the plot aspect is of no interest to you - you may well enjoy the game. :) I also found the characters mildly annoying, but a lot of peeps who've reviewed this seem to like them, so hey - maybe you will too. :) Finally, I'd add that I haven't found it challenging enough to be interesting. If I enjoyed the plot more, I might not mind that, but as I've said, the plot doesn't grab me. So to sum up: It's really not for me. But what are minuses to me may be pluses for someone else. If the scenario seems interesting to you, you may as well try the demo at least, and see if you like it. :)
January 19, 2013
Stupid Little Game
This is a stupid little game. Bad story, bad graphics, bad game play, two bickering characters, too much leading, not much in the way of challenge. But SOMETHING about this game kept me coming back and coming back and coming back until I finished it, only to find it wasn't finished and that there's a non-existent sequel. But I still enjoyed it! I have visited many of the places in the journey, and the scenes were true to the locales, although stretched a bit. Nice memories. But what a STUPID game. Not sure if I recommend it or not. If you like straight, difficult, HOS, maybe you'll like it. If you don't, you probably won't like this game.
December 19, 2013
review
this game is signed as adventure but it is a HOG. An average story nice to play and to forget. Who like adventures look for another one.
August 14, 2013
So-So Game
This game had a lot of potential, but there were so many annoyances. A brother and sister are working through the clues in a mysterious book and searching for Excalibur. You play as the sister and stay in touch with your brother via cell phone. You travel to various countries and go through the riddles in the book to find clues to the location of Excalibur. The graphics are okay, but when you get to a location and begin clicking to find objects, the scene momentarily blurs. It became really annoying as the game progressed. After you find the clue in a scene, you receive requests via cell phone to find objects or take pictures. You are paid for these requests and use the funds to purchase airfare to the next country. This was actually an interesting twist and I enjoyed that part. When you are looking for objects, you can click them in the list and see an outline of them on the cell phone. This is actually very helpful as some of the objects are very difficult to locate. The hint button does not show the actual object, but displays a grid and tells you which grid to search. I actually enjoyed this pat. The brother and sister talk constantly. You can click through the dialogue, but it get really irritating after a few scenes. I finally muted the voice overs and read the dialogue. Some of it was snarky, which was fun. After you finish each location fanfare plays. While it was fun the first time or two, it was really annoying by the end of the game. Last, but not least, the game ends on a cliffhanger to set up a sequel. I really feel cheated when this happens. I was already somewhat annoyed with the game and this was the final straw. This game could have really been fun had the developers made some different decisions when writing the game. I'm not sure I recommend this game. If you can overlook the annoyances, it is a fun game, but they are hard to overlook.
January 26, 2013
The Apple logo is a trademark of Apple Computer, Inc.
The Windows logo is a trademark of Microsoft, Inc.