Fairy Island
Fairy Island was a magical place untouched by human hands. But when Pirates wash up on shore, it spells trouble for everyone. Now the poor fairies are trapped inside magic crystals, and it`s up to you to break them out. On your quest, you`ll travel across the enchanted forests of Fairy Island, collecting golden acorns along the way. Then visit the Fairy Fare, where a golden acorn can buy unique fairy magic.
Explosively fast-paced puzzles
Four unique modes of game play
Group colors to cascade wins
Game System Requirements:
OS:

Windows XP/Vista/7/8

CPU:

800 Mhz

RAM:

512 MB

DirectX:

9.0

Hard Drive:

19 MB
Game Manager System Requirements:
Browser:

Internet Explorer 7 or later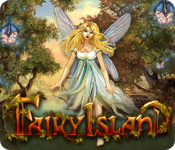 NEW299
The Big Fish Guarantee:
Quality tested and virus free.
No ads, no adware, no spyware.

Reviews at a Glance

Fairy Island
0
out of
5 (
0
Reviews
Review
)
Customer Reviews
Fairy Land is fun and relaxing!
I Loved this game. You decide what mode you play but I enjoyed it so much. As you keep breaking down the walls you release the giggling Fairies and keep going up levels, a real treat. Thanks BigFish.
April 4, 2013
Loved this game ... and I play it over again once in a while ..
As far as I am concerned the negative (or so-so) reviews shown here are pretty weird. I absolutely loved this game ... just to pass the time and relax ... and I play it over again every once in a while. For me it has excellent re-play value, for all the reasons just cited.
April 4, 2013
Forgot How Good This Game Was
While waiting to see what this weekend's sale would be, I re-installed this game. There are 3 game modes: Story, Timed, or Continuous. You need to play several levels in story mode to unlock other modes to play- sub-modes I guess you'd call them. I only play story mode to unlock other modes, as it consists of very short games. I prefer the 'continuous' mode on the main screen & then I switch around from 'normal', where you break 3 or more blocks of the same color, as more blocks drop from the top. In this mode, you go until 1 or more columns of blocks reaches the top of the screen. Then there is a mode called 'locks', in which the screen starts out completely filled with cubes & you clear as much as you can & any left are 'locked' (they have to be broken twice to be removed) & the screen is refilled. This goes on til you can't make any more matches. The third sub-mode is 'slider', which is alot like the 'normal' mode, except all the cubes on top of the bottom row slide to the right as soon as they are able to. The is also a 'puzzle' sub-mode that has various patterns of cubes on the board & you need to clear the board completely of all cubes to win. I have been playing this game for hours on end. It's very addictive & a nice rest from timed games (in the continuous mode). It's great to be able to switch modes as well.
August 17, 2013
Loved it!!!
I loved this game!!! Don't be fooled, it gets harder!! My sister lives in Spokane, WA & we try picking the same game & letting each other know what level we are on & sees who beats it first. At first, I didn't think I'd like it, but after playing for awhile, I was addicted!!! There are a few ways that you can play each level. You match these colored blocks to break them. The blocks with the diamonds are where the fairies are that you have to release. I thought it was great!! It was a real challenge towards the end!!! Worth the money & I used one of my free game codes to get it. To each their own, I liked it. There is also relaxed mode in the game & I do like to relax & enjoy my games!!!
September 6, 2013
I Disagree - it's Fun!
I disagree with the other reviewers - this is a fun game if you make a little effort to work out how to play it. You don't have to wait for rows of tiles to appear automatically, you can bring them up by clicking on the hidden rows. This gives you several rows to use, and you can get huge scores by playing this way. I had no trouble catching the flying acorns, and it's woth the effort so you can buy powerups.
April 4, 2013
Pleasant way to spend a few minutes
Works fine for me, XP professional. Played the demo, got as far as the H.O. scene. I liked the different "Match3" modes: the first is the group mode as in Season Match. The Lock mode was (at this stage) perhaps the quickest, where the playing area is filled and you clickon groups to collapse the stacks, getting a new screen when there's nothing else to do, and the left-overs are locked until freed by using in a group. There's a real sense that the programmers are trying to help, which is often missing in such games. When you gain powerups, they seem to fire off all by themselves, very liberally: quite spectacular sometimes. Suits me, but seeing the other comments it clearly does not suit everyone! For me, a good way to spend just a few minutes. Each frame is only about 2 minutes (in the early stages).
April 4, 2013
A collapse-type of game
Gorgeous graphics, animations are okay. The game is breaking and collapsing groups of blocks to release fairies, who then giggle. That got annoying by level 2, since the sound never varied. The trapped fairies were a novel idea, but the collapsing blocks didn't hold my interest.
June 1, 2012
Pretty Darn Bad :(
I didn't play for very long. Clearing blocks of three or more tiles while listening to the giggling of fairies as they are released gets old quickly. As for catching acorns, I couldn't do it and kept being told: "YOU FAILED". I failed? At catching acorns? Who cares? I wouldn't want my child to receive that message while playing a game. So I would not recommend this game for adults or children even though smaller children might enjoy the giggling. :(
April 4, 2013
Far Too Boring!
I endured the entire hour of the trial to see if this game got any better than the 2 prior reviews advised, and, sadly, I have to report that...it does not! I reached level 14 mostly in the normal mode and one level in the locked mode. You click on groups of 3 or more of the same dull colored tiles to keep them from reaching the top of the game board (as they continually load from the bottom) when you would lose the round. Even at level 14 I was clearing the board completely, which gains the player 1000 points - but you have no idea what to do with them! You can earn acorns by catching them when they pop up on a screen in between the tile games. These acorns are used to buy power-ups...but why would you need them???? This game is too simple and boring, I'm sorry that I cannot find any redemption for it.
October 22, 2012
Stupid Game
I would NOT recommend this game. Levels get so blasted difficult, you can hardly pass to the next one After a while, the game just isn't fun anymore.
July 29, 2012