My Tribe
Create a prosperous island paradise for your industrious, intelligent tribe with this real-time Brain Teaser! Your tribe will have a mind of its own, learning skills and starting families even when you`re not around, but check back often to keep your island idyllic. Uncover mysterious secrets; unlock exciting new technology; build wondrous structures, and even explore other exciting islands in My Tribe!
Billions of islands to explore
Create unique environments
Will your tribe prosper?
Game System Requirements:
OS:

10.4, 10.5 (recommended)

CPU:

1.83GHz

RAM:

512 MB
Game Manager System Requirements:
Browser:

Safari 4.0 or later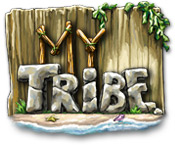 NEW299
The Big Fish Guarantee:
Quality tested and virus free.
No ads, no adware, no spyware.

Reviews at a Glance

My Tribe
0
out of
5 (
0
Reviews
Review
)
Customer Reviews
I liked this much better than Virtual Villagers
My review is basically the exact opposite of Grimreapr476's. I tried two different Villagers games and was bored to tears. My Tribe, on the other hand, features characters that actually move around and follow your commands instead of wandering around aimlessly in slow motion. It's what I expected a Robinson Crusoe style game to be like. There are a few puzzles you'll discover but it's not a puzzle solving game. Your job is to help grow the tribe and collect resources to provide food, shelter, and improve their lives. Tribe members improve their skills the more they work on a particular task. They also work faster and more efficiently. Unfortunately even the hardest working or most intelligent tribe members will ultimately succumb to old age so managing relationships is important in order to keep the tribe prosperous. If you want a game that simulates being stranded on a desert island, My Tribe is worth the download.
January 8, 2012
AMAZING
I love this game and i play this game so much. I have been playin this for 1 month but i did play it 3 years ago and i still know how to play it! =) its really cool once you get into the game! a couple of tips : . dont make your tribe to big unless you have heaps of food or fisherman . dont just put a building there and say its good enough cause then you'll have to waste your resources later re-building it I hope you have fun playing this game
December 16, 2011
the best tribe game
i have been waiting a long time for something like this game but knowones made a my tribe 2 so please make another one just like this but with more challenge and decorating with more emotions. i played and bet this game more then 3 times. and this game is also so easy to see and play. i would give this game to someone again and again.
November 12, 2011
Favorite Virtual Strategy Game!
This is probably my all-time favorite game. It's a virtual strategy game, similar to the Virtual Villager types (also excellent), with its own unique touches. A great stress-reliever game, with so many options and different strategies to try out that this game will not feel old or stale. The challenges are hard, and you can keep playing the game as long as you like. If you've solved every puzzle and challenge - possible, but really takes time and experimentation - the game is not necessarily over. If you like these kinds of games, you will love this one!
December 4, 2011
My Favorite Game of All Time!
I went crazy for this game, I played day after day, and soon weeks turned into months, and what I'm trying to say is that, this game never gets tiring! The tribes people each have cute traits of a few anime looks, which make them as cool and cute as can be! I guarantee you that you will be happy with your purchase when you buy this game, because it's super fun, keeps your mind active, and also helps you practice planning ahead. You can create multiple accounts, so more that one person can enjoy the fun! This is by far the best game I've ever seen in a long time, or at least, in my opinion. I can't think of anything that I didn't like in the game, it's absolutely perfect for me!
January 1, 2012
My Tribe
Off and on I like a relaxing game and this is THE ONE . I love it and played many tribes. I wish there would be more games like this or maybe even a sequel with more tasks.The tribe could use more clothing options and solve more mysteries. Movement (walking) could be a little more fluent. Over all a wonderfull game.
November 21, 2011
better than virtual villagers
First of all in regards to all those reviews that mention their tribe dying off overnight, I guess those players didn't realise that you can actually set the game to 'pause' when you turn your computer off# That means your tribe freezes in time and nobody ages or dies while you're away# The game automatically resumes when you continue playing# The people look more realistic than in the virtual villagers series and their movements are also more fluid# The mysteries are not easy to solve, I had to look up cheats for that# I like that fact that you can place your buildings wherever you like, whenever you like, providing you have resources# I like the fact that you know straight away the gender of your new babies as well as the fact that the mother can resume working straight away as opposed to having to wait two island years like in virtual villagers# Instead, the babies toddle after their mothers until they turn three, which is kinda cute# Being able to move to other islands adds a new twist, and although all islands are similar in set up, their shape is differect each time and sometimes you can even get a twin island# I would have liked to see the villagers have more food sources than just fishing and farming, and also to see them interact with each other from time to time, like in virtual villagers# I find it a bit silly that the villagers can starve to death despite having plenty of food in storage, just because they run out of wood, as they need the wood to fuel the fire to cook their food# No wood=no fire=starvation. But that could really only happen if you go away for a while and leave no trees checked to be harvested. This is an easy game to continue. I've played this game on and off for several years now and I've never had a tribe die on me. All of my countless villagers have died of old age, except one who for some unknown reason stood beside a food storgage shed without actually eating and I didn't notice it until it was too late. This villagers died of starvation. Yes, she was blonde. lol I have learned that villagers start dying of old age from age 68 upwards. My oldest person to die was 83! A fun game for adults and kids alike.
February 17, 2012
LOVED THIS GAME AMAZING!
I love this game completed it allot of times never gets old but i wish they would make a nouther but this time there could be diffent ablilites such as :hunter(food from animals) wizard(casts spells that help with all sorts of things) and pets aswell and mythical creatures :) ...............over all raiting LOVED IT!
November 25, 2011
Best game ever.
This game is by far my favorite game. I have tried to find other games with similar plot but none of them have the same caliber. My Tribe is simply brilliantly constructed and thoughtfully created.
March 4, 2012
my tribe
i played it before on facebook and i want to play it again i love this game :)
March 11, 2012
The Apple logo is a trademark of Apple Computer, Inc.
The Windows logo is a trademark of Microsoft, Inc.