Mystery Legends: Sleepy Hollow
WINNER! Best Hidden Object Game of 2008!
All small towns have their secrets and stories, but none such as Sleepy Hollow, whose legends are most grim and gory. By day a quaint village full of sunshine and banter, by night a place haunted by hoof beats and spectral laughter. Explore Sleepy Hollow as never before, searching for clues into the ancient legend. But beware; each night the Horseman rides, he takes another victim. Unravel the mystery before it`s too late…
Eerie, absorbing locations.
Chilling clues and mini-games.
Uncover the deadly mystery!
Game System Requirements:
OS:

Windows XP/Vista/7/8

CPU:

800 Mhz

RAM:

256 MB

DirectX:

7.0

Hard Drive:

82 MB
Game Manager System Requirements:
Browser:

Internet Explorer 7 or later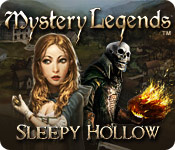 NEW299
The Big Fish Guarantee:
Quality tested and virus free.
No ads, no adware, no spyware.

Reviews at a Glance

Mystery Legends: Sleepy Hollow
0
out of
5 (
0
Reviews
Review
)
Customer Reviews
Mystery Legends: Sleepy Hollow
42
42
Fun hidden object game
I love this game because it has hidden objects
August 6, 2012
Excellent for Halloween
This is my first time posting a review but I had too. I found this game to be exciting and fun. I could not stop playing till I solved the mystery---which you actually don't--which very much disappointed me. I look forward to the next part but wish it was included in this version. Just felt I got short changed even though I did buy at discount. Game is easy to play hints are as many as you can get if you find the pumpkin at each scene. Some items are hard to see for black white scenes; some are too bright to see items--will be hard to get perfect game. Storyline fantastic loved it as I like all sleeping hollow stories. Music relaxing during game play. All and all I got a good game for Halloween and did enjoy playing it wish there was more to it. Fast easy game for past time if you like hidden object-- get it-- very easy for kids and enjoyable.
October 15, 2014
Excellent!
I have played this game over and over and have enjoyed every time.It gives you a bit of the original story as it introduces the characters. The sound effects are great and so are the graphics.The mini games are interesting.You can play timed or untimed which is a plus. Yes it is almost purely HO the way that they used to be before they became too confusing and that is what I like about it.I wish that the manufacturers would create more like this for those of us who prefer this type of game play.
September 17, 2013
Highly Entertaining (Mac users, there is a version!)
I love this game and have replayed several times. I got a Mac a year ago and some of my Big Fish PC games (like Sleepy Hollow) didn't have a Mac version. I recently had a craving to play this game again (it's like that) and I found it on the Mac Games Store, for anyone looking for it. I'm so happy I found it. I love everything about this game. The total emersion into the Legend of Sleepy Hollow, the sharp slicing sword sounds, the excellent and chilling voice acting, even the evil looking pumpkins - this games drips with dread and shuddering terror, as the wicked victims get their gratifying comeuppance. Beautiful, gruesome and mesmerizing. The artwork is unique and the game doesn't rush and you don't feel like rushing through. You want to step through Sleepy Hollow. I find the HO scenes challenging in a good way - clever and satisfyingly difficult. Also, I like those mini-games where you need to find a single item in one screen (like, find 25 buttons) - Those screens break up a game and gives you a quick challenge to beat against the clock, and this game delivers those. And the slicing sound of the sword with each action, ahem, executed, is delightfully sinister. Everything is in theme and effective. It's like sitting down to your favourite ghost story, and you can't wait for the next chapter. So glad I found it for my Mac!
May 21, 2013
good for me!
I played this one when it first out and yes, I have fun (I never leave a review before). That's way, I give it five stars because this game is good for my lazy time and I love the storyline. If you are a HOG lover or maybe looking a game for spending your lazy time, well try this one! Btw, thanks dev!
April 9, 2013
Oldie but a goodie
This is the second time that I have played this game and the interest is still there the secomd time around. The town of Sleepy Hollow is a quaint quiet little town by day but at night beware of the galloping hooves of the headless horseman who is seeking revenge from the citizens that wronged him all those years ago. There is written dialogue and the narrative which describes how each victim had decieved the hessian and how he invoked his revenge. The graphics are reasonably clear but some scenes are a bit dark which stands to reason given that most of the exploits were done at night. The puzzles were reasonably easy and quite straightforward, with not a great deal of brain drain. The hidden objects, however were a different matter, as a good number were very difficult to pick up in the gloom, some were fairly easy but the solving of the mystery at the end of each chapter where two lots of 15 of similar items had to be found, presented a problem, especially with the smaller items. The game won the best game award for 2008 and I feel that it can still stack up really well against some of the latest games.
December 12, 2012
Headless Horseman Horrorshow
Wow! I loved this game. It's your basic HOG with a few very simple minis thrown in but the pace of it and the sinister creepy voice of the Headless Horseman gave me chills. It just creeped me out and is the perfect Halloween game. Took me forever (10+ hours of play over several days) and I was shocked to find out there are 12 chapters so it goes on for hours and hours. I played this one at casual level with no timer because the HOs are extremely difficult. Use your hints sparingly because you don't have many available. The objects are very hard to find at times because they are so small and very cleverly hidden. Some of these games have a bit of humor thrown in at points throughtout the game but this one does not. It's creepy and frightening all the way through and gives you the feeling that "someone is behind you watching". LOL! At the end, it says it is to be continued. That was 4 years ago. Where's the sequel? I would buy it in heartbeat. This is one of my top 3 games of all time and one of my best daily deal purchases.
December 12, 2012
This is the game that hooked me on HOs
The game is super spooky even though in some spots the graphics are cartoonish. For the most part, you are hunting for objects at locations around Sleepy Hollow. Every once in awhile the Horseman will taunt you and it really creeped me out at first. I actually started looking around the room in fear. Pros: sound and sound effects, narrator voice-over which is also creepy Engaging storyline Totally addictive Cons: Repeated use of locations Sometimes you are looking for an object you've never heard of before and it just happens to be super tiny All in all, this is one of the most enjoyable games I've ever played, and I have played hundreds.
December 2, 2012
Classy HO For Fans of Pure HO
Game Style: Strictly HO with a few easy puzzles. I liked the cursor hover silhouettes, and it?s just as well, because the hints are limited and this is a very hard HO. Very. At least I found it so. Being able to finish the chapter with a couple of objects unfound is a good idea. Artwork: Delightful for its time. Clean and crisp. I liked that there was little distortion in the HO scenes. The voice over is so creepy I jumped every time I heard it. The intro and map are pretty basic and don?t indicate just how good the HO scenes really are to watch. Story: There is no real story here; this is not an adventure game. But it held together well, and focussing each chapter on a single suspect was a nice twist. Replay: Only if I was in the mood for strictly HO. Flaws: The limited hints make the game harder than many would like. Tips: Skip between locations when you get stuck in one. It may be you don?t need those last two to continue.
December 13, 2011
Pleasurably difficult
Not being a novice HO gamer, I still had difficulty finding some of the objects, but it was more a challenge than irritating. Great artwork, very good VO. Interesting mini games which you can find during the HOS. You have limited hints, but by collecting the Jack-o-Lanterns you can accumulate some fore emergency hint use. If you are stuck you still can hover over the clue and it will show the silhouette you need to find. All in all good game.
January 30, 2013