Serpent of Isis
In the early 1900's the legendary artwork, the Serpent of Isis, was stolen at the grand opening of the Egypt Museum in Cairo. Originally discovered by your grandfather, you have been searching for the missing masterpiece your entire adult life. One day, a mysterious letter arrives indicating that the person who possesses the artwork can be found on board the Mont Palu Express. Catch the train and solve the ancient mystery!
Solve intriguing puzzles
Find bonus items to earn extra hints
Beautiful locations
Game System Requirements:
OS:

Windows XP/Vista/8

CPU:

800 Mhz

RAM:

512 MB

DirectX:

7.0

Hard Drive:

112 MB
Game Manager System Requirements:
Browser:

Internet Explorer 7 or later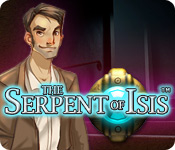 NEW299
The Big Fish Guarantee:
Quality tested and virus free.
No ads, no adware, no spyware.

Reviews at a Glance

Serpent of Isis
0
out of
5 (
0
Reviews
Review
)
Customer Reviews
Serpent of Isis
The game was ok, way to much talking for my taste. The hidden objects, wow some of them you needed to use a magnifying glass to find. Need to put a "skip" button for the talk scenes.
January 26, 2012
Good travel-themed game
As a non-stop backpacker I rather enjoy any hidden object games with a travel theme and so I was instantly attracted to this game. For anyone who feels like taking a journey through Europe and at the same time enjoying a little classic hidden object gameplay in beautiful scenes then this game I can recommend.
December 15, 2011
Tedious
Don't get me wrong, I enjoy hidden object games, but this one - what a disappointment. Some of the objects are very tiny and you have to click dead on or you don't get the object. If you use up all of the hints and still haven't found everything then you have to repeat the level - fair enough, but the hints don't refresh so you repeat it without any help at all. Okay if you're feeling up for a challenge, but not if all you want is a relaxing game. I agree with the previous reviewer regarding the appearance of the main character, he's certainly no Mr Darcy! Looks more like a 'baddie' than a 'goodie'. Also, it seems rather lazy on the part of the developers to have quite so many of the same objects to be found in the scenes. Personally, I recommend Mystery PI The London Caper, or the Jewel Quest Mysteries - play them as a tough challenge or have a more relaxing game if you want to.
May 2, 2012
Plenty of Everything in this Classic!
Fairly new to the casual game scene, I actually played the sequel first, then found this original game, which I just finished. Following his grandfather's clues, our hero travels to Cairo, Prague, Paris, and London via the rails. There are multiple HO scenes in each city, as well as on the train rides between cities. In each 'chapter' there are also puzzles/mini games, which I found to be hard enough without being ridiculously hard. Several times I had to resort to a walkthrough peek, but mostly I got it done without. Overall, I found this game to be just right as far as challenge level and number of HO scenes, even if the graphic quality was a bit old. The number of puzzles/mini games should keep adventure gamers happy, as well as those into HO games. The fact that there is a sequel (The Serpent of Isis: Your Journey Continues) is a definite bonus--especially since the sequel is even better!
January 21, 2012
YERK ! YERK ! YERK !
This was for me a blind purchase on the basis of the award the game got in 2009. Why on earth did they have to pick this one ? Just this one while far better games were released in 2009. It's terrible ! It's uninteresting ! It's irritating to the 10th power ! It's the game that forces you to make an appointment with your ophtalmologist ASAP. I just wasted my $ 6.99 and was so put off I jumped off the train before Prague. Just consider having to click on the very exact pixel to get the object you're looking for. One pixel too far and you don't get anything. That gives you an idea of the size of the objects in question. But that's not all: not only are they microscopic, they are so opaque they disappear totally in the darkness of the background, a place of predilection from the developer's viewpoint, I suppose. Finding the 9 zodiac signs in the old pictures was one of the worst hassles I ever came across. Else you have to hunt I don't know how many fleas, spiders, and insects of all species and form. Marvelous ! And how annoying it is to have to find "item x 3 or 4" in every scene ! 10 chapters like this ! My Goodness ! What gets me too is why the developers had to draw a hero with such a crooked face; he is ugly, a true eyesore ! Quite a shame really because some puzzles are not without interest, the artwork isn't bad, traveling in a train not a bad idea -although there is a far better game based on this theme- and the story fairly interesting. But, no I have only two eyes and I refuse to kill them chasing invisible Hidden Objects the size of an atom ! If you're like me, if you like having fun playing a game, stay away from this Serpent of Isis.
December 26, 2011
Excellent Hidden Object Game!
Wish they were all like this one. Kept me interested. It was hard but it wasn't impossible. I really enjoyed this game.
March 2, 2012
OK but Visual Chalanges
I like the game, I got it as a BoGo or I most likely would have never even considered it ? ? ? not so much into Hidden Object, hard on old eys. I agree with Rescue_helo and liked how he says ??having to click on the very exact pixel to get the object you're looking for. One pixel too far and you don't get anything. That gives you an idea of the size of the objects in question. But that's not all: not only are they microscopic, they are so opaque they disappear totally in the darkness of the background, ?? I have my monitor Brightness leval on high and still the pictures are dark and things are hidden in very dark corners, un fair to old eys. With a limited amount of help magnifyers you can get stuck for one tiny item that isn?t needed in the rest of the game. I see this is an older game so hopefuly the developers have corrected thes things in the sequal.
April 12, 2012
Gave me a migraine
I really do like this game. I have to agree that character graphics could be better, but that doesn't really bother me. The storyline is fun. The level of play is quite challenging. The HO scenes are my biggest complaint. The visual quality behind these scenes leaves a lot to be desired. It is hard to enjoy a game when you can't find what you need. Many of the scenes are so dark that it is nearly impossible to find things. Try finding a black fly against a very dark background - IMPOSSIBLE!!!. And when you need to find coins or scraps of paper, forget it. They are so small I found it hard to believe that what I clicked on was what I was looking for. You have to use hints or you will never finish a level. And the clicks must be so very precise. I had to stop after about 1/2 hour of play because I started to develop an awful migraine due to eye strain (no lie). This is the first time I have felt that a game from BF is not worth the money. I really believe the developers should do some revision and lighten up some scenes and make some objects bigger. If this happens, then I will be more than happy to revise my review. But for now, I my disappointment stands.
May 26, 2012
Good Game-That Serpent!
This is a good old HOG. It is fun and not to easy to play. Puzzles are good not to easy and so are pretty hard Hisssssssssssss is a fun game.
May 7, 2012
Barb's Review
I really enjoyed this game & was dissappointed w/the sequel. The play was challenging & the mysteries were tricky, but do-able. The end does leave you hanging. The sequel is too simple w/o the challenges of the 1st game.
July 13, 2012
The Apple logo is a trademark of Apple Computer, Inc.