Adventure Chronicles: The Search for Lost Treasures
1st Runner-Up Best Hidden Object Game of 2008!
A few months have passed since Susan`s ordeal in the museum, and she`s been in no hurry to greet danger again. But when a prized notebook arrives at her office from an anonymous source, both her interest, and her suspicions are raised. The information contained within is too valuable to ignore. Soon she`s off traveling the world, solving puzzles and tracking down mysterious clues in search of the most renown treasures of history and legend.
Puzzles wicked and intuitive.
Explore world-spanning sites.
Hidden treasures and danger!
Game System Requirements:
OS:

10.4, 10.5 (recommended)

CPU:

1.83GHz

RAM:

512 MB
Game Manager System Requirements:
Browser:

Safari 4.0 or later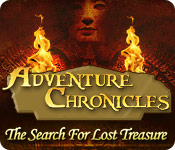 NEW299
The Big Fish Guarantee:
Quality tested and virus free.
No ads, no adware, no spyware.

Reviews at a Glance

Adventure Chronicles: The Search for Lost Treasures
0
out of
5 (
0
Reviews
Review
)
Customer Reviews
Adventure Chronicles: The Search for Lost Treasures
14
14
Super Great Game!
Bought this a while back and just played again. It is a super hidden object game and you can learn some things about the past, too. You travel to different locations to find the "great treasures". The scenes are sometimes a challenge as all objects are well hidden. There are also helps as in you may need to dig, brush, burn or break open things to find the object you need. You also need to find the "geocache" object that will be displayed in the museum. To find out what object this is, you click the down arrow at the upper right side of the screen and a riddle and/or description to solve will give you a clue as to what to find. After all the scenes are finished in one area, you can go back and there is a bonus round of objects to find. This is a great game for children & adults.
April 8, 2012
I Loved this
I bought this back in 2008 and I loved it, it wasn't long after I bought it that it was in the top 10 or something like that. It has a great story line to it and the graphics, colours, are awsome. I loved that it was in the time of Pharou ( sorry spelling ) anyway back than. This game was one of the ones that I learned and got hooked on Hidden Object games. Once I was able to buy it and finish it I was so hooked and the rest is history, so play it even now you who are experinced you will enjoy this.
February 16, 2012
awesome hidden object game
just bought this game and now have finished it twice>it is a great game cause it gets you to really use your brain cant wait till i play it again highly recommended
August 25, 2013
Museum adventure continues
A nice little sequel to the Escape the Museum games. This time, no earthquake to start things off. It is an adventure to find various valuables from history to ADD to the museum. The hidden objects can be very difficult to see - but that IS the point, right? And, you have an option to return to see if you can find even more items once a scene is cleared. The music is a little annoying, so I podded that way down. The voice over is good and the story is interesting (IMO). The graphics are not as sharp as could be, but still, not that bad, either. Overall, I like the game a lot. No going back and forth to find a single item. The scene is the only place you need to be. The riddles can give your brain cells a tug but they are not impossible. The geocache has a riddle and the journal has another set of tip style riddles. Not a dark game at all so if you like creepy dark, this is not the game for you. This IS a nice little break from all the darkness.
July 20, 2013
My kind of game
Yeah, it's dated, and some of the scenes are too dark, so you have to use the hints to find some of the items, but overall, it has everything I'm looking for in a game. No HOS junk piles. A few tools that are used throughout the game, and some items that are found and used in specific scenes. No back tracking. A variety of different locations, where the setting and the items (for the most part) fit the theme. A storyline that is pretty straightforward and does not involve rescuing grandpa from the supernatural. Puzzles that can be solved using logic and perseverance, and none of them repeat. I also appreciated the chapters, so that I could finish one, then get back to my real life, and pick it up again without having to try to remember where I was.
May 24, 2013
Search for Lost Treasure
Somewhat lengthy, depending on your expertise in finding well hidden items. Some adventure but majority is HOG. Interactive map. Generally, your locations are static. Your journal will give you a list of clues, usually one clue per location. HOS are somewhat challenging; items are very well blended in. You have an item finder, hammer, brush and lighter throughout the game to help you find hidden items. Whether playing casual or difficult mode, the protagonist talks a lot and is constantly giving you clues of what to do, which can get annoying, especially if you don't want the help. Each location tells you what % of items and whether a geocache (one in each location) have been found. You are not told what the geocache is. Tells you ?Location Complete? even if the geocache hasn?t been found yet. Once you return to the museum, you will be given the chance to revisit locations to find the geocache and a new list of items to earn a gold star. Graphics are good, though a bit bland in some locations. Items are detailed but very well blended into background. Music is okay. No puzzles.
July 26, 2012
i found this game to be extremely hard
i had to cheat a lot in this game. once i figured it out it was still hard. i like easier games where i don't have to try as hard. i like to be able to sit down and some thinking is not bad, but this was hard for me. i have other things on my mind and that may be some of it. hints charged fast. if you want a time-consuming game (that is what it was to me) this would be a good choice. i kept having the feeling it was a sequel to the escape the museum games but not sure of that.
April 26, 2013
Not Too Fun HOG
Five locales with multiple locations within each. Straight HOG. Seemed a bit grainy to me on some of them. Probably intentionally to make finding objects harder. Have to find one item (geocache) each HOS, but you essentially have to click everything as it is not described in any fashion. Some objects hidden within other objects, requiring you to break items or dust off walls. Have just played it the second time within a few months and stopped halfway through. This just ended up to be mind-numbingly boring and tedious. Overall rating is a 2.75 at best.
December 23, 2011
Hidden Object, not Invisible Object
This game was interesting but has a weird aspect in that some of the objects aren't hidden, they are invisible and you must use the Item Finder to get them. This was an interesting change from the hint used in most others of this genre. The graphics could use some sharpening and the cursor for my Mac version did some weird hopping around the screen. The developers might want to work on those two aspects of the game to make it better. It could also be longer as I completed it in around two hours.
January 15, 2013
Bring your binoculers
Like others have said, the items in this game are very hard to find, some almost invisible, some extra small. I used the hint meter a lot, if there are extra steps to finding the item, the meter will not help you. The characters are cartoon, not very well done. You do make a lot of money, but there is nothing to spend it on. The music is adventurous, not bad. There are several locations to each place you go to find the treasure, play each one 2 times so you will get 100% on your score. Other than that, there's not much to say about this game, it could/should have been better, had potential, but it's like the makers cheaped out on making it. I forced myself to finish it so I could delete it. I feel bad about giving it a bad review, because of the potential the game has, but it was just very badly made. All ages could play it, but I cannot recommend it. So sad! :(
April 27, 2013
The Apple logo is a trademark of Apple Computer, Inc.
The Windows logo is a trademark of Microsoft, Inc.