Adventure Chronicles: The Search for Lost Treasures
1st Runner-Up Best Hidden Object Game of 2008!
A few months have passed since Susan`s ordeal in the museum, and she`s been in no hurry to greet danger again. But when a prized notebook arrives at her office from an anonymous source, both her interest, and her suspicions are raised. The information contained within is too valuable to ignore. Soon she`s off traveling the world, solving puzzles and tracking down mysterious clues in search of the most renown treasures of history and legend.
Puzzles wicked and intuitive.
Explore world-spanning sites.
Hidden treasures and danger!
Game System Requirements:
OS:

10.4, 10.5 (recommended)

CPU:

1.83GHz

RAM:

512 MB
Game Manager System Requirements:
Browser:

Safari 4.0 or later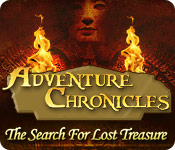 NEW299
The Big Fish Guarantee:
Quality tested and virus free.
No ads, no adware, no spyware.

Reviews at a Glance

Adventure Chronicles: The Search for Lost Treasures
0
out of
5 (
0
Reviews
Review
)
Customer Reviews
Adventure Chronicles: The Search for Lost Treasures
19
19
Very interesting game
I liked this game a lot. There were a few problems, but overall it was lots of fun to play. The museum director gets clues from a mysterious man who directs her to hidden historical treasures as well as piles of gold. The director is suspicious of this man but continues to follow his clues. Each location has several sites where you look for hidden objects. There is also a hidden geocache, which is described when you click on the geocache button. You have some tools to help you. There is the item finder, which is like a Geiger counter that glows when you get closer. There is also a hammer that you can use to break boxes and jars. A lighter helps you to burn away bushes that are hiding objects. And a brush gets rid of dust so you can see what is underneath. At times you find other items that can be used to find all the hidden objects. Once you finish a location you can go back and do a search for additional hidden objects in each of the areas. I liked the story on which the game is based, and enjoyed hunting for all the hidden objects. The reason I didn't give this game 5 stars is that some of the objects were totally impossible to find, sometimes due to a dark screen or background of the same color, and sometimes due to a very small size. There also was no hint button, and there were a few times when I just couldn't figure out what to do. I had to leave the game and check the forum for suggestions. In spite of these difficulties, I definitely enjoyed playing the game, learning what happens in the story, and would recommend it.
October 14, 2014
Not Too Fun HOG
Five locales with multiple locations within each. Straight HOG. Seemed a bit grainy to me on some of them. Probably intentionally to make finding objects harder. Have to find one item (geocache) each HOS, but you essentially have to click everything as it is not described in any fashion. Some objects hidden within other objects, requiring you to break items or dust off walls. Have just played it the second time within a few months and stopped halfway through. This just ended up to be mind-numbingly boring and tedious. Overall rating is a 2.75 at best.
December 23, 2011
Hidden Object, not Invisible Object
This game was interesting but has a weird aspect in that some of the objects aren't hidden, they are invisible and you must use the Item Finder to get them. This was an interesting change from the hint used in most others of this genre. The graphics could use some sharpening and the cursor for my Mac version did some weird hopping around the screen. The developers might want to work on those two aspects of the game to make it better. It could also be longer as I completed it in around two hours.
January 15, 2013
Bring your binoculers
Like others have said, the items in this game are very hard to find, some almost invisible, some extra small. I used the hint meter a lot, if there are extra steps to finding the item, the meter will not help you. The characters are cartoon, not very well done. You do make a lot of money, but there is nothing to spend it on. The music is adventurous, not bad. There are several locations to each place you go to find the treasure, play each one 2 times so you will get 100% on your score. Other than that, there's not much to say about this game, it could/should have been better, had potential, but it's like the makers cheaped out on making it. I forced myself to finish it so I could delete it. I feel bad about giving it a bad review, because of the potential the game has, but it was just very badly made. All ages could play it, but I cannot recommend it. So sad! :(
April 27, 2013
Not a good Adventure-just lost.
I did not like this,some objects were impossible to find. Some clues did not help at all. Color was dark and objects were very small. Not a good HOG at all. Sorry I don't recommend this game at any price. I think alot of people tried this and just gave up that is why there is only 6 reviews.
March 26, 2013
Utterly irritating
I wanted to like this game. Finally I decided I was just annoyed by it. Why? because there did not seem to be any way to get a hint if there was no use for the finder indicator. Too many things seemed too random as to whether to use a tool or just click and then there were things that were hidden but one was not told that they were hidden. I just got burned out on it with irritated annoyance. See if you like it. But I ain't buying.
April 29, 2013
Did not like this game at all.
I really didn't like this game, I found it very boring and the graphics were quite blurry I had to get up close to find a lot of the objects in the HOS's. All in all probably the worst game I have ever bought. Total waste of money.
September 29, 2012
Boring & Tedious
This game came up as a $2.99 special. Remember the old adage about getting what you paid for!! No hint button, just an annoying item finder. Teeny tiny does not begin to describe the hidden object items. Played game before noon & it put me to sleep!!
March 26, 2013
Ugh... Awful.
This may have been runner up for the best game in 2008, but this is 2014, and players are much more sophisticated now than then. Thankfully, most games are as well. I gave it a shot... played through one room and had to use the object finder for nearly everything, because most of the objects are nearly invisible. But speaking of an object finder... really? That might be cool if you're six and playing "Easter Egg Hunt."
June 28, 2014
The Apple logo is a trademark of Apple Computer, Inc.
The Windows logo is a trademark of Microsoft, Inc.