Haunted Hotel II: Believe the Lies
A year has passed since the first encounter with the Haunted Hotel. Since then, a lone FBI agent has taken the case and discovered that the mystery is deeper than originally suspected. His investigation leads him to the Lonely Star, a Hotel with an intriguing mystery surrounding it. Can our hero find out who is behind the disappearances and close the case once and for all? Help the agent seek out the answers in his thrilling investigation of Haunted Hotel 2!
Solve mysterious disappearances
Navigate eerie environments
Fiendish puzzles & mini-games
Return to the Haunted Hotel in
Haunted Hotel
Game System Requirements:
OS:

Windows XP/Vista/7/8

CPU:

800 Mhz

RAM:

256 MB

DirectX:

7.0

Hard Drive:

95 MB
Game Manager System Requirements:
Browser:

Internet Explorer 7 or later
Alcohol Reference
Use of Tobacco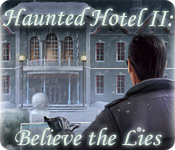 NEW299
The Big Fish Guarantee:
Quality tested and virus free.
No ads, no adware, no spyware.

Reviews at a Glance

Haunted Hotel II: Believe the Lies
0
out of
5 (
0
Reviews
Review
)
Customer Reviews
Haunted Hotel II: Believe the Lies
20
20
More Haunted Hotel Fun
I liked this game, even more than I liked the first . . . The story line, such as it is, meshed much better with this game, & promises more weirdness in the next installment of the Haunted Hotel series that follows this one . . . It is, however, mostly going from room to room finding hidden objects & solving puzzles, with cut scenes interspersed . . . The Hidden Object scenes are untimed, but with limited hints (five per scene) . . . The artwork is good, but not as good as I would like to see for trying to find very small items, which are in abundance in each area (maximum of 30) . . . The puzzles are mostly easy, but fun . . . This is a very short game . . . Very short . . . One thing really annoyed me - the background sounds . . . I turned them off . . .
February 9, 2012
Enjoying Part 2`
I am liking this game more than the first one! I think the graphics and story are better!
December 20, 2011
Great all HOG
This is a very old game, but I found it to be great. I was missing some old straight forward HOGs. And this one came up just in time for me. All HO scenes are played ones.
August 29, 2012
Outshined
This game really outshined the first one. Storyline was much better, level of challenge was right up my valley, fun factor was extreme. Loved it.
April 20, 2014
Welcome the the Haunted Hotel
Haunted Hotel II: Believe the Lies Enter a world of mystery and suspense where things are not what they seem and the obvious eludes you, hidden in plain sight. Haunted combines the mechanics of a hidden object game with puzzle solving elements all set in an atmosphere of foreboding and suspense. Crisp graphics, a distinctive soundtrack and tight storytelling make it easy for you to get immersed in the game. Mini games which can be played or skipped add to the overall replay value. If you enjoy hidden object games but are yearning for something with a bit more depth you have reached your destination.
December 15, 2011
A great sequel.
My only criticism of this game is the repetitive nature of the timed puzzle challenges. Aside from that, it was great. Good game for a beginner.
November 16, 2011
Decent HOG
This is a standard HOG, relaxing and fun. I used it in between playing more challenging and wierder games, and it played well. Seems a little shorter than most HOGs
January 2, 2013
Warning! Purely Addictive Pure HOG
BASED ON DEMO Well, I never thought when I started this demo that I would find myself totally addicted in just a few minutes. This sequel to the classic HOG, Haunted Hotel, is a much improved version and still a great game to play even today. As a pure HOG, you can?t expect to see sophisticated story told in complex and intriguing ways. You can expect good graphics, easily matching more modern ?average? stand alone standard editions. You can expect extravagant junk piles filled with an unbelievable number of (sometimes too small) unexpected items. The structure of the game is simple. Each room (which has its own theme) hides 30 items you must find, at the end of which you must search for a clue to the mystery. This involves a simple puzzle. These are not arcade (fast click) games, so there?s not the stress. But you are, technically, on a time limit, and it?s time that decides your ranking. One important variation from the original game ? the mini-games include a skip button. And the story is not told in detail by the diary. The story is fairly similar to the first game, and a genuine sequel to it, but this is not a game you play for the story. The theme rooms are a great way to vary the ?feel? of the game and prevent boredom. Not only are the objects mostly related to the theme, the music is appropriate too. This sometimes leads to problems ? the hardish rock in the hacker?s room, for instance, was REALLY disruptive! As a general rule, I?m not into pure HOGs, but I ran out of time with this demo and realised I was going to have to get the game!
October 13, 2013
If you like HOS and have good vision....this is your game!
After playing the demo for the recent Haunted Hotel game, I had to go back and see how other Haunted Hotel games compared. I'm not sure when this game came out, but I assumed it was more recent since it was a second version. That being said, I do not thing this was made by the same developer as the recent "Haunted Hotel: Eclipse," unless they completely changed their staff. One reviewer mentioned a connection, so I really don't know. This game was 99.99% series of HOGs. I happen to like a good solid HOG game occasionally, but this artwork was very small and cluttered. The scene is not just a closet or inside a dusty trunk, it's a whole room of clutter.....AND...along with larger items, you are looking for obscure things like a guitar pick, or a bullet or a puzzle piece.....things that are so miniscule that you find yourself clicking on anything. The good news, (sorta) is that they do copy and paste some of the artwork, so IF you find that guitar pick, you might spot it in another HOG. These HOGs are also the scrolling type....where they list about 10 at a time and add one every time you locate one. You get that quicksand feeling like you'll never find the bottom.....especially when a "fly" is on the list and you are going blind. Now....for the eagle eye player that is hooked on HOGs, this is a perfect game. Also a great game for younger players to build hand/eye coordination. The story IS at a hotel...and there are clues in the rooms, but as stories go, there isn't much of one. In the demo, I played about five HOGs and a couple of games, and I did not see a break from that. It has nice generic background music that is not really distracting. I won't be purchasing this game, but I do believe it has merits for those gamers that are really into this genre. For fans of "Haunted Hotel: Eclipse,"....just be warned....this is nothing like that game. I recommend it!
October 13, 2013
Better than the first, yet...
Compared to the first game in the series, the game is definitely an improvement: it looks better, it plays better, there are more objects to find in each scene. Ultimately, though, is that enough? I don't think so. The storyline manages to be both convoluted and simple (Weird things are happening, so... I'll go check here! And now I'll go check here! Ooooh, how mysterious! Now let's go talk to this guy!) and the gameplay is unmemorable. Speaking of the gameplay, it can be resumed as such: You're railroaded across many scenes, from which you need to find the listed items. Afterwards, you'll need to "investigate" the scene, which means hunting for hotspots, and possibly collecting a few inventory items you will then reuse elsewhere.
August 1, 2012