Syberia II
Kate Walker has left behind her life as a high-stakes lawyer in New York City. She travels now across Europe on a train built by Hans Voralberg, the brilliant and aging genius responsible for the automatons. Hans is obsessed with finding a mysterious island known as Syberia, where he claims the last mammoths still roam. But the journey is once again fraught with hidden perils and wondrous mechanical puzzles that tantalize the imagination. Complete the adventure into the mythical land of Syberia.
Kate`s adventure continues
More wondrous puzzles await
Finish the journey to Syberia
Game System Requirements:
OS:

Windows XP/Vista/Win7/8

CPU:

600 Mhz

RAM:

128 MB

DirectX:

6.0

Hard Drive:

1342 MB
Game Manager System Requirements:
Browser:

Internet Explorer 7 or later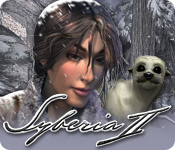 NEW299
The Big Fish Guarantee:
Quality tested and virus free.
No ads, no adware, no spyware.

Reviews at a Glance

Syberia II
0
out of
5 (
0
Reviews
Review
)
Customer Reviews
One of the Best Games of all time!!
not sure where to start in this review, but some words that come to mind would be...brilliant, engaging, challenging, beautiful...No other large file game could top this to date, the most perfectly stunning graphics, very intriging storyline, that really pulls you in...i can honestly say these games (Syberia 1&11) are the only games that have totally connected to me emotionally, and didnt want them to end. I should also say that it can be quite challenging at times, so a good walkthrough is handy. The imagination it would have taken to produce this game...i would love to meet this person! would love to see a 3rd installment released..This game stayed with me for weeks after it was completed....Loved it...if you have yet to play..then do it now!
February 24, 2012
a marvelous, stunning game
This is such a unique excellent game, in plot and graphics and gaming. I highly recommend you play the first game, Syberia, before this one. There is a good level of challenge that will interest any gamer. This type of game is a departure from the creepy hidden object/puzzle games I usually love, this is more adventure. Recommended to all!
February 23, 2012
Absolutely Superb!
What more can I say? I only wish there were more games like this. Although I needed the help of a walkthrough, I was so absorbed by the story that it was hardly a distraction. It's taken me several days (approximately 16+ hours) to complete this game which, for me, represents value for money. Most adventure games I finish within 4 to 5 hours over a couple of days. Can't wait for Syberia III - after all Kate's got to get back somehow!
February 21, 2012
excellant
really top story... not boring at all ,short ways so you don't have to go long roads hundred time ... and sort of easy to solve if you think logical
February 16, 2012
Siberia 1 and 2
Both games were excellent.Great graphics and good story line only disappointment was there should have been a 3rd one to tidy up what happened to Kate.Highly recommend both.
February 7, 2012
Sorry to see it end !!
I had to have the walk through for both Syberias but still was a challenge ! I did not want the story to end. I still see a sequal coming just to get Kate back ??????
February 5, 2012
Awesome Game
This was a really good game. It was interesting, challenging and fun. It took a long time to play so was worth the money. I love to find more like it and Syberia I.
November 15, 2011
The Sequal...
THE GOOD: Much like the first one, the graphics, story, puzzles and everything else are really well done. THE BAD: It's reall just an extension of the first one. Nothing new or exciting. The last part of the game gets very drawn out and confusing instead of challenging at times. THE UGLY: It's just not like the first one. Not even close! Still a great game on its own though.
January 2, 2012
Syberia II Review
?It has a great story line that grips you from the get-go. Superb graphics, sound and music push Syberia II above being good, and just short of being great.?
November 24, 2012
Meh....
This is a bit of a tough review for me as I am very glad that I purchased this game and then happily muddled my way through it, but the above statements are tempered by the fact that I played Syberia 1 and wanted/needed/required resolution. I completely and utterly enjoyed the first installment of Syberia and its entire storyline. I found it wholly unique, mysterious, and almost magical as I followed Kate in her discovery of the automatons, her need for independence, and her final realization of purpose culminating in a dramatic forging north with Oscar in her devoted pursuit of Hans and his rumored mammoths. I easily forgave her clunky, slow, running style from one screen to the next, and then her inevitable ponderous backtracking to where she started. I forgave the repeated dialogue, the repeated dialogue, (ahem), the repeate... wait, maybe if I backtrack a bit... Regardless, the first installment held wonder. Syberia 2 holds boiled potatoes with a touch of pepper: it's comforting and filling, but in the end, you still feel kind of empty. Personally, I found the entire trip north rather boring outside of a few bright spots. Romansburg is pretty cool, but Ivan and Igor are as characteristically unbelievable as throwing 2 of the 3 stooges into a Shakespearean play. Unfortunately, these idiots are fairly major players throughout the game, becoming the main antagonists outside of the weather. This game would have been much improved with a strong, identifiable nemesis, but we never get one. The addition of a cute sidekick animal named Youki reminds me of sitcoms that add a young, homely/cute child to the cast the minute the ratings start to drop. The portrayal of the northern Youkol tribe is almost offensive: short, fat, unintelligible; cowering from machinery, yet rich with magic dream powers. Fun Factor: Not bad, there are lots of really fun spots, but some annoying ones. I found traversing through the Youkol village to be an annoying chore. Visual/Sound Quality: Great production values, great music, superior voice acting. Level of Challenge: Good and bad. I found some puzzles just relied on the 'try and fail' method, which I despise. A good puzzle should have a logical solution, as obtuse as it may be. Storyline: Well, great to a point, but when I hit the final scene I wanted to be both nostalgic and laugh my frickin' head off at the same time. It's just so ridiculous that the time and effort you've invested into the game is almost overwhelmed by such an ambiguous, silly, yet somehow touching conclusion. I still don't know how to take it. Overall: If you've played Syberia 1, and want to know what happens next, purchase now! If you're interested in the premise, make sure to play Syberia 1 first. As a stand-alone game, bleh. If you haven't played the first, and don't want to, skip it. Only recommended for those who've played Syberia 1, and enjoyed it.
June 15, 2012