Hidden World of Art
Lana was the best student in art school and now she is swamped by customers with monumental expectations. She is tasked with restoring the classic paintings crafted by masterful artists spanning four centuries. Help Lana restore around fifty well known paintings by finding and revealing the mysterious objects hidden within the layers of paint.
Real classical artwork featured in game!
Restore famous paintings
Rich, absorbing graphics
Game System Requirements:
OS:

Windows XP/Vista/7/8

CPU:

600 Mhz

RAM:

128 MB

DirectX:

7.0

Hard Drive:

53 MB
Game Manager System Requirements:
Browser:

Internet Explorer 7 or later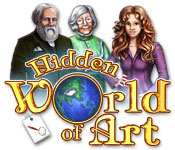 NEW299
The Big Fish Guarantee:
Quality tested and virus free.
No ads, no adware, no spyware.

Reviews at a Glance

Hidden World of Art
0
out of
5 (
0
Reviews
Review
)
Customer Reviews
Hidden World of Art
13
13
Very classy!
What's nice about this one is that once the painting is revealed through finding all it's hidden objects, they are labeled with their title and their painter. You might see one you might like for in your own home and take this information to a retailer in paintings. I wouldn't say it is a hard game but rather tricky. Tricky is always cool. Keeps those brain cells moving.
February 4, 2012
Art Lover's Delight
I enjoyed this game very much, & I came to know some of the masterpieces in great detail, as this game requires scouring each canvas for "artfully" hidden objects, as well as spotting oft-times very obscure differences . . . Each level earns you points that can be redeemed for decorating & furnishing an apartment . . . Sometimes the differences in side-by-side canvases are very difficult to spot, as noted, & hidden objects can be difficult to find due to the resolution of the graphics . . . Too many hints taken can detract from the overall point total for a painting search . . . But - you can play this untimed - which is awesome . . . !
December 8, 2011
Hidden World Of Art hidden object game
Big Fish has much better quality and more hidden object games than other game sites that I have tried. I love art, so naturally I love to play this game.
May 17, 2012
hidden object not to hard fun to do
Was fun and relaxing not to hard.
December 14, 2012
Fun way to aquaint yourself with famous paintings
The find the difference sections of this game are its strength. Overall the hidden object isn't real hard but it is fun to see what details really do belong in classic paintings. I'm looking at details I wouldn't have noticed otherwise.
December 19, 2013
LOVELY, RELAXING
Lovely game ? about 5-6 hours long, depending on how often you try to increase your score. Help Lana restore valuable paintings and use the money earned to furnish her sanctuary. Each painting has you finding (1) a list of objects (2) a certain number of specified objects, such as butterflies (3) pairs of objects (4) differences or (5) objects by silhouette. If you prefer a list to silhouettes, or vice versa, just restart until you get the type of HOS you want. When playing lists or silhouettes, popups will appear to the left with a list of 3 objects, which you must find in order. Earn up to $2,200 for successfully completing each popup. If you didn?t earn that (like if you didn?t get the $1,000 for not using a hint), you can increase your score by replaying the painting. There are many background noises, such as walking, laughter, wagon wheels turning, squeaky doors, knocking and heavy breathing. Some are fine while others are annoying (really who needs a heavy breather!). There?s also a silly little sound whenever you find anything ? I like that one as it makes me feel like I?m accomplishing something. If you need a hint, the first is free but you have to pay for additional hints. You have to acknowledge the cost; if too high, you can choose to continue looking. You can replay each level for a higher score as many times as you want. Tip: sometimes, objects are found under the brushes at the left top of the screen. You do have to wait for each painting to load, but it?s not that long. The graphics are wonderful. You get to see many really good paintings and learn a little about some of them. Music is relaxing and you can look at the gallery of paintings anytime you are at the main menu.
June 26, 2013
Wow! So many different kinds of hidden object games!
From the time she was a young girl, "restoring" a painting with a marker in an art museum, Lana has known her lifelong profession. After graduating art school, she is now meeting clients and working on "real" artwork. This is an amazing game you can't get bored with. There are so many different HOGs (hidden object games)! From an itemized list to silhouettes to find the differences and many more, you can't get bored. Earn money in each level so you can furnish Lana's tiny, ugly apartment. With each thing you purchase, an upgrade appears which, of course, costs more. LOL. You meet different characters who offer you work and learn more and more about each one with each new job you get. The graphics are a bit grainy, as one would expect in older art, I suppose and, therefore, my eyes have problems finding some of the objects. If not for that one issue, this would definitely be a purchase for me. If you love HOGs, you will LOVE this game too. Happy Gaming!
September 6, 2014
Doesn't really work for me
Tried to like this for the sake of the wonderful paintings, but couldn't - identifying items simply from an outline was too tiring,and eventually boring. I've also tried Hidden World of Art 2 (Undercover Art Agent) which I liked much better, and I may well buy. In this sequel the items are smaller and harder to find but they are listed by name, and you can still get an outline drawing by hovering the curser over the name. The hint system in both games is particularly ungenerous: one per scene. You can buy more hints but they get progressively more expensive and this means you have less to spend refurnishing your room. But as you have no real choice of furnishings, or placement of them, I think this part of the game could definitely use more development.
November 19, 2012
Good mix of art and HO
In this game you try to find hidden objects in classical paintings. An art restorer works on various paintings and interacts with various people who want to hire her. You find out information about many of the paintings. The hidden objects were sometimes listed and sometimes you see outlines. Sometimes you have to find hidden pairs or find the differences or find twenty of the same things. You get a bonus for not using hints. There is a penalty for clicking too much. You get to decorate a room with the money you earn from restoring the paintings. One of the things I liked best was looking at the gallery of art work. This is part of the opening menu, and you can click to view all the paintings. That's the basic game information. Although I enjoyed playing the game, there are some real problems with it. For one, the game creators needed to have a better translator to put the game into English. The wording was extremely awkward most of the time. Also, some of the items were barely visible, either too dark or behind something or on the extreme edge of the screen. One other thing that I thought was a problem was decorating the room. If you spent money on a chair, chances are that you'll be buying a better chair later, which means that you wasted your money on the first one. This happens over and over. But with all the problems, I did enjoy playing the game and recommend it.
March 1, 2014
Lots of HOS in this one
When I first started this one, I found the concept interesting in that you are a painting restorer that receives multiple requests to restore old masterpieces by finding objects, or silloettes of objects, or matching pairs or differences between two pictures and are paid to do so. As a side item, you have an apartment that you can furnish by buying furniture with the money you make. It is not necessary to furnish so you can just go to the next screen. Each screen does have to load and there is a summary after each picture showing progress and money made. There is no way to avoid going to the furniture screen. There is a hint button that gives you one free hint and then additional hints have to be purchased with some of the money you earn. This has lots of screens and became laborous after a while as many of the objects were obscured either with just a tiny bit showing or hidden behind other objects only becoming viewable after removing the object in front. There is a palette with brushes at the upper left of the screen and sometimes objects were behind them with only a sliver showing. Many of the matching pairs have different colors or sizes or orientation increasing the difficulty. The screens with two pictures to find the differences often had extremely small or subtle differences again increasing difficulty. All the pictures are added to the gallery and show the titles and artists and the gallery is viewable from the load screen. Because these are painting, the graphics may not be the best. Recommended if you are looking for a hidden object game with little or no story.
August 1, 2014